Following the success of the recently held 'Take Over Fight Night', professional boxer Nikki Bascome made a presentation to representatives of the local gyms that were involved in the event.
Addressing the representatives Bascome said, "I just want to say thank you for participating at the 'Take Over' event. It was a success and I couldn't do it without the gyms and I just want to donate to each of the gyms for their participation and hopefully we can move forward and grow in the sport of boxing in Bermuda."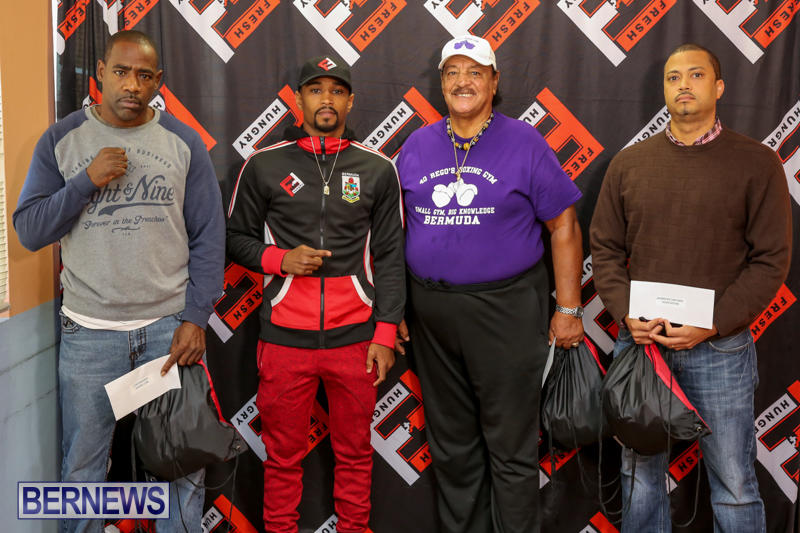 With lead sponsorship from Gorham's Ltd, Bascome's Fresh & Hungry team promoted the 'Take Over Fight Night' event, and speaking about the dual role of promoter and fighter, Bascome said, "I just had to learn how to stay in my lane because I'm a perfectionist. You just got to trust in the team and everything will work out."
"There's always room for improvement. The next show could be better but I'm thankful for them, they've done a hell of a job and I just hope to continue putting on events, successful events", concluded Bascome.
The presentation to each gym included a monetary gift of $1000 and a bag of supplies regularly used in the gym environment. Representatives included Garon Wilkinson for Bermuda Sanshou Association, Leo Richardson for Controversy Boxing & Fitness Gym, and Allan 'Forty' Rego for Forty Rego's Gym.

Read More About