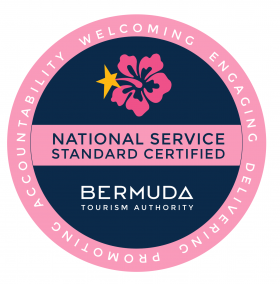 The Bermuda Tourism Authority [BTA] is working with tourism stakeholders to introduce island-wide service standards for the industry.
The goal of the programme aligns with the BTA's brand promise, which includes setting Bermuda apart from its competitors with superior hospitality and customer service.
Over the course of 2016, the BTA engaged tourism business owners, managers and frontline employees to determine their views of appropriate service standards for Bermuda.
Now that national service standards are agreed, any local business that meets the standards can apply for certification. A pilot group of businesses, ten in all, began their road to certification in December.
"These businesses are excited about pursuing certification because they know it will be a powerful motivation force for their staff and a valuable marketing tool for their business," said COO Karla Lacey who has oversight of training and standards at the BTA.
The list of businesses beginning their pursuit for certification this month represent a diverse array from the retail, transport and restaurant sectors:
Alexandra Mosher Studio Jewellery
Bermuda Transit Services
Bermuda Restaurant Group
Boulevard Café
Dolphin Quest
Flanagan's Irish Pub & Outback Sports Bar
La Trattoria Sports Bar
Lindo's Group of Companies
L.F. Wade International Airport/Department of Airport Operations
Snorkel Park
"The Department of Airport Operations oversees the smooth running of the airport and customer satisfaction is at the heart of this initiative. Participation in rolling out the new standards enables us to refine our goals and do so in partnership with other airport agencies and businesses island-wide", said Jacqueline Horsfield, Airport Commercial Director.
"This aims to create cohesiveness and buy-in from the front line to decision makers leading to better results by working as a team with a united vision – the customer."
Those who successfully complete the National Services Standards Programme [NSSP] will use a certification seal to inform consumers they uphold the national service standards. Certified businesses will also be identified as such on the BTA website to inform visitors and boost their marketing efforts.
"At Alexandra Mosher Studio Jewellery, we are all really looking forward to being a part of the NSSP Pilot. Our brand has grown organically over the years and while we have amazing staff who are friendly, efficient, and CTA-certified, we've never formalised any of our customer service standards and procedures," said owner Alexandra Mosher.
"This is an incredible opportunity to receive feedback and training on how we present our brand – and the Bermuda brand – to the world. With the help of the NSSP we can measurably sharpen up service areas that need improvement and remain accountable to national standards in the future. We are in the business of delivering happiness, so this is a very exciting initiative to be a part of!"
In order to gain certification five principals of service must be consistently demonstrated:
Welcoming
Engaging
Delivery
Promoting
Accountability
A full definition of each principal is available in a presentation on the Partners' page of the BTA's corporate website.
Ms Lacey said, "The significance of these standards is that they were not handed down to the industry, instead the industry identified and defined what they want for themselves. They understand the brand promise the BTA is building for Bermuda and want to play a sustainable role in setting our destination apart from the competition."
These principals must be exhibited by employees who deal with customers face to face, including business owners and managers tasked with creating the work environment where this kind of service is possible. Prior to certification, trained mystery shoppers will evaluate the performance of the businesses to determine whether or not the seal should be awarded.
"It is indeed an honour and privilege to be a part of the National Service Standards Programme pilot for Bermuda," said Bermuda Transit Services President, Russ Ford, CTA.
"Any opportunity to enhance my business is welcomed. This is exactly what Bermuda's hospitality industry needs so that we can fulfil the desires of locals and overseas guests alike. Thanks to the BTA and the Hospitality Institute for their leadership and vision. This is truly a 'Bermudaful' initiative."
The programme will begin offering certification to businesses island-wide by the end of March.

Read More About