The legacy of Johnny Barnes is now a regular aspect of the Bermuda Tourism Authority's #LoveMyBermuda campaign.
Once per month the island's school-aged children are welcoming morning commuters into Hamilton while standing alongside a life-sized Johnny Barnes mascot.
Yesterday young people from the Pembroke Hamilton Club youth football programme were the latest troupe to wave and offer a "good morning" from the round-about at East Broadway, just as Johnny Barnes did for decades.
PHC youth footballers greeting morning commuters Monday at East Broadway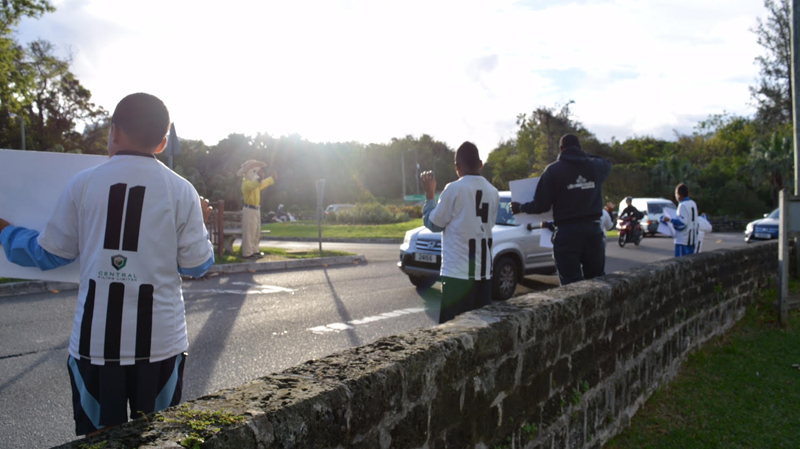 The Bermuda Tourism Authority-run #LoveMyBermuda campaign is designed to instil pride in the island's tourism product among children and adults, regardless of whether or not they are in the hospitality industry. The campaign has done extensive outreach in Bermuda's public and private schools at all age levels.
"The hospitable nature of Bermuda's people is something visitors have consistently highlighted as an attribute they love about our country," said Karla Lacey, COO for the Bermuda Tourism Authority [BTA].
"Johnny Barnes was, of course, the epitome of friendliness and hospitality so we think it's a good fit to involve his legacy into the #LoveMyBermuda campaign, especially in a way that touches young people who may not be as familiar with who he was."
CP Athletic and Mount St. Agnes Academy have also joined the Johnny Barnes mascot to welcome morning commuters over previous months.
The Johnny Barnes mascot is a business venture started by Monique Georges and Shawn Stovell with the blessing of Mr Barnes and his widow, Belvina, prior to his passing.
The morning greetings at East Broadway happen the first Monday of the month. The next is Monday, February 6, 2017.
Youth groups or schools interested in taking part should contact Leonard Williams at the BTA lwilliams@bermudatourism.com

Read More About