The Customs Department, under the Ministry of National Security, will celebrate International Customs Day this week.
The theme of this year's Customs Day is "Data Analysis for Effective Border Management" and a number of events have been planned.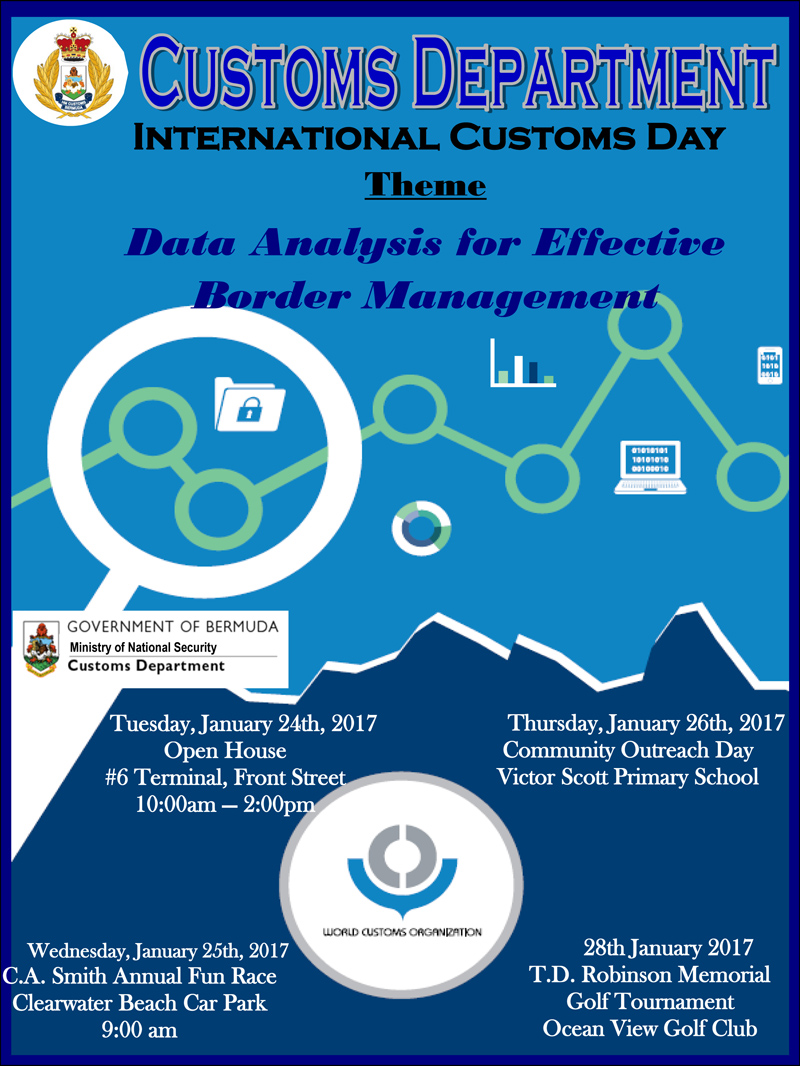 The week will start with Officers and Staff members attending a church service on Sunday, January 22nd at the St. Paul's A.M.E. Church beginning at 11 a.m.
On Tuesday, January 24th we will host our 4th Annual Open House from 10:00 a.m. to 2:00 p.m. #6 Terminal – Upper Level, Front Street, Hamilton.
A spokesperson said, "There will be a series of displays and demonstrations and the public will have an opportunity to interact with Customs officers and ask any questions they may have.
"We are encouraging the public and school students to attend as there will also be interactive displays for which small prizes will be awarded for correct responses.
"On Wednesday, January 25th The annual C.A. Smith Run, Walk, Ride Fun Race will start at Clearwater Beach car park at 9am and travel 4.29miles to the L.F. Wade International Airport Cargo Shed. Prizes will be awarded for various categories."
Collector of Customs, Lucinda Pearman said: "The Customs Department continues to play an important role in effective border management for Bermuda by promoting compliance with Bermuda's customs laws through quality service and responsible enforcement, thereby contributing to the economic and social stability of our community.
"Our staff members are responsible for facilitating trade, assessing and collecting revenue and interdicting drugs and other contraband. I would like to take this opportunity to encourage the public to come to our open day and learn more about who we are and what we do."
Read More About
Category: All, Entertainment