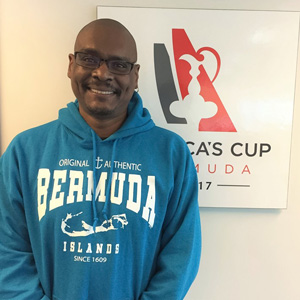 Veteran musician Robert Edwards [pictured] has been named Musical Director for The Band, which will be created to play during the 35th America's Cup.
The Band will be paid to play at various events during the five-week long America's Cup events from May 26 to June 27, 2017.
Mr. Edwards will oversee The Band auditions, musical selections, rehearsals and more.
Mr. Edwards is a local musician and educator. He is a member of the duo Smooth with Jamie Zuill, musical director for the band Wall Street and the organist for St. Mary's Church in Warwick.
He holds a B.A. degree in music from the University of Southern Maine where he studied trumpet with John Schnell, composition with Dr. Jerry Bowder and conducting with Dr. Peter Martin.
Mr. Edwards has performed throughout Bermuda and the United States and has backed many local and international acts such as Gita Blakeney, Sia Spence, The U-Fonics, The Stylistics, The Spinners, The Temptations, George Huff, Freddy Jackson, Maxi Priest and Ashford and Simpson.
Sancha Durham, Event & Business Support Coordinator, America's Cup Event Authority, says: "We are thrilled that Robert has decided to come on board as Musical Director for The Band.
"He has a wealth of experience, notably working with the Wall Street Band and performing both on and off Island for decades. We look forward to auditions this weekend and then creating The Band alongside Robert."
Auditions will be held at Earl Cameron Theatre, City Hall. Round one of auditions will be held on Saturday, January 14 starting at 9am. Each contestant is asked to prepare three pieces for the judges.
Round two will take place starting at 2pm on Saturday, January 14 and will only be available for those contestants who receive callbacks from the judges.
Musicians are asked to register their interest and will be given a time slot to audition. Registration is available here. Walk ins are welcome, however must arrive at City Hall to register on the spot by 11:30am to guarantee a time slot after the contestant who pre-registered.
The finalists will be narrowed down to 12 and the public will then vote online for their favourites to make up the band. Public voting begins on January 18 for two weeks and the band will be announced on February 3.
The Band will be comprised of the best talent in Bermuda, ages 16 and up. Contestants must be aged 16 years or older by December 31, 2016 and must be a resident of Bermuda.
The Band will play at various events during the 35th America's Cup including Dock-Out shows, the America's Cup Village and America's Cup parties. They will learn each America's Cup sailing team's song as well as playing soca, reggae, Top 40 and traditional Bermuda-themed songs.
A Question and Answer session will take place tomorrow evening, Wednesday January 11 from 6pm to 8pm at The Grand, on Church Street, Hamilton for local musicians to get additional information on how to participate in the 35th America's Cup through the Local Talent Programme or The Band.
Ms. Durham says: "I would like to encourage all local entertainers who are interested in performing in the America's Cup whether it be in the America's Cup Village or with The Band to attend the Q&A to learn a bit more about how to get involved and what we are looking for."
For more information, please visit acbda.bm.

Read More About
Category: All, Entertainment, Music, News