Another US team has been in Bermuda taking advantage of the weather and facilities for winter training.
Swimmers from Indiana University and Germantown Academy were training at the National Sports Centre last week, and at the same time, the Alvernia University ladies hockey team was also here, bringing 21 people, using the National Sports Centre's pitch.
This week the Fairleigh Dickinson University Men's Lacrosse team will also do its pre-season training in Bermuda, also at the National Sports Centre.
Alvernia coach Laura Gingrich said: "Bermuda is a beautiful place to visit, reasonably priced, with friendly people, a terrific hotel, the playing venue is gorgeous, and the weather is much better than in PA, in January.
"The trip is held after our regular season, and prior to our short spring season, so it's more of a team bonding, and educational tour for the team. We schedule it during our winter break, so the students do not miss classes, and it gets us out of the cold temperatures."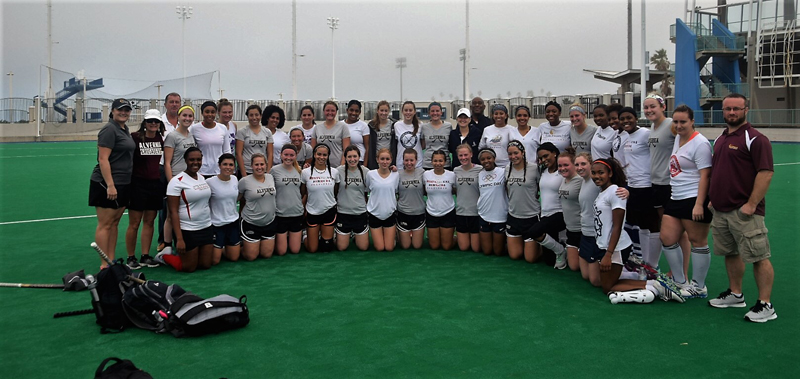 Mrs Gingrich, who stayed with the team at the Grotto Bay Beach Resort, added: "I would definitely recommend Bermuda to other coaches to bring their teams, it is a short flight and the facilities and game venue are awesome."
For the last seven years ZAG Sports USA, based in Princeton, New Jersey, with assistance from with Grainne Richmond, who lives in Bermuda, has brought US College and High School teams to Bermuda for pre-season training.
Mrs Richmond said that on average ZAG had brought four teams every year – predominately in January and then in August. The teams play Bermuda Federation Squads and Bermuda National Squads.
"To date it has all been women's teams coming and it has been a great opportunity for the Bermuda players to play and gain exposure against teams and players playing different styles to those that they are used to playing here in Bermuda," said Mrs Richmond.
"Of course their main aim was to train and get game time. They had a game against a Bermuda Hockey Federation team made up of expatriates and national players which Alvernia won 2-1.
"They played again on Saturday morning against the women's Bermuda National Squad and the score was 1-1."
Mrs Richmond added: "This is their fourth time here – obviously if you don't have the proper sports facility these sports touring teams won't come.
"To this end the NSC has a world class artificial hockey pitch along with storage and shower facilities.
"Some of the Caribbean countries are now upgrading their hockey facilities so it is paramount we maintain and keep ours and ensure all other tertiary services run smoothly as well to ensure we don't lose our advantage over our competitors.
"Most US Colleges have to do one international tour a year and Bermuda is a perfect choice given our location to the US. Due to some division rules in the US, though, they can only go to the same location once every four years.
"Bermuda is still considered a very safe destination to travel to and this gives parents of the teenagers and young adults travelling comfort that they are coming to a safe environment.
"And the friendliness of the people they meet here, has to date, been brilliant – from the hotel staff to the transport staff to those that they work with at the NSC – Trevor, Craig and the team at the NSC and across all the service providers do their upmost to make our visitors feel welcome."
Mrs Richmond added also thanked Beeline Transport, adding: "It is important for people to note how important the private transport is here to the success of visitors coming here and Beeline have been a great partner for ZAG."
Sean Tucker, the chairman of the NSC, said: "The NSC is enjoying the most incredible two weeks. To see so many excellent athletes from such a wide range of sports is inspiring. I think that the NSC continues to go from strength to strength."
Read More About