OUTBermuda hosted its first ever 'In Good Company' community outreach event, a forum designed to bring together the LGBTQ community, their allies and loved ones for a day of community building, dialogue and planning.
The organisation said, "As a new charity, OUTBermuda's goal was to give stakeholders the ability to influence the organization's future.
"A platform was offered for individuals to share their hopes, dreams and aspirations for Bermuda as a whole, while critically assessing the role OUTBermuda can play in creating the kind of community that reflects our highest aspirations for our Island.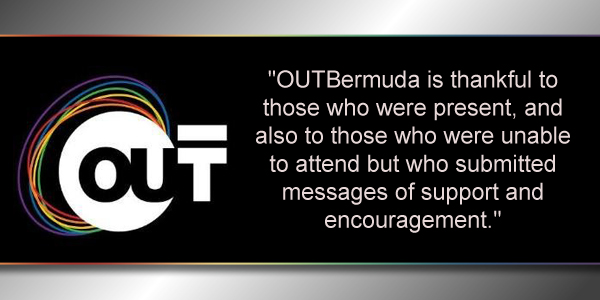 "The day was designed to stimulate dialogue and promote understanding, while encouraging full and active participation by all attendees. While the work to compile the information shared is still being completed, two complementary themes emerged.
"It is obvious to many that there is a desperate need for safe spaces and helping services for LGBTQ people on the Island. In addition, there exists an opportunity for OUTBermuda to work together with LGBTQ people and allies to build community with all people in Bermuda regardless of race, sex, gender, religious belief, sexuality, age and differences in ability.
"A more formal publication of the lessons learned by hosting the community 'In Good Company' will follow shortly. OUTBermuda is thankful to those who were present, and also to those who were unable to attend but who submitted messages of support and encouragement.
"The session was oversubscribed and the numbers present far exceeded the expectation of the OUTBermuda team. In particular, OUTBermuda is thankful for the diverse support shown and looks forward to working with stakeholders as we work towards fulfilling its mandate to promote and support the health, wellbeing, safety and protection of Bermuda's LGBTQ people."
For more information on OUTBermuda, checkout their Facebook page or visit www.outbermuda.com.
Read More About