January is Mentoring Month and this Thursday [Jan 19] Big Brothers Big Sisters of Bermuda will commemorate the occasion by hosting a "Thank Your Mentor" event on the steps of City Hall.
They would like to invite the Bermuda public to come out to celebrate Mentors in Bermuda, with the event set to take place from 12:30pm to 1:30pm. In the event of inclement weather the event will move into the City Hall foyer.
During the event they will highlight their Bigs [Mentors] and name the Big Brother and Big Sister of the year. Minister of National Security Jeff Baron is scheduled to say a few words, as are some of the Bigs and Littles involved in the programme.
Managing Director Patrina O'Connor-Paynter said, "Most people have had a mentor in their lives that have helped them along the way. We want to celebrate all Mentors and the programmes in the island that promote mentoring. For the next couple of weeks BBBS is also trying to make Mentoring in Bermuda go viral!!
"Like last year, we will be posting a few videos on social media from our Bigs, Littles, Board members, local celebrities and members of the Bermuda community about how they feel about mentoring.
"We will be using the International hashtag #MentorIRL [which means Mentor in real life] and our own hashtag #BBBSofBDA. We want the Bermuda public to get involved and highlight someone that has been a mentor in their lives and post on social media using the hashtags." said Managing Director Patrina O'Connor-Paynter."
They encourage everyone to check out their Facebook Page "Big Brothers Big Sisters of Bermuda" and Twitter account – @BBBSBDA as the posts will happen daily.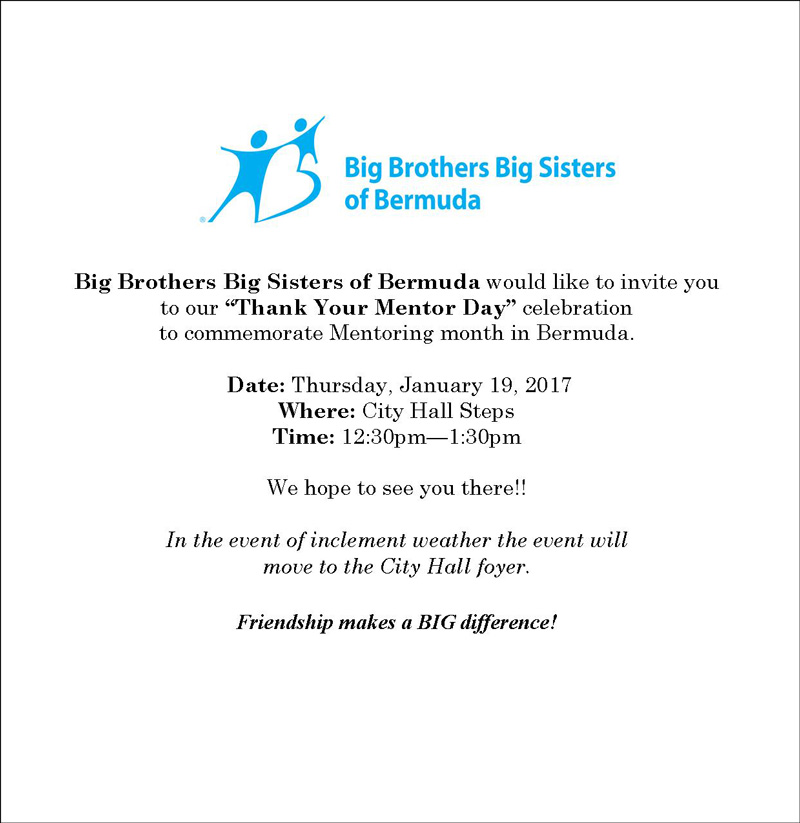 Read More About
Category: All, Entertainment