Minister of Economic Development Dr. Grant Gibbons has written to the Regulatory Authority to request they "provide assistance in formulating and potentially implementing a universal broadband service obligation," with a 50mbps broadband download speed cited as the "target for consultation."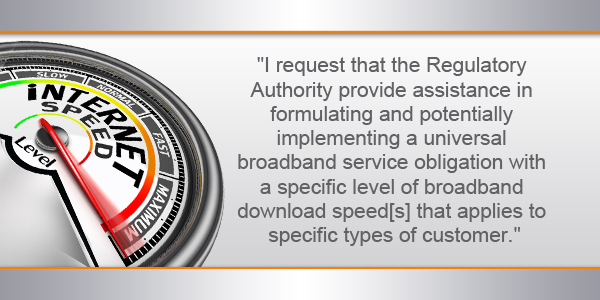 The letter, dated February 10th, said, "As you are aware, as the Minister responsible for Telecommunications, I may from time to time request that the Regulatory Authority assist me in formulating and implementing policies and regulations as necessary for the efficient and effective delivery of telecommunication services."
"Therefore in accordance with Section 33 of the ECA, I request that the Regulatory Authority provide assistance in formulating and potentially implementing a universal broadband service obligation with a specific level of broadband download speed[s] that applies to specific types of customer.
"I note from your letter of January 16, 2017 that typical best-practice for a Government [and/or regulator's] assessment of potential universal service obligations relating to broadband, should include a specified target download speed as the focus of analysis and consultation. In this context, the Authority has recommended that:
"i] A 50mbps broadband download speed be the target for consultation, with such a universal broadband speed obligation potentially being mandated on BTC and One Communications [including the Logic and Cablevision ICOL license holders]; and that
"ii] The consultation should also assess whether any such potential broadband service obligation mandated upon specified operators should apply to the services provided to all residents, businesses and Government owned entities [e.g. schools and Government offices] within Bermuda and to 100% of the geographic coverage of Bermuda.
"I concur and agree that the Authority should, in carrying out its functions as per Section 33, pursue its analysis and consultations with all sectoral participants with respect to the above noted recommendations."
The letter is below [PDF here]

Read More About
Category: All, Business, News, technology