The Bermuda National Gallery will be hosting a talk entitled "The Value of Art & Culture: A Presentation for Public Engagement" on March 2nd, saying that "audience members will be asked to consider Bermuda's challenges, and brainstorm how arts and culture might be used as a tool to stimulate change."
Thistalk will be held on Thursday, March 2 at the Bermuda Underwater Exploration Institute, Tradewinds Theatre, with registration & light refreshments at 6.00pm, audience participation at 6.30pm, opening remarks at 6.45pm, and the presentation and discussion from 7.00pm to 8.30pm.
A spokesperson said, "Bermuda National Gallery [BNG], in partnership with the National Museum of Bermuda [NMB], is pleased to announce, and invite the public to, an important presentation entitled The Value of Art & Culture.
"Guest speaker, Lauren Merkel, is a senior consultant with Lord Cultural Resources. Founded in 1981 in response to an emerging need for specialized planning and design services in the museum, cultural and heritage sector, Lord Cultural Resources is now the world's largest cultural professional practice.
"With the successful completion of over 2,200 projects in more than 57 countries, on 6 continents, the firm has earned an international reputation for sector leadership, innovation and excellence.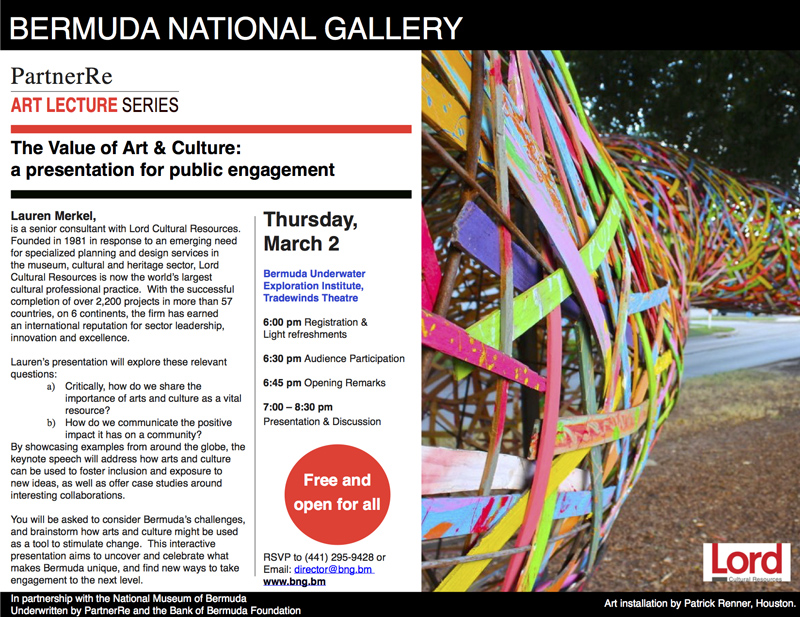 "Lauren Merkel's presentation will explore these relevant questions:
a] Critically, how do we share the importance of arts and culture as a vital resource?
b] How do we communicate the positive impact it has on a community?
"By showcasing examples from around the globe, the keynote speech will address how arts and culture can be used to foster inclusion and exposure to new ideas, as well as offer case studies around interesting collaborations.
"Audience members will be asked to consider Bermuda's challenges, and brainstorm how arts and culture might be used as a tool to stimulate change. This interactive presentation aims to uncover and celebrate what makes Bermuda unique, and find new ways to take engagement to the next level.
BNG Director, Lisa Howie says: "I have followed the success of Lord Cultural Resources for many years. Their community engagements have transformed cities and towns around the world.
"My goal in bringing them here is to see if we can arrive at new levels of collaboration within Bermuda's art and culture sector. I hope that through the presentation of relevant facts and figures, we can elevate awareness on just how important, and critical, the investment in art culture is."
NMB Deputy Director & Curator, Elena Strong says: "Arts & culture enhance every aspect of our lives: significantly impacting our economy, education, health and wellbeing, and society as a whole. NMB is pleased to be working with BNG to explore ways the Bermuda cultural sector can collaborate to help promote the importance of arts and culture and potentially fuel community and economic development.
Thanks to sponsorship from PartnerRe and the Bank of Bermuda Foundation, this presentation is free and open to all. To RSVP call 295-9428 or email director@bng.bm.

Read More About
Category: All, Entertainment