Verbal Behaviour Therapists Frances Parkes and Naomi Taylor of Tomorrow's Voices Bermuda Autism Early Intervention Centre have had their papers accepted by the Association for Behavior Analysis International [ABAI] and have been invited to present their work in Denver, Colorado at the ABAI 43rd Annual Convention.
Ms Parkes and Ms Taylor both submitted their papers to ABAI to be considered as part of the Convention's booklets, which will be handed out to the participants at this year's Annual Convention.
This is the first time that research papers from Bermuda have been accepted by ABAI.
A spokesperson said, "'The Effects of Differential Reinforcement of Low Rates of Behaviour [DRL] with a Response Cost Procedure on Socially Mediated Vocal Stereotypes in an Adolescent Male with ASD' focused on increasing functional communication in a six-year-old boy with autism who showed very little signs of speaking or, in fact, making any noises at all to impact his environment.
"Creating a communication tool for children is a fundamental and crucial step that increases their independence and overall quality of life. The aim of the study was to teach the child the value of his voice by encouraging him to emit sounds on request.
"As a result, the child can use his voice when out in the community without having to rely on either an adult interpreting or guessing what he wants or having to rely on the use of a communication aid. Ultimately this will also reduce challenging behaviours that are the result of an inability to communicate.
"The second paper, entitled 'The Effectiveness of Picture Exchange Communication System [PECS] on Increasing Vocalizations for a Child with Autism,' looked at a seven-year-old child with autism who exhibited extremely high levels of vocal stereotypy [range of repetitive vocal sounds, words or phrases] with a focus on identifying why he engaged in this behaviour and to then provide him with a way to control it."
Frances Parkes and Naomi Taylor: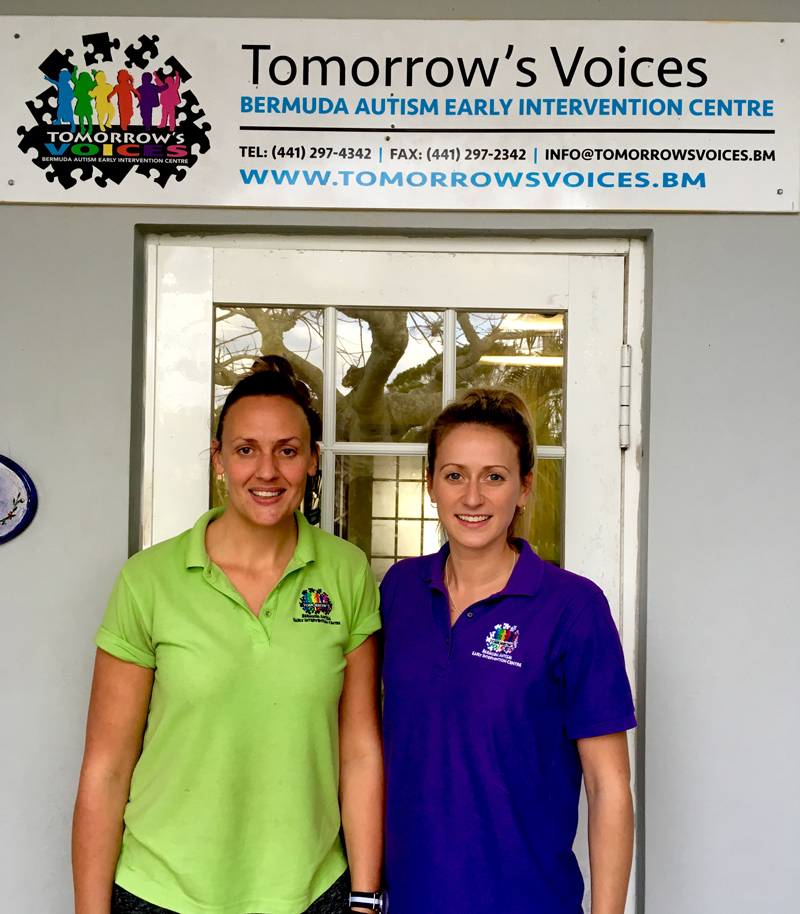 "The ultimate goal was to reduce the level of his vocal stereotypy so that he was more able to learn and function in more typical environments and lessen the need for intensely supported environments."
Ms Thea Furbert, co-founder of Tomorrow's Voices and Chair of the Board, said, "This is the first time that research has been submitted for review by the ABAI from Bermuda and to be recognized for our work outside of Bermuda is a great honour.
"The papers were based on research using our own clients and the data analysed and created based on our clients and their experiences. This research will be beneficial to our clients as well as those attending the ABAI and working in the field of autism.
"On behalf of the board we are very proud of the work from two of our Verbal Behaviour Analysts, and the entire team as a whole."
"ABAI is an organization with the mission to contribute to the well being of society by developing, enhancing and supporting the growth and vitality of the science of behaviour analysis through research, education and practice.
"Annual conferences are held worldwide each year where professionals in the field are invited to share their research and continue their professional development."
For more information about Tomorrow's Voices, Applied Behaviour Analysis or the two research papers, contact Tomorrow's Voices at 297-4342 or email info@tomorrowsvoices.bm.
Read More About
Category: All