[Updated] The Bermuda Government has reportedly filed a lawsuit against Lahey Health in federal court in Boston, alleging that "Lahey conspired with Dr. Ewart Brown" to give "Lahey preferential treatment when bidding on healthcare contracts issued by the Bermudian government."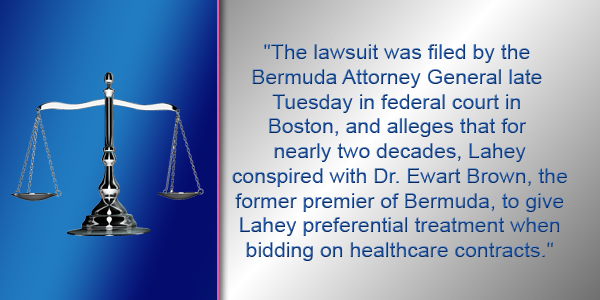 Bermuda Government Files Suit Against Lahey
"The government of Bermuda has filed a lawsuit against Lahey Health, alleging that Lahey conspired with a Bermuda official in a bribery scheme to focus the island health services to the Massachusetts hospital," the Boston Business Journal reported.
"The lawsuit was filed by the Bermuda Attorney General late Tuesday in federal court in Boston, and alleges that for nearly two decades, Lahey conspired with Dr. Ewart Brown, the former premier of Bermuda, to give Lahey preferential treatment when bidding on healthcare contracts issued by the Bermudian government.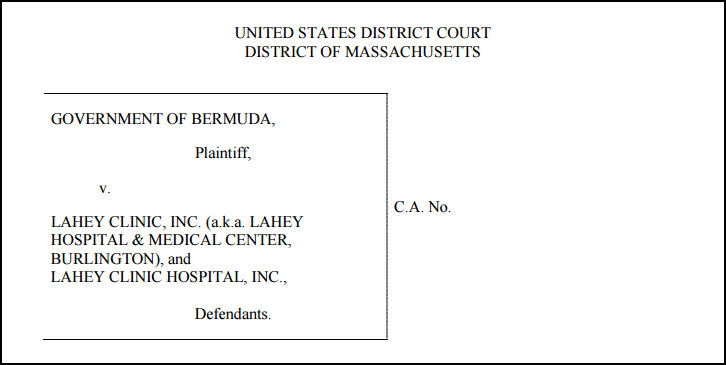 "The complaint also alleges that Lahey obtained privileged access to Bermudian patients that it could serve at facilities in Massachusetts and in Bermuda, and made millions of dollars reading and interpreting 'medically unnecessary' MRI and CT scans performed at two private health clinics in Bermuda owned by Brown."
"The suit also points to Lahey's revenue from the relationship. Between 2006 and 2016, Bermudian public healthcare insurers paid Lahey over $40 million for services Lahey provided in Massachusetts.
"Brown also paid Lahey hundreds of thousands, if not millions, of dollars in fees to interpret MRI and CT scans performed at his clinic," the suit states according to the Journal.
"The enterprise was wildly successful," the report states, also noting Lahey's revenue from the relationship, with the report stating that "between 2006 and 2016, Bermudian public healthcare insurers paid Lahey over $40 million for services Lahey provided in Massachusetts."
The report notes that Dr Brown is not named in the suit, meaning the suit is directed against Lahey, and states, "the relationship allegedly began when Brown served as Bermuda's Shadow Minister for Human Affairs in 1997 and continued even after he stepped down as Premier in 2010."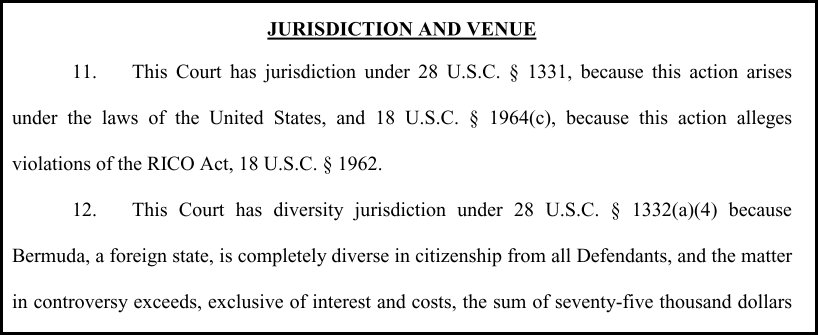 "The suit alleges that since 2001, the respected Burlington hospital paid Brown hundreds of thousands of dollars a year in consulting fees, awarding him substantial increases," another report from the Boston Globe said.
The Bermuda government reportedly hired the Boston law firm Cooley LLP to represent it in court, and is "seeking to recover unspecified damages from Lahey."
Read the report here on the Boston Business Journal, and the Boston Globe also has a report here.
Suit Filed After Police Executed Warrants
The lawsuit was reportedly filed late Tuesday afternoon, which follows after police descended on both medical clinics owned by Dr Brown this weekend, keeping both facilities cordoned off with police tape for much of the weekend.
Activity took place at both locations on both Saturday and Sunday, with police entering and leaving both locations throughout the day, with boxes seen being carried in and out throughout the weekend.
A warrant said the search was looking for Cost Forms for X-Rays, Ultrasounds, Eschocardiograms, MRIs, and CT scans.
The police confirmed they executed search warrants at two medical offices, and said a number of records were seized, with "significant steps taken to protect the confidential nature of the information and to ensure that patient safety is not jeopardized."
According to BHCS, "Various patients at Bermuda HealthCare Services & the Brown Darrell Clinic have engaged Legal Counsel regarding the unauthorized temporary possession of their private medical records, which were confiscated by a police raid on Saturday February 11, 2017.
"Any Patient of BHCS and BDC that would like further information regarding this matter or their legal rights should call BHCS and ask to speak with Ms. Riley," a statement from the medical facility said.
Lahey Response
In response to queries, a Lahey Hospital & Medical Center spokesperson said, "We have not had the opportunity to review the lawsuit. We are confident that any allegation of impropriety by Lahey Hospital & Medical Center is baseless and without merit.
"We have a 25-year track record of providing the highest-quality care to our patients in Bermuda, and our business practices are beyond reproach.
"In fact, Lahey Hospital & Medical Center provides high quality care to the people of Bermuda at a lower cost than other international health care providers on the island.
"We will review these allegations and vigorously defend ourselves through every step of the legal process.
"Despite this lawsuit, we remain committed to the people of Bermuda, as we believe our presence on the island has greatly benefitted our patients and their communities."
Dr Brown's Initial Response
Dr Brown has not yet responded to this latest development, however did respond to this weekend's police operations, saying, "They seized some of our patients' files and compromised patient privacy, safety and well-being.
"After a nearly six-year investigation, the Police would have us to believe that they had to search our offices so urgently that they broke in to one, and broke a window to gain entry to the other.
Noting the Bermuda police investigation began years ago and has cost over $2 million, Dr Brown said, "The investigation, which was ostensibly launched as one looking at political corruption, clearly morphed into an investigation of my personal businesses.
"It is clear that what originated as a suspicious prosecution has now become a dogged persecution, as Police look high and low to find a crime with which to charge me."
Responses
On Tuesday evening, we asked a number of entities for comment, including the offices of the Attorney-General, Health Minister, and Premier, as well as Dr Ewart Brown, and will update as able with any responses.
Update 2.58pm: Attorney General Trevor Moniz has commented, with his full response available here.

Read More About