Knocked back by one team, Preston Farrow was determined that it would not be a knockout punch to his dream of competing in the Red Bull Youth America's Cup.
Preston was gutted when he was told he had not made the final cut to be part of Team BDA, Bermuda's entry into event later this year.
Taking advantage of his dual citizenship, thanks to his mother, 22-year-old Preston, reached out to one of the US teams vying to become the USA representative in the Youth America's Cup.
Along with his six strong Next Generation USA team, he went to Spain in November last year in a bid to qualify and beat 13Fifty, the other US team, for the coveted USA spot.
"I was gutted to miss out on the final selection for Team BDA. Having come so far and got so close, this was not how I wanted the story to end," said Preston, who lives in St. George's.
"I started evaluating my options and I decided to reach out to one of the teams from the USA vying for qualification. I contacted Carson Crain, Team Manager for Next Generation USA, asked if they had room for one more person and explained how I would fight for them until the end.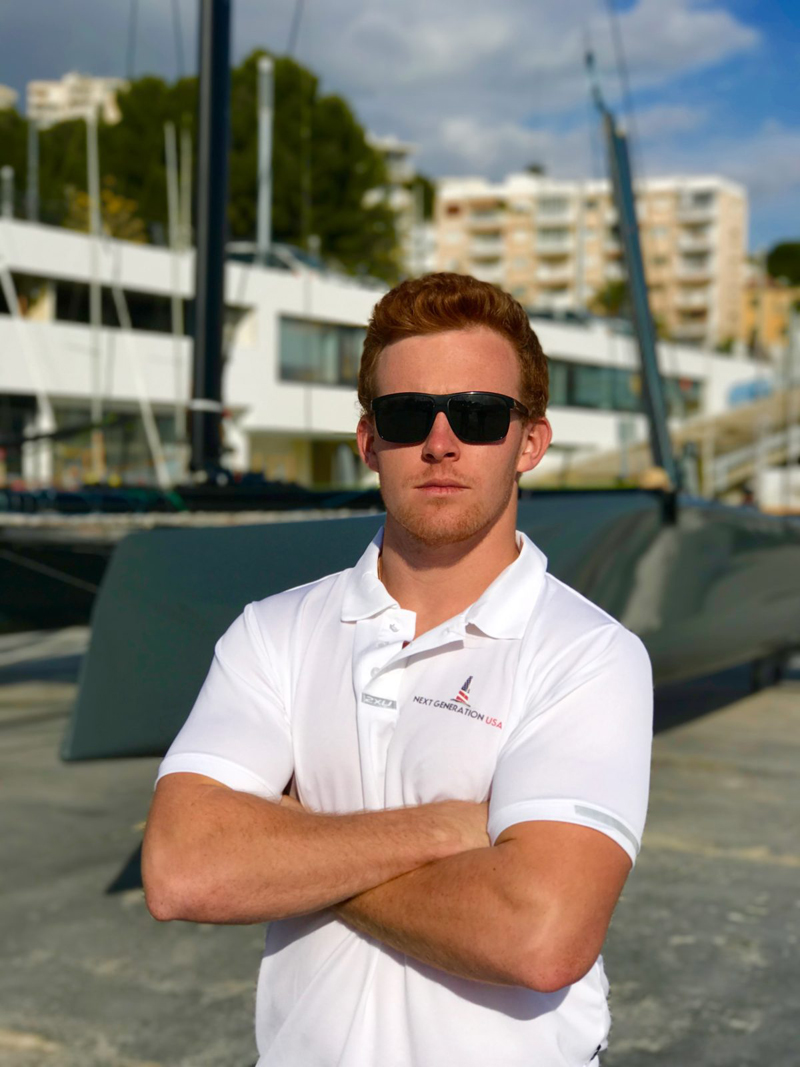 "Carson and I had several conversations. We found we shared a common passion: we wanted to represent our country and make them proud, and we also wanted to leave a legacy so that other young sailors can follow in our footsteps.
"Timing worked for everyone as Next Generation USA Team was still looking to finalizing their team for the upcoming sailing evaluation by Red Bull.
"In addition to me being a finance major at University Loyola Maryland, spearheading the sponsorship and finances for Next Generation USA Team was a role I could naturally fill. Fortunately, Carson agreed I would be a welcomed addition which I am truly grateful."
In Palma de Majorca, Spain, Next Generation had just five days to gel and learn to sail as a team and just two days to show the Red Bull Evaluator Hans-Peter Steinacher that they were the team he should select to represent the USA.
Preston, a grinder, added: "None of that would have been possible without the help and guidance of Iker Martinez and his team, who was kind enough to allow us to charter his GC-32 and help coach us." Mr Martinez is a former 49er Olympic Gold medallist and Volvo Ocean Race Skipper.
Over the next few months Next Generation has training blocks planned in Palma de Mallorca, Spain where Mr Martinez is located.
In addition, there will be a seven-day training block on an AC45 in Bermuda with Oracle Team USA, which has agreed to mentor the team while on the Island. It is expected that the training will take place in March or April. The racing itself is in June.
Preston added: "On the fundraising side, we have needed to do it all on our own. We started this journey off with our team manager Carson Crain showing great faith in the team by taking out a loan to cover initial expense.
"As this journey has progressed we have been able to raise some private funds to cover our base expense.
"However, we would welcome the opportunity to partner up with willing companies and individuals. Again, we plan on representing and leaving a legacy so that the next time around, the Next Generation USA team will already have a platform and frame work to step off."
He added: "We are under no illusion. We recognize that we are facing world class competition, but we have overcome a great deal to get here and we are all very determined and confident moving forward.
"I've have mixed emotions about racing in Bermuda; against a Bermudian team made up of people who became very good friends of mine. I wish them good luck but make no mistake; we will be there to win, to make USA proud. That is how I always envisioned this story ending."
Read More About