The Bermuda Underwater Exploration Institute [BUEI] and Bermuda Audubon Society will present a talk entitled "Birds & People in Bermuda" by Andrew Dobson. The event will take place on Thursday, February 9, beginning at 7.30pm.
The event poster says, "Andrew Dobson has been a teacher at Warwick Academy, Bermuda for over 27 years, but a keen birdwatcher since he was a boy!He has a passion for birds and has served on the executive of the Bermuda Audubon Society since 1990 including many terms as President.
"He has been a regional editor for the journal North American Birds for over 20 years and is currently serving a second term as President of Birds Caribbean.
"From his extensive collection of bird photographs, Andrew will illustrate how birds are embedded in Bermuda's culture. As well as featuring many of the bird species that appear in Bermuda, he will surprise the audience with the myriad of ways in which birds are part of our daily lives."
The presentation will talk place on Thursday, February 9, with a Sushi Happy Hour to be held at Harbourfront from 5.00pm to 6.30pm and dinner opening at 6.00pm.
Tickets cost $20 for members, $25 for non-members and $10 for students, and are available by calling 294-0204 or visiting BUEI's Oceans Gift Shop.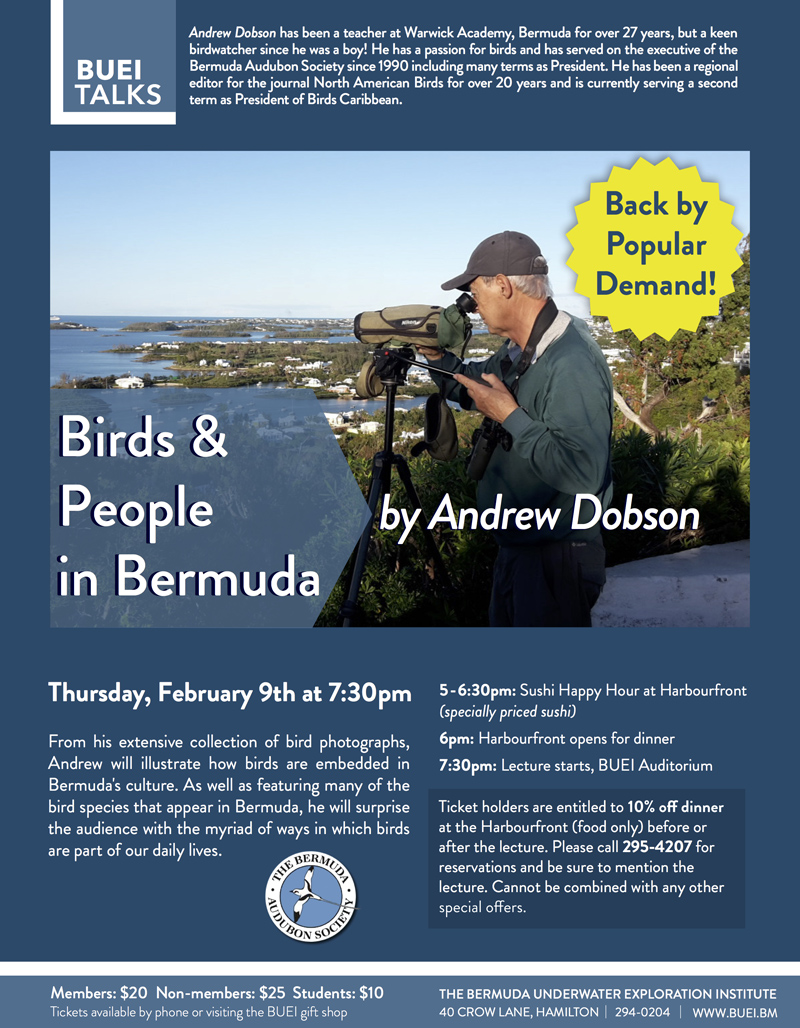 Read More About
Category: All, Environment