The Bermuda Tourism Authority [BTA] is calling on tourism industry stakeholders to curate special offers that cater to young travellers visiting the island for sports training, particularly in the shoulder season.
At a presentation to Hamilton Rotarians, the BTA's Chief Product and Experiences Development Officer Pat Phillip-Fairn explained how the island's appeal as a sports training destination has grown significantly in the past 18 months.
Ms Phillip-Fairn highlighted a partial list of sports training groups in the pipeline for 2017, all happening during the shoulder season [between November and March]:
Tabor Academy Sailing Camp – first school to visit Bermuda for a pre-season training camp in sailing since the BTA's sports tourism efforts began about three years ago [Mar]
St. Andrews College and Germantown Academy – school swimming programmes returning to Bermuda for second consecutive year [Nov]
Calvin University and Florida State University – first-time visitors for swim training [Dec]
2017 Bermuda Sporting Events Calendar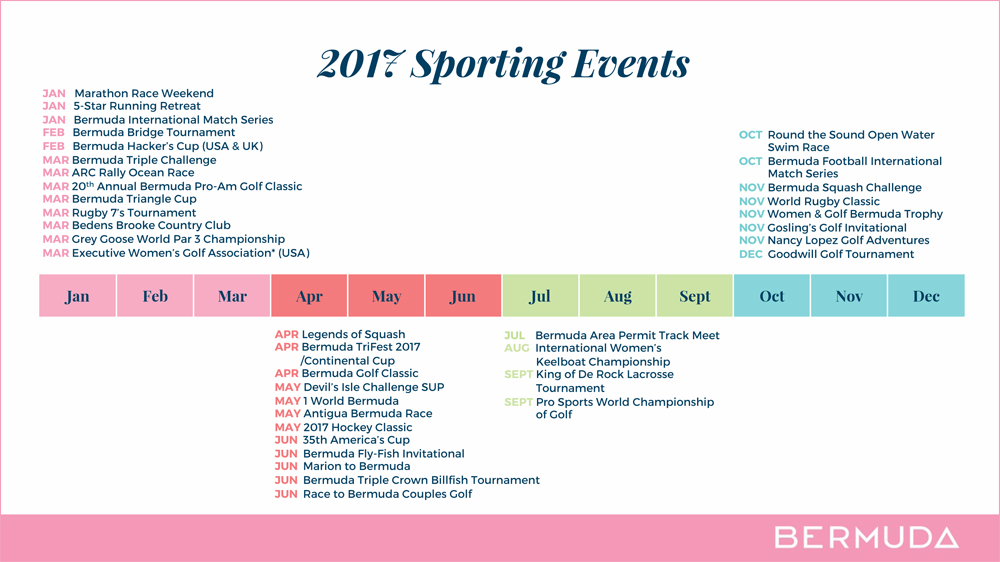 Ms Phillip-Fairn said: "Clearly we have reached a milestone in the training category of sports tourism.
"For example, in December 2017 we have multiple swimming camps already booked at the National Sports Centre. Bermuda is now on the radar for coaches and other decision makers in our target markets.
"To grow from here we need our stakeholders to raise their hands and tell us they're ready to leverage this opportunity for their businesses and cater to this audience."
"Catering to sports teams could mean meeting special dietary requirements or providing group rates for hotel rooms, transport or excursions," the BTA said.
"Fairmont Southampton, Grotto Bay Resort, Coco Reef, Titan Transport, GAR Transport, Flanagan's and Dolphin Quest are among the local businesses that have proactively developed programmes catering to the sports training audience."
Slideshow of Ms Phillip-Fairn's presentation:
"If additional businesses want their offers in front of sports teams they should contact the BTA's Assistant Product Development Manager for Sports, Daniel Johnson at 441.279-5597 or djohnson@bermudatourism.com," the BTA added.
"There is heightened interest in offers specifically for the shoulder season where the BTA focuses most of its sports tourism efforts.
"In 2016, 3,600 visiting athletes flew to Bermuda and filled 19,600 room nights.  The BTA expects 2017 to be a strong growth year for sports and adventure tourism."

Read More About