Nikita Robinson, radio host for Hott 107.5, announced the launch of Bermuda's 7th Annual World Book Day.
Starting in 2010, the scheme has enriched the lives of thousands of local children and is expected to grow even bigger and better this year.
Over the next three weeks, Hott 107.5 is encouraging individuals and community sponsors to purchase books, suitable for children toddler age up to teenagers, at The Bookmart at Brown & Co on Reid Street in Hamilton; and leave their donation in the store's book bin.
Before World Book Day – Thursday, March 2 – the books will be distributed to nursery school students and school libraries island-wide.
In past years, the drive has provided between 1,400 and 1,600 books annually for nursery and preschool students in Bermuda.
However, at the request of others in the community, Mrs. Robinson decided to open up this year's appeal to include primary, middle and high school students as well.
"Literacy and reading is of the utmost importance to the health of our community," Mrs. Robinson explained.
Students from Berkeley read to children at Happy Moments Nursery & Preschool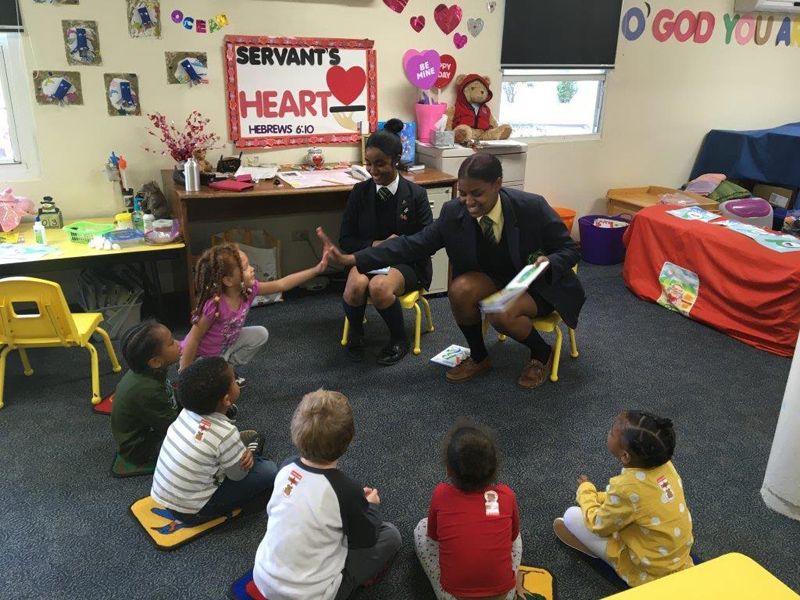 "I personally believe that every child should be equipped with these tools – and will need such knowledge to be successful in life," she added.
"I went to CedarBridge Academy once for a presentation and Principal Kalmar Richards said 'Reading is knowledge and knowledge is power'. That powerful thought has stayed with me and is the reason behind why I continue to do what I do."
The campaign, which started last week, encouraged radio listeners to call in and nominate a nursery or preschool whose students will benefit from the books.
This week Mrs. Robinson is working to entice individuals, groups and companies to adopt a school and sign up to read at a local nursery or pre-school on March 2nd.
Sponsors like XL Catlin, RenRe, Southampton Parish Council, Hunts Food and Supplies, as well as Premier Michael Dunkley, a long-time supporter, have already signed up to be a part of World Book Day 2017.
Seven years ago, Mrs. Robinson was looking for something to do to celebrate her birthday, when the former manager at The Bookmart at Brown and Co. introduced her to World Book Day.
"It's usually the first Thursday in March and that year it just so happened to fall on my birthday," she said. "I've continued with it every year since because I see this as something small and tangible we can all do to enhance our children's future.
Juanette Spencer reads to children at Kiddie Academy in honour of World Book Day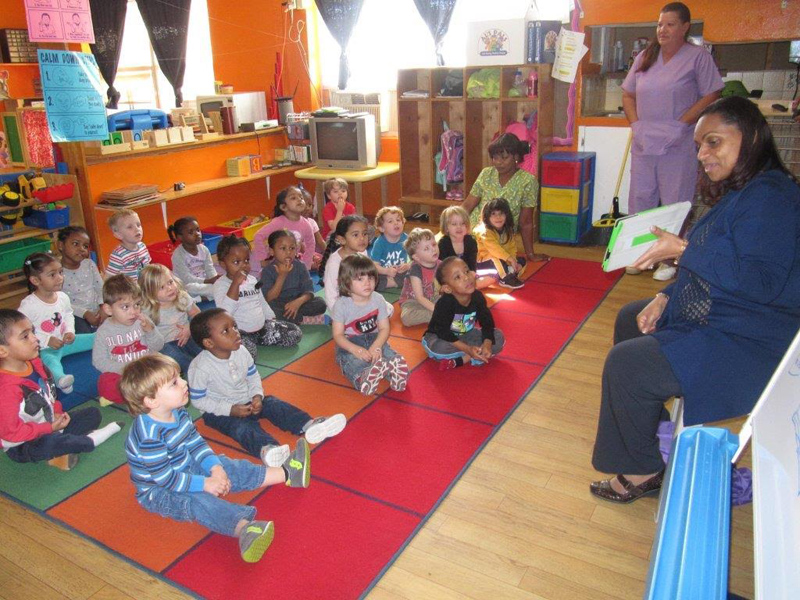 "It doesn't cost much, but is a meaningful investment we are making for our children.
"On our second year doing this I went to pick up the books at Harrington Sound. I saw a little boy with his book who ran over to his sister and said 'Look what I got'. The excitement on his face was just incredible. That was confirmation that what we are doing is making an impact."
The Bookmart has been a proud partner of the event – with books purchased for the scheme getting a 10 percent discount.
Martin Buckley, the store's department manager, said: "We have worked with Nikita every year since this started and are pleased to see books going into schools and into children's hands so they can fall in love with reading.
"This year we are especially excited because it's not just the nurseries and pre-schools – and that means parents who have taken part in previous years when their children were in nursery can continue to do so now that their children are growing up and moving through the education system. It's just a very worthwhile cause to be involved in and we are delighted to show Nikita our support."
For more information on how you can take part, e-mail nikita@hott1075bermuda.com or call 297-1076.

Read More About
Category: All, Entertainment, News