A trip in February 2017 by Premier Michael Dunkley to England to attend the Joint Ministerial Council on European Negotiations cost $10,738.38, according to a recent listing on the Government's travel webpage.
The trip duration was listed as from Saturday, February 04, 2017 – Thursday, February 09, 2017, and the web page listing said that the Premier attended the Joint Ministerial Council on European Negotiations in London, England.
The Premier with other Overseas Territories Leaders in the UK earlier this month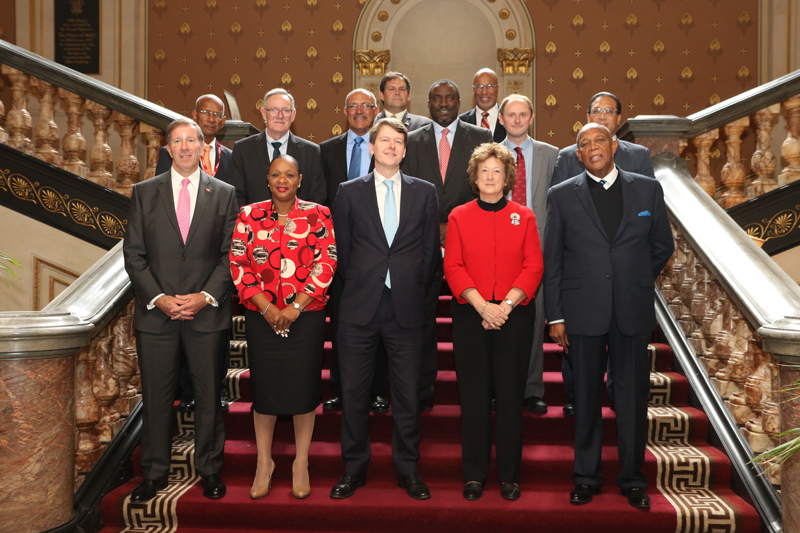 "The meetings were called to enable the Leaders of the UK Overseas Territories to learn from UK Ministers the current status of the UK's plans to exit the European Union and for Leaders to share with the UK the concerns of the Territories," the listing said.
"UK Ministers responsible for the Department for Exiting the European Union, the Home Office and the Department for International Development were in attendance.
"While there, the Premier attended a roundtable luncheon organized by the Chinese Embassy in the UK for the leaders of Bermuda, Cayman Islands and the British Virgin Islands.
"The luncheon was a follow-on from a visit to the region by the Minister of Economic Development of the Chinese Embassy and the Chinese Ambassador to the UK.
"In attendance at the roundtable were key Chinese Business leaders based in London, including representatives from Fosun, owners of Bermuda-based Ironshore Insurance.
"The cost of meals are included within accommodations.
"The Premier was accompanied by the Minister of Finance the Hon. E.T. Richards and the Secretary to the Cabinet, Dr. Derrick S. Binns. The visit was facilitated by the Bermuda Government's London Office."
Expenses
Air Travel: $5,667.65
Ground Transportation: $2,163.36
Accommodation: $2,907.37
Meals: $
Miscellaneous: $
Total Cost: $10,738.38

Read More About
Category: All