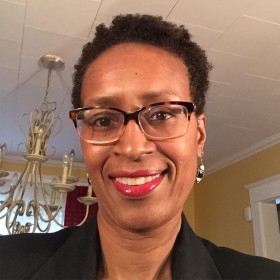 "Problem gambling won't be introduced to the Island when the first casinos open their doors – it is already here," according to Deborah Haskins, a US-based counselling expert and the President of the Maryland Council on Problem Gambling.
Dr. Haskins is on Island this week after presenting at Bermuda Casino Gaming Commission's 'Awareness of Gambling Addiction in the Faith Community' event at Bermuda Underwater Exploration Institute on Monday. She is joined by Keith Whyte, the Executive Director of the US National Council of Problem Gambling.
"Some people who attended said 'I don't think gambling is a good thing for Bermuda', but they also said: 'From being here today I'm recognising we need to be prepared and provide support to people if and when they need it'," Dr. Haskins explained.
"One church leader stood up, was being honest and was definitely not for gambling. He said 'gambling is going on and has been for a long time, but now at least it's out in the open because the reality is folks are gambling. It's just no one is talking about it.'
"Other participants shared knowledge of persons who engaged in risky gambling and would need professional intervention and recovery support."
The event and subsequent training attracted more than 50 people, including pastors, church lay people, addiction counsellors and mental health professionals interested in learning more about the issue of problem gambling and how to curb the negative effects when gambling is formally introduced to Bermuda.
"The entire day was phenomenal," Dr. Haskins explained. "People really felt personally engaged because the presentation focused on the demographics of the community here.
"Bermuda's population is largely of African descent and a largely religious community, so we used that as a framework to provide the education and support needed."
Dr. Haskins said historically cultural groups have experienced issues like enslavement, colonisation, marginalisation and oppression.
"Typically, there is no opportunity for ethnic communities to get support for those issues in the world because the world is the rejecting source," she explained.
"But on the positive side, for people who have been marginalised their faith community, family and friends play a crucial role in healing. In regards to the faith community, the church has always been a space for healing and validation, where you can cry out all of your pain and people will listen."
She said there was a higher chance members of this disenfranchised segment of the population would use gambling as a coping mechanism or escapism.
"It gives them a sense of empowerment in a world that doesn't give them that sense of empowerment," Dr. Haskins said. "If they aren't winning in the world, it may feel exciting and liberating to win at a hand of cards or game, until they start losing and it's a lot of loss and they get caught up in that cycle."
The solution? According to Dr. Haskins is to start an ongoing education campaign so people understand gambling addiction and the risks, so they can potentially opt themselves out of gambling in advance.
Making sure there are enough trained professionals, so people know where to go for support is another key ingredient, she said.
"When someone is in trouble help will be available," she said. "That's why we are educating the faith community and the public and mental health professionals because those are the places you can go for help or even in the early stages of a problem developing.
"There will be a 1-800 Confidential Hotline for people to get some support and talk to someone who is trained, can offer support and link them to resources in the community.
"Public awareness is the most important strategy because if people aren't informed then they can't make the best decisions for themselves or their families."

Read More About