There was "excitement and energy" at the PLP's first Women's Caucus meeting this past Saturday, PLP Public Relations Officer Liana Hall said, adding that "we are motivated to have our voices heard to advocate for policy and legislative change."
Ms. Hall said, "This past Saturday, the Progressive Labour Party launched our Women's Caucus. With nearly 100 attendees from all walks of life, we are encouraged, yet not surprised, by the number of women who are willing to give their time and energy to invest in our country.
"Despite being underrepresented across society, including parliament and senior executive positions, the issues raised covered many areas.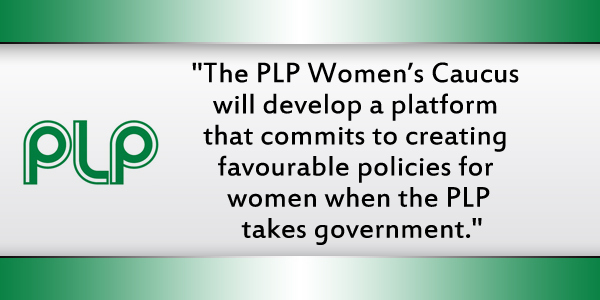 "The structure of the forum was guided and encouraged active participation, with each attendee submitting a card naming their deepest area of concern for Bermuda," Ms Hall continued.
"The panel, consisting of Senator Tinee Furbert, Kathy Simmons and Zina Edwards, selected a card and that topic was then discussed for 25 min.
"The meeting's focus narrowed to healthcare, growing economic inequality and the youth in Bermuda. We discussed the lack of work available for the older generation, empowering our children with a sense of identity through Bermudian history and facilitating further education for parents, who are frequently excluded from these opportunities due to childcare limitations.
"The PLP Women's Caucus will develop a platform that commits to creating favourable policies for women when the PLP takes government.
"Additionally, we discussed creating opportunities for ourselves and exploring existing resources. However, it became clear that there are very limited resources available especially for children as it pertains to education and affordable extracurricular or vacation activities.
"It was important to us and all attendees that this was a safe space to explore issues including mention of sexual assault and domestic violence-induced trauma. With women being so frequently marginalised and excluded from national dialogue, the core purpose of the PLP Women's Caucus is to ensure the inclusion of women in every facet of our society.
"There was excitement and energy to our first Women's Caucus. We are motivated to have our voices heard to advocate for policy and legislative change. We also acknowledge the support of Party Leader David Burt and all our members who have encouraged the establishment of the Women's Caucus.
"We will continue to host open forums that include all women in Bermuda. We are exploring alternative formats for each meeting and look forward to sharing our progress.
"Anyone who would like to stay informed is encouraged to email women@plp.bm to join our mailing list."
Read More About