Lewes Football Club claimed a 4-0 win against East Grinstead, with Bermuda's Jonte Smith scoring twice for Lewes, recording goals in the 29th and 48th minute.
The club's match report said, "Lewes got back to winning ways with a comfortable victory over East Grinstead Town at The Pan, reports Stuart Fuller.
"After the disappointing defeat away at Godalming Town last Saturday, Darren made two changes to the side, welcoming back Charlie Coppola from injury to replace Stephen Okoh, who picked up a knock himself last week whilst Wilfried Grimaud was given his first start since joining the club last month, replacing James Hammond, who dropped to the bench.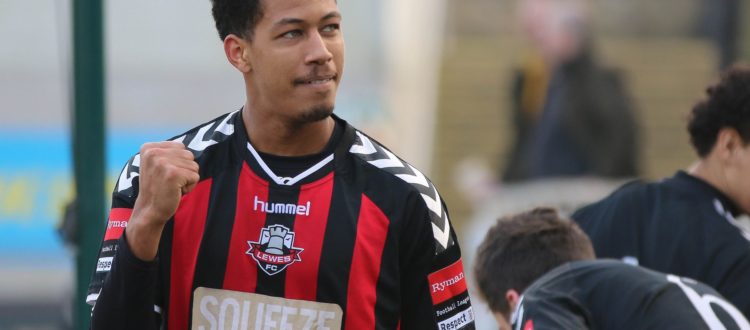 "The Rooks started nervously, as if the defeat last week was still weighing on their minds and it was the visitors who had the better of the opening exchanges, and indeed should have taken the lead on the 15 minute mark when Elliot's shot beat Winterton but was cleared off the line in error by Charlie Harris.
"That was probably the warning that the Rooks needed and they started to put pressure on the Wasps goal with Freeman and Smith both forcing Haigh in the East Grinstead Town goal into action. However, it took a slice of luck for the Rooks to open the scoring in the 28th minute.
"A Dixon through-ball looked to be covered by the centre-back but as he turned the ball hit his heel and rebounded into the path of Jonté Smith and he slid the ball under the advancing keeper. The Bermudian international should have doubled his tally a few minutes later when he put the ball narrowly wide after again being gifted an opportunity by the generous visiting defence.
"The second half started with a bang for The Rooks as Jonté Smith got his second goal within three minutes, controlling the ball on the edge of the box, beating a defender and unleashing a superb shot that whilst the keeper got a hand to, couldn't keep out."
Read More About