MoonGate Insurance Ltd and its trading partner Medical Air Services Association [MASA] both announced increased benefits to the Bermuda resident population.
A spokesperson said, "MoonGate, which was established in October, 2013, offers the HealthGap Supplement which is designed to work in conjunction with basic insurance policies, such as HIP and FutureCare.
"Since these policies have certain exclusions, HealthGap assists by helping to reduce the co-pays that one is subject to, when they go to their healthcare providers."
MoonGate President & CEO, Leon L. Bascome said, "We currently have an extensive array of both local and overseas vendors and partners who work with our clientele to ensure that they receive as much off their co-pay, as they can provide.
"I would like to acknowledge and thank all those who currently comprise of HealthGap, as they have been instrumental in its relevance and growth.
"Today, we are excited to specifically announce and welcome our latest additions to our offering; they are: Argus Optical [Dr. Jamie Burgess, Optometrist], Ashlan Clinic – Healing Essentials [Mel Dupres and Glenn Robinson]; Complete Care Clinic – [Dr. Cindy Morris, MD]; Brunswick Dental Ltd [Dentistry]; BN Henagulph & Associates Ltd [Podiatry] and Amis Memorial Chapel [Funeral Home].
"These partners all provide excellent, professional services in their respective fields and we are privileged to have them as a part of our solution."
Moongate President & CEO Leon L. Bascome & Reggie Anderson, MASA Senior Vice-President of International Sales: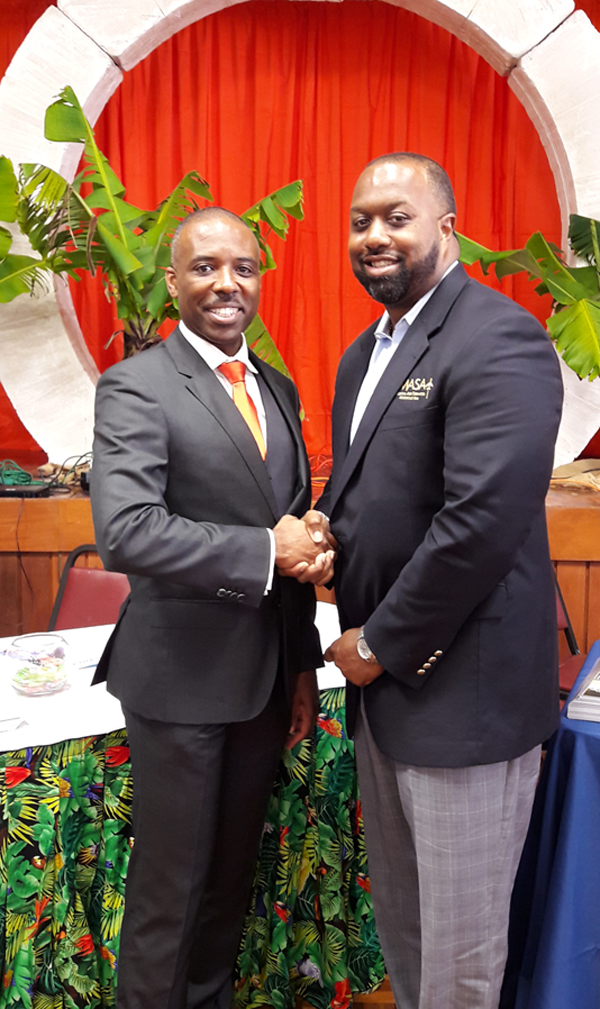 Mr. Bascome added, "We are also pleased to announce that we are placing a price-freeze on HealthGap for 3 years, effective April 1, 2017; we have listened to our clients and have agreed to guarantee the price through to 2020.
"We have always pledged to keep HealthGap affordable and under the $100.00 per month price-point; we continue to achieve this and will continue to increase benefits to this form of HealthGap at no further costs to our clients"
"MASA, an overseas partner on the HealthGap Supplement, provides 100% cover for air ambulance, commercial air transportation, full escort and minor children cover, as well as organ retrieval and full mortal remains cover."
Reggie Anderson, Senior Vice-President of International Sales, said, "Once again, we are pleased to be in your beautiful island with its friendly and wonderful people; our relationship with MoonGate continues to strengthen and I am pleased to be here today to roll out the new Partner Enhancement Provider [PEP] Program to our members, located here.
"Many Bermuda residents love to travel to the Caribbean for Cricket, Cruises and Carnivals! Well, now, when clients travel to the Caribbean, they will be able to simply show their MASA Card and obtain discounted products and services at participating vendors throughout the region.
"The extensive discount program is operative in the following participating countries: St. Kitts & Nevis, Anguilla, U.S. Virgin Islands, Bahamas, Turk & Caicos, Trinidad & Tobago and the British Virgin Islands. We hope that members take advantage of these benefits, as its use enables the membership to pay for itself."
Mr. Bascome said, "I am very excited for our future, as we implement our strategy and vision. Each day, we learn something new from either our clients, local vendor partners or overseas partners in MASA and Welldyne Inc. [WellCard].
"Our staff is nothing short of exceptional and our status as a private and independent company allows us to identify needs and respond quickly. We have products in the pipeline, which require regulatory approval and we hope that we can introduce these products to the public in the near future."
For more information, contact MoonGate on 542-2200 or visit the website.
Read More About