"With an election looming, the timing of this and other actions will raise questions about fairness, impartiality and whether the OBA's approach is less about justice and more about political vendettas or distracting from their failure to create jobs and opportunities for Bermudians," the PLP said this evening.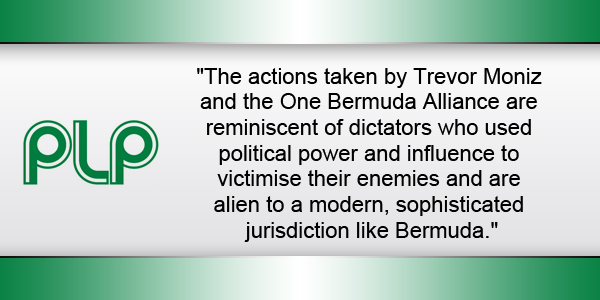 Legal Action Taken In Relation to Port Royal Project
The PLP's statement follows after Attorney General Trevor Moniz announced today that he has issued proceedings against Zane DeSilva, Wendall Brown, Delano Bulford, Island Construction and S.A.L. in Bermuda's Supreme Court in connection with the refurbishment of Port Royal Golf Course between 2007 and 2009.
Mr Moniz said that following the Auditor General's report on the Port Royal Golf Course project, he "commenced an internal investigation into the matters noted in that report, in particular, the finding of self-dealing by trustees."
"Trustees owe fiduciary duties to Government. As part of the refurbishment, goods and/or services were supplied to the Port Royal Project by companies linked to the first three defendants – all former trustees," Attorney General Moniz said.
"At no point did they properly declare their interests or recuse themselves from the Board's decision-making in respect of the refurbishment of Port Royal," the AG said, adding that the "defendants profited at the expense of Government in breach of their fiduciary duties. At no point was Government's permission sought or given for such a breach."
"This is part of Government's efforts to protect taxpayers and to uphold and vindicate the rule of law," the Attorney General said.
PLP's Comments
A PLP spokesperson said, "The PLP remains committed to truth, fairness and justice.
"The allegations made by the OBA are serious and, for the good of Bermuda and our international reputation as a modern, sophisticated jurisdiction, this process must be open, transparent and free of political interference.
"The actions taken by Trevor Moniz and the One Bermuda Alliance are reminiscent of dictators who used political power and influence to victimise their enemies and are alien to a modern, sophisticated jurisdiction like Bermuda.
"When it came to scandals like JetGate and the serious allegations that forced the resignation of the OBA's first premier, where was Trevor Moniz? Where were the investigations and lawsuits?
"It must not be forgotten the AG's last vendetta against former Premier Brown, risked our agreement with the US and has put our relationship with the Lahey Clinic in jeopardy. Furthermore, the OBA have used tax dollars to hire a political PR firm to push that agenda.
"With an election looming, the timing of this and other actions will raise questions about fairness, impartiality and whether the OBA's approach is less about justice and more about political vendettas or distracting from their failure to create jobs and opportunities for Bermudians."
Read More About