Swan's Running Club is hosting their 'Legends Race Series,' which celebrate some of Bermuda's road racing legends including Ed Sherlock, Ray Swan, Ludwig Cann and "Sir" Stanley Burgess.
A spokesperson said, "There is still time to register for the Legends Race series. The second race of the series, the inaugural Ray Swan Flat 8K will take place on Sunday, March 26th starting at West Pembroke School at 8:30 a.m. The race will travel along the North Shore to Shelly Bay.
"To celebrate Swan's Running Club's 35th anniversary of road running in Bermuda, the Legends Race Series consists of four races that celebrate some of Bermuda's road racing Legends, such as Ed Sherlock [February 12], Raymond Swan [March 26], Ludwig Cann [April 9], and "Sir" Stanley Burgess [May 7].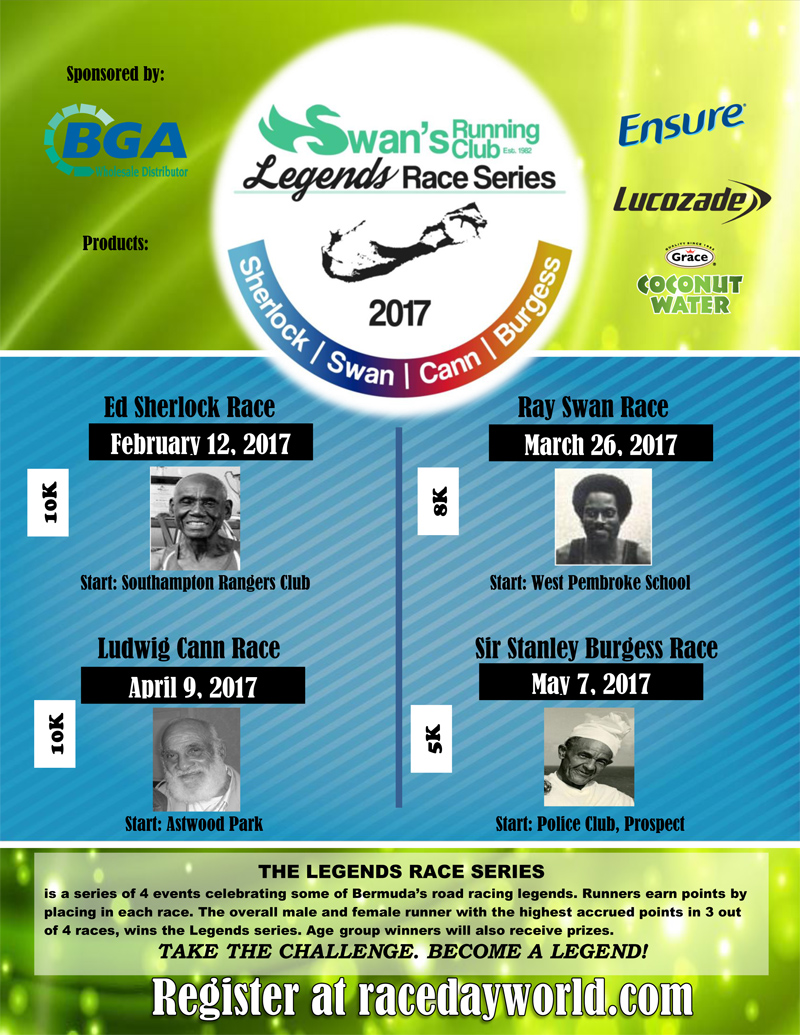 "There is a point system given to placement in each race. The male and female participant who has accrued the highest points in the best three out of four races, will be crowned the Legends winner.
"There will also be prizes given for the overall winners in each of the various age categories. There are double points to be gained in racing the last race and this may be the deciding factor of who will be crowned the "LEGEND".
"Swan's Running Club is extremely grateful to BGA who has come on board as the title sponsor for the Race Series. We will work to keep the history alive of our road running legends, and to encourage all road runners, [New and Old] to take on the challenge that the Legends Race Series presents.
"Swan's Running Club membership is open to all residents of Bermuda, irrespective of age. We pride ourselves in meeting people's needs at whatever activity level they are at. We provide training from a qualified coach and also provide support and mentoring. The Club also has a Fitness Walkers section."
For series details and registration information, log on to www.racedayworld.com.

Read More About