"I think we could have implemented casino gaming over a year ago," MP Mark Pettingill said, adding that he feels "we could have had 200 jobs on the table right away."
Following his resignation from the One Bermuda Alliance, MP Mark Pettingill sat down with Bernews for a live interview, with his thoughts on the implementation of gaming one of the topics discussed.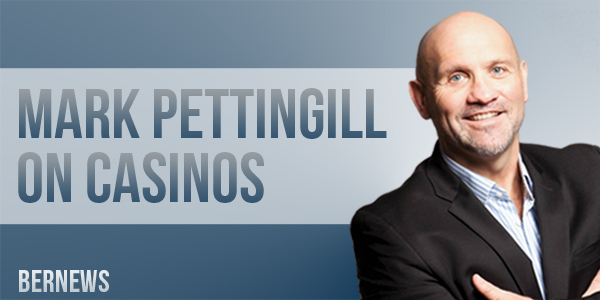 Mr Pettingill said, "I think we could have implemented casino gaming over a year ago. I think that, within that, we could have had 200 jobs on the table right away with the ability to get people in working programs, paid for. That's 200 jobs.
"I know that there was a program to do that. I was a part of that and that could have been done, it boggles my mind that it wasn't. I think that the current Commission was obstructive in that, and got in the way. We've spoken openly about that.
"I think they hijacked the whole, that's a bit of a harsh term, but the whole original Government model of boutique casino, and just kind of went off on a tangent, which wasn't where we needed to go.
"I believe very strongly, and no one will move me on that, that it could have been done and that we could have created jobs on that one thing alone a long time ago."
Video excerpt from the live interview showing Mr. Pettingill discussing casinos:
On a related note, this evening the Bermuda Casino Gaming Commission said that "progress to get the island's first casinos up and running has been slower than originally anticipated," adding that "the Casino Gaming Act 2014 was based on the Singapore regulatory model, which was assessed and deemed not to be a good fit for Bermuda."
"Singapore and Bermuda are two very different jurisdictions," said Kevin Mullally, of Gaming Laboratories International. "There is no correlation in population size, inhabitants of the jurisdiction or the tourist model" adding that "it wasn't really a great model to use."
These legislative revisions "took much longer than anticipated", which has delayed the start of the casino vetting and selection process, Mr Mullally said.
"The good news is the Commission has made very substantial progress and been very effective in using this time to develop an understanding of what types of projects would best fit Bermuda," he added.

The video above was extracted from the full interview, in which Mr. Pettingill discussed a wide range of topics including the reasons behind his decision to resign from the OBA, same sex marriage, the lawsuit against Lahey Clinic and more.
An excerpt of Mr Pettingill discussing his plans as far as supporting legislation is here, we will post an additional excerpt from the interview tomorrow, and to watch the full live video interview replay please click here, and if you want to listen 'on the go', you can also access an audio-only version of the full interview in the podcast section of the Bernews app.
Read More About