The 2017 Carifta Track and Field Games continued at the Curacao National Stadium, with Bermuda's athletes seeing action.
Telilah Wears finished 6th in Heat 3 of the Under 18 Girls 200 Meter Dash with a time of 26.06 to see her finish 16th overall.
Suresh Black finished 4th in Heat 1 of the Under 18 Boys 200 Meter Dash with a time of 22.77, while Clevonte Lodge finished 4th in Heat 3 stopping the clock in a time of 22.94. Black finished 15th overall and Lodge finished 18th overall.
The Under 18 Bermuda 4x100m relay team of Clevonte Lodge, Lejuan Matthews, Deneo Brangman and Mikal Dill advanced to the final, finishing 5th in Heat 2 with a time of 42.63, and they then finished 5th in thefFinal with a time of 42.31.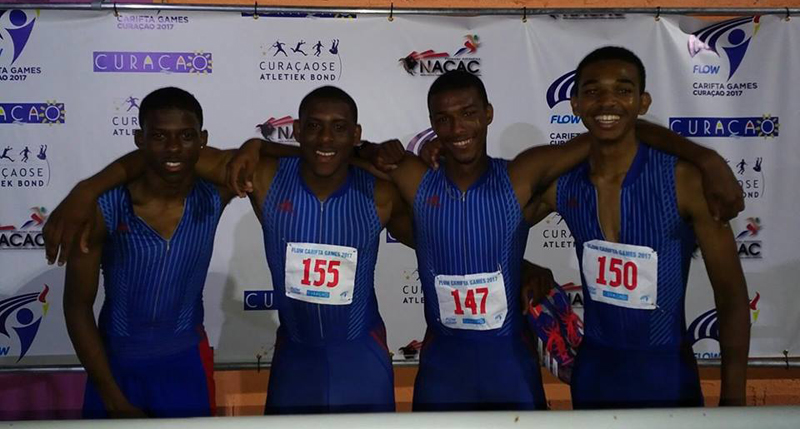 Tiara Derosa finished 5th in the Under 20 Girls Shot Put with a top toss of 11.67m which came on her final attempt. Derosa had a toss of 10.53m on her first attempt, she then had a toss of 10.40m on her second attempt.
Derosa would record a foul on her third attempt, before a toss of 11.65m would come on her fourth attempt, she would then have a fifth toss of 11.05m, before her final throw.
Aaron Jacobs has qualified for the Under 18 Boys 800 Meter Run when he finished third in Heat 1 with a time of 1:59.37, his time saw him finish with the 6th fastest qualifying time.
Isaiah Bell-Phillips finished 4th in Heat 2 of the Under 20 Boys 800 Meter Run he clocked a time 2:06.29, finishing 14th overall.
Elisha Darrell finished 9th in the Under 20 Boys Long Jump with a top leap of 6.68m, which came on his third attempt.
Using the old system of three jumps with the top eight advancing Darrell only had three attempts, with his first attempt measured at 6.67m and then his final attempt was measured at 6.53m.
Brianna Mendes and Lynsey Palmer finished 5th and 6th in the Girls 3000 Meter Run, Mendes clocked a time of 11:27.03, while Palmer was clocked at 11:32.71.
Johndell Cumberbatch missed out on a podium spot by just over a second during the Under 18 Boys 3000 Meter Run, Cumberbatch was clocked in the 4th position with a time of 9:31.63, with Martinique's Georges Jean-Elie clocking a time of 9:30.75, Quincy Kuzyk was clocked with a time of 9:42.15 finishing 5th.
Zekiah Lewis finished 11th competing in the Under 18 Girls Long Jump, Lewis recorded a top leap of 5.35m which came on her second attempt.

Read More About