Mt. Zion AME Church and The Department of Education will be hosting 'All Pro Dads Pancake Breakfast & Panel Discussion' on Saturday, April 22 from 8.30am to 12.30pm at Fairmont Southampton Hotel.
Their theme for this year is "Beyond Violence & Silence: Strong Fathers, Strong Families = Strong Communities."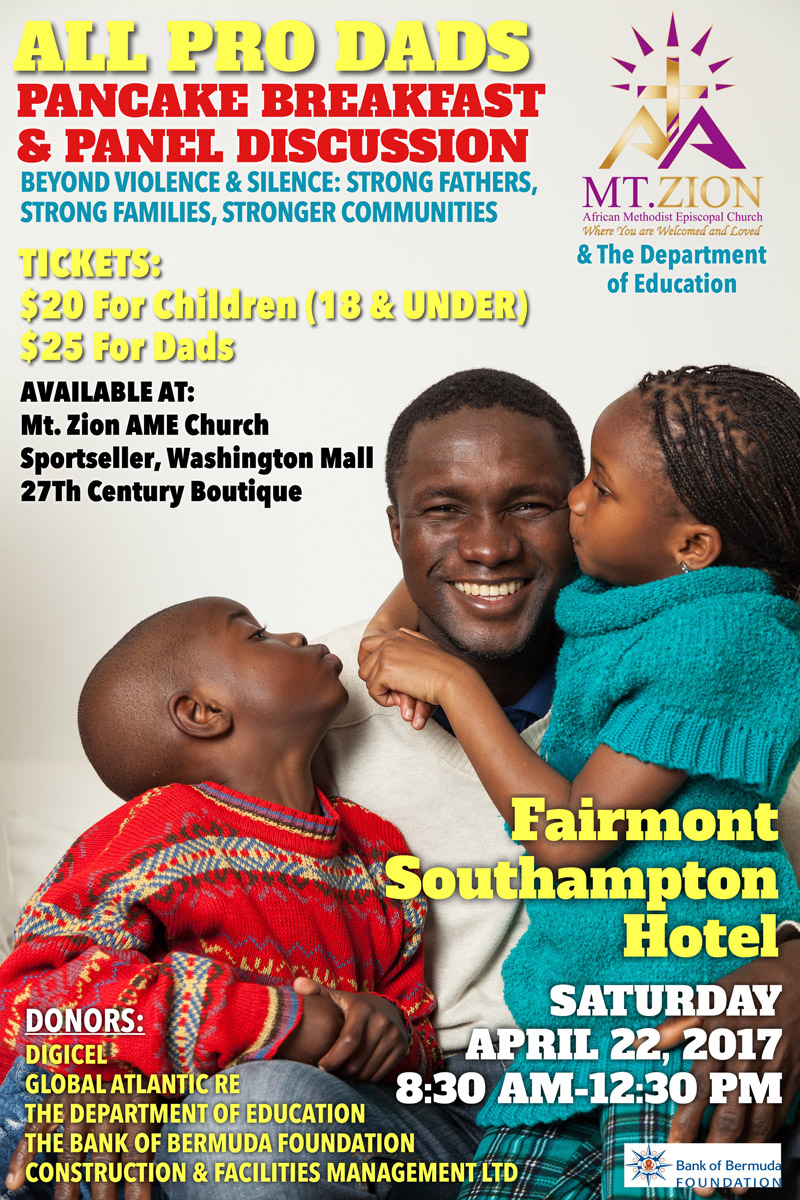 The committee members of All Pro Dads Bermuda Chapter include Rev. Jahkimmo Smith – Pastor Mt. Zion AME Church; Dr. Llewellyn Simmons – Director of Curriculum, Department of Education; Anthony 'Tony' Roberts – Chairman All Pro Dads Bermuda; Elwood Lambert – Deputy Chair, All Pro Dads Bermuda; Roger Butterfield – Finance Chair, All Pro Dads Bermuda [retired VP of Retail Banking Bank of Butterfield]; Stanfield Smith – Deputy Finance Chair- Former Principal of Northlands Primary School; and Ross Smith – Trustee Mt Zion – Owner- Construction Facilities Management Ltd.
The All Pro Dads Panel Discussion Topics and Panelists include:
1. 'How The Law Works For You'
Panelists: Minister of National Security Jeff Baron; Senior Magistrate, Mr. Juan Wolffe; Mr. Larry Mussenden, Director of Public Prosecutions; Lawyer, Mrs Karen Smith
Moderator Wayne Caines – 9:30am -10:30 am
2. 'The Development Of You & Your Children'
Panelists: Mr. Craig Simmons- Bermuda College; Pastor Dean Smith; Dr. Llewellyn Simmons- Dept. of Education; Mr. Chris Crumpler-Principal, Impact Mentoring Academy
Moderator Dr. Radell Tankard – 10:30am – 11:30am
3. 'You Are Not Alone – A Community Here For You'
Panelists: Mrs. Kim Jackson- Director Mirrors Programme; Dr. Sharon Apopa; Mrs Gina Spence- Gina Spence Productions; Pastor Leroy Bean
Moderator Dr. Llewellyn Simmons – 11:30am – 12:30pm
4. 12:30pm–Wrap Up
Ticket cost $20 for children [18 and under] and $25 for dads, available at Mt. Zion AME Church Sportseller, Washington Mall 27th Century Boutique.
Read More About