The Bahá'ís of Bermuda held their 37th Annual National Bahá'í Convention from April 21 – 23, with the convention held at the Bahá'í National Centre bringing together 19 delegates who have been elected regionally, to elect the National Spiritual Assembly and to consult on the affairs and developments of the Faith in Bermuda.
"The Bahá'í Faith has no clergy but instead its affairs are governed by elected councils of nine," a spokesperson explained.
"Elections for Bahá'í local and national spiritual assemblies are held each year during the most important of the Bahá'í Holy Days, the Festival of Ridvan, which lasts for twelve days, from 21 April to 2 May. Elections are conducted in a spirit of prayerful reflection by secret ballot without nominations or campaigning of any sort.
"Members elected for the coming year are: Georgia Symonds, Blythe Walker; Read Currelly; Leighton Rochester; Valerie Richmond; Anthony Ball; Oswald Hinds; Randy Vaucrosson and Daurene Aubrey.
Members of the National Spiritual Assembly of the Bahá'ís of Berrmuda: Daurene Aubrey, Blythe Walker, Valerie Richmond, Georgia Symonds, Anthony Ball, Randy Vaucrosson, Leighton Rochester, Read Currelly, Ozzie Hinds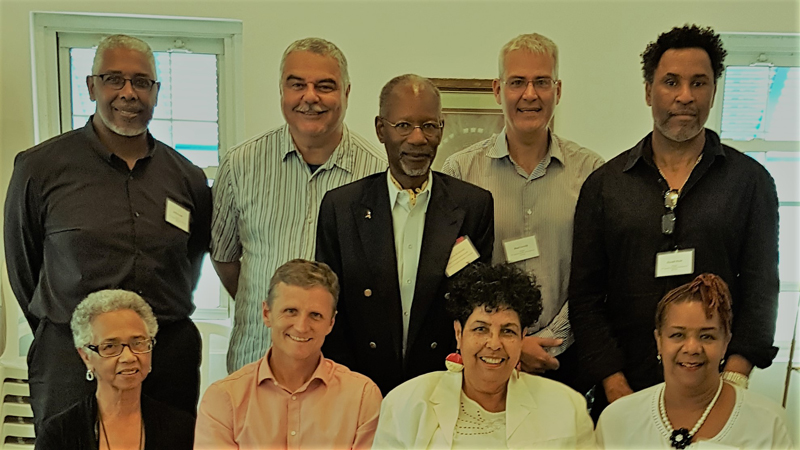 "The election of the members of this year's Bahá'í National institutions around the world become the delegates to the International Convention set for next April at the Baha'i World Centre in Haifa, Israel.
"This is held every five years from 1963 on the anniversary of the Declaration of the Baha'i Faith by the founder Baha'u'llah in the Garden of Ridvan in Baghdad [then part of the Ottoman Empire] in 1863.
"Consultation at this year's National Convention included a focus on strengthening nascent patterns of community life open to all, which are being developed in various neighbourhoods in Bermuda.
"These involve meetings to strengthen the devotional character of the community; classes that nurture the tender hearts and minds of children; groups that channel the surging energies and shape the character of junior youth; and circles of study that enable people of diverse backgrounds to advance on equal footing and explore the application of the Bahá'í teachings to their individual and collective lives.
"The Bahá'ís welcome the interest and participation of the wider society in these activities. For more information please email info@bermudabahai.org. "

Read More About
Category: All