The Bermuda Youth Orchestra [BYO] is getting set to present their "Pop Into Spring" concert on Sunday, April 30, a show that promises to "delight the senses with fun and familiar tunes, as well as some other less familiar, but still enjoyable pieces."
Also featured in the concert will be Bros in Music, a brass group made up of CedarBridge Academy students.
"Pop Into Spring" will be held at St. John's Anglican Church in Pembroke, beginning at 4.00pm. Tickets are $10 for general admission, with patron tickets at $50. Tickets are on sale from orchestra students, the Music Department at CedarBridge Academy, and from the Band Office at the Royal Bermuda Regiment.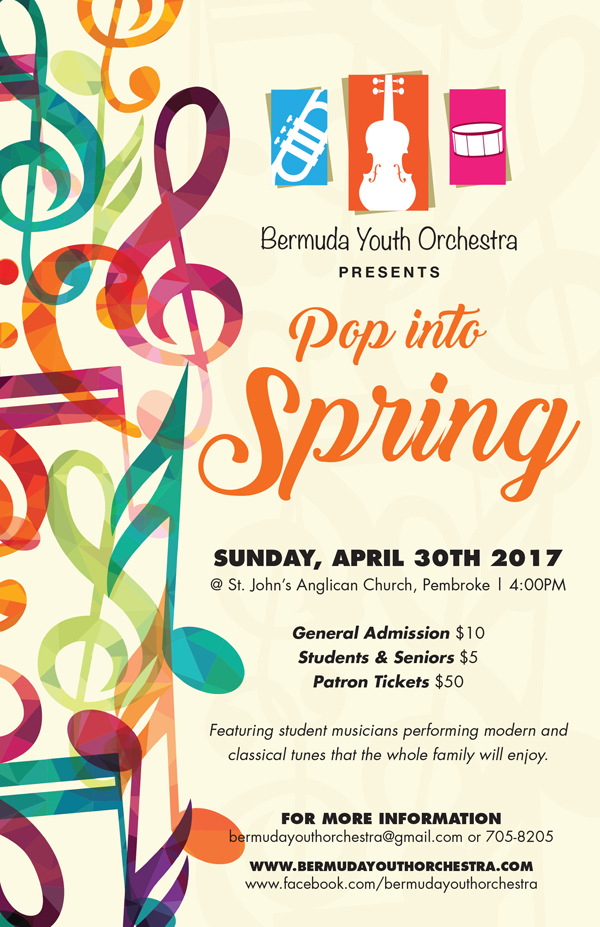 A spokesperson said, "The musicians are challenged to perform different, and in some cases more challenging, music to what they might do in their regular instructional settings."
Maj. Dwight Robinson, Principal Conductor for the BYO, said, "As educators it is our responsibility to put the challenge to the students. They are less excited in the beginning when the music is seen to be difficult, but beam with excitement once they have learned new skills and can execute technique at will.
"We, the instructors, have witnessed that on more than a few instances this term and it validates what we do. The musicians have worked diligently and should be tremendously proud of their development. We are excited for them.
"Further, what a student might learn in a class setting is reiterated and reinforced here in the orchestra. We are happy to provide that additional opportunity for the students and support for their primary instructors."
"The BYO consists of students from the island's high schools who make time each week to attend rehearsals."
Maj. Robinson said, "Our objective is not only to support the various learning institutions on the island, but also exists to socialize musicians from different academic institutions on the island. The students make and meet new friends and the orchestra serves as a means by which those associations can continue to be fostered."
"Sheldon Fox, the BYO Assistant Conductor, will conduct the show. He has worked steadily with the orchestra for the last few weeks and has used the opportunity as part of his preparations for his conducting studies later in the year.
"With the orchestra, he has prepared titles which include pieces by the "March King" John Phillip Sousa, some Strauss, and something from the Big Screen. Those attending are sure to have a Phenomenal time as well."
Inquiries about the Bermuda Youth Orchestra or the concert can be made to Maj. Robinson at bermudayouthorchestra@gmail.com or by calling 238-2470.

Read More About
Category: All, Entertainment, Music