Hamilton Re, the Bermuda-based platform of Hamilton Insurance Group, announced appointments and senior role changes in its management team.
Minesh Shah, Richard Sammons and Sam Thomsen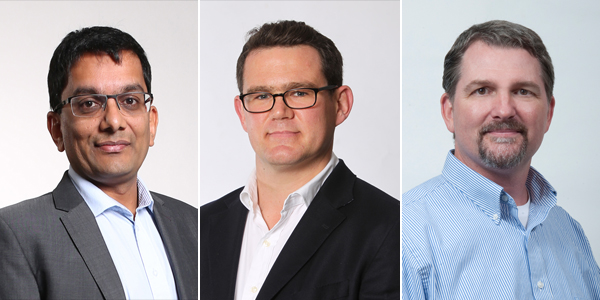 Minesh Shah has joined Hamilton Re in the newly-created role of Senior Vice President, Actuary. Mr. Shah reports to Chief Risk Officer Pete Skerlj. He has over 20 years' experience in the reinsurance field with a focus on risk and capital modeling, reserving, business planning and regulatory reporting. Mr. Shah has worked in Bermuda and the UK with Platinum Underwriters, Renaissance Re and XL Catlin.
Richard Sammons, who joined Hamilton Re in October 2014 as Senior Vice President, Specialty, is now Head of Specialty with executive responsibility for the development of Hamilton Re's Specialty book of business. Mr. Sammons has 19 years' industry experience and reports to Claude Lefebvre, Chief Underwriting Officer, Casualty & Specialty.
Sam Thomsen now holds the newly-created position of Senior Vice President, Head of Technology. Reporting to Chief Risk Officer Pete Skerlj, Mr. Thomsen leads an engineering team that designed and continues to enhance Hamilton Re's technology platform. Mr. Thomsen also works in concert with Matt Isaly, Senior Vice President, Head of Information Systems, to execute the organization's technology roadmap. Mr. Thomsen, who has over 25 years' experience in building software and managing information systems, came to Hamilton Re in 2014 [after consulting for Hamilton Re since 2012].
"I'm delighted to welcome Minesh to Hamilton Re and to acknowledge the new titles for Richard and Sam's positions," said Chief Executive Officer Kathleen Reardon. "Our commitment to data-driven underwriting as well as the ongoing diversification of our portfolio is ably supported by these developments. I'm proud to have these talented and experienced employees on my team."

Read More About