U.S. and Bermuda insurers and reinsurers that cover bodily injury claims in the U.K. will adapt quickly to higher costs stemming from a change in how settlements are calculated, with just a short-term knock to their earnings, Fitch Ratings says.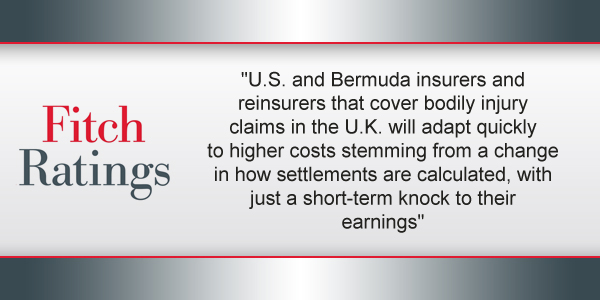 "However, the need to set aside extra reserves for U.K. risks adds to the pressure they are facing from declining reserve margins, low investment yields and competitive pricing," the company said.
"Firms that write or reinsure U.K. liability business face larger claims following a cut in the Ogden discount rate, which is used to calculate lump-sum payments in bodily injury claims to cover long-term care costs or lost earnings.
"However, they should be able to pass the higher costs for new contracts to their clients by raising premium rates, and we therefore do not expect any significant long-term deterioration in their credit profiles.
"Insurers and reinsurers will suffer a one-off shock to profits when they set aside the extra reserves needed for contracts that were in force before the change was announced, in anticipation of higher payments for claims yet to be incurred, reported or settled. Several U.S. and Bermuda companies have recently clarified their exposures, with impacts varying significantly according to geographic and business mix.
"The extra claim costs and associated premium increases caused by the Ogden discount rate cut will largely flow to the reinsurance market, given insurers' widespread use of excess-of-loss reinsurance with low limits to contain their exposure to U.K. bodily injury claims.
"The Ogden rate was cut to -0.75% from 2.5%, from March 20, 2017, to reflect lower risk-free returns in the U.K. economy in recent years. Some firms had already set aside reserves to compensate for an interest rate lower than 2.5%, but we do not believe any had anticipated such an extreme rate reduction.
"Reducing the rate has significant implications for motor insurers in the U.K. because bodily injury claims represent around half of total motor insurance claims costs. Many insurance payments are intended to provide compensation for several decades, so small changes in the rate have a big effect.
"For example, a 30-year-old woman who needs GBP50,000 a year to cover care costs would receive around GBP3.8 million using the new rate, compared with a lump-sum payment of GBP1.5 million at the previous rate."
Read More About