Volunteering met family fun at the Victoria Park on Sunday, April 30th , from 1 pm to 5pm, for the Annual Allied World Family Community Day presented by The Centre on Philanthropy.
"Great weather saw attendance swell to more than 720 representing families [including 333 children], who enjoyed the fun-filled afternoon of giving to the community while enjoying games, food, entertainment and activities with everyone having a blast," the Centre said.
"The event is all about bringing families and charities together for a day of giving back. The families learned together the joy of giving back and the many services our non-profits provide to the community. They also learned about future volunteering opportunities through them. The Centre on Philanthropy's staff supported by Allied World's staff and volunteer teams went into full action to make the day a tremendous success.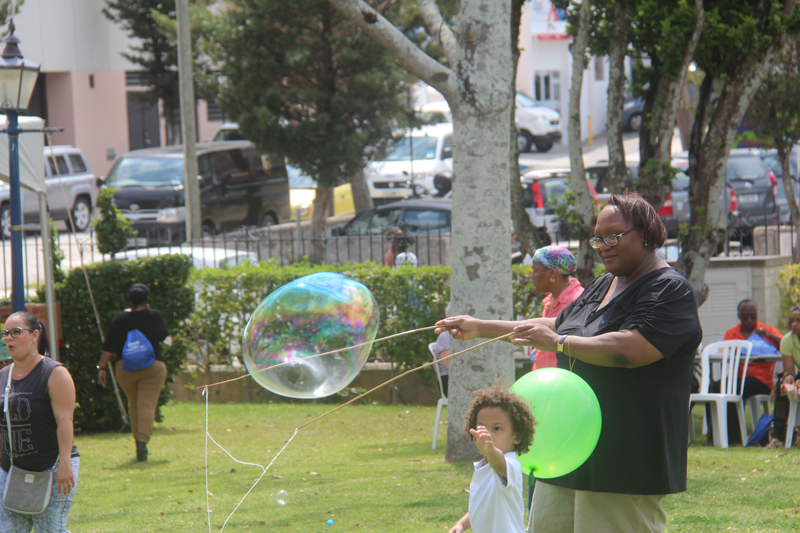 This is the fourth year that The Centre on Philanthropy has held the Family Community Day in partnership with Allied World who fully sponsored the event.
Elaine Butterfield, Executive Director of The Centre on Philanthropy added, "The very generous sponsorship by Allied World, our title sponsor, enabled us to present an even bigger and better event for families and our non-profits this year.
"It is so important to teach our children about volunteering and giving from a young age. They are our future volunteers and philanthropists! We are extremely pleased to have Allied World join us once again in this shared vision for the future of community service in Bermuda."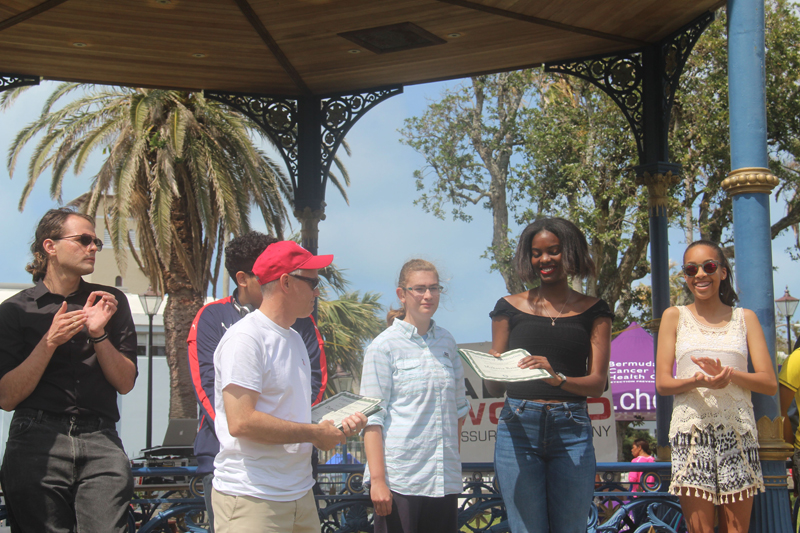 "Allied World is proud to have again supported this event, which saw a large turnout from the community. We hope it achieved even more awareness for the charitable and community-focused efforts of broader Bermuda. Thank you very much to the Centre on Philanthropy for assisting, the many volunteers that contributed to this effort and the charities involved that are tirelessly dedicated to meaningful causes." Mike McCrimmon, President, North American Property & Head of Bermuda Allied World said.
Nikita Robinson, from HOTT 107.5's Ladies Room, was again MC for the day and added, "Family and volunteering are two of my passions," she said. "I'm just so excited to be here and take part."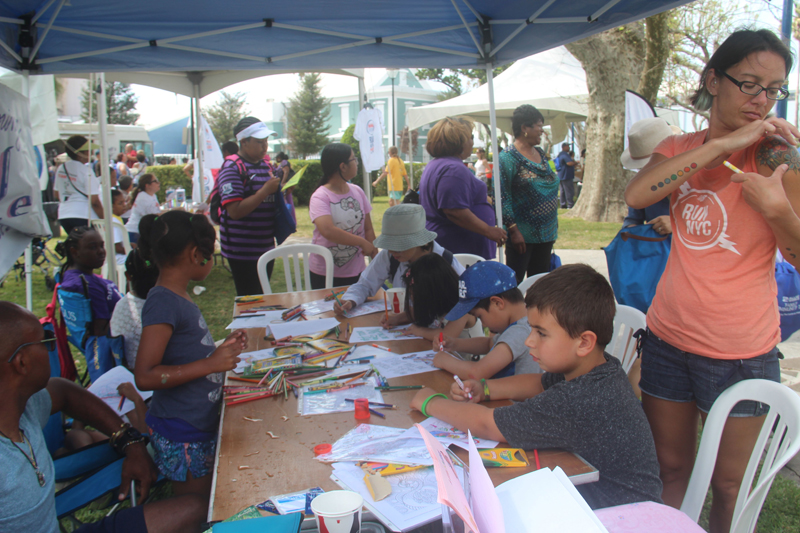 21 non-profit organisations participated in the afternoon of activity and fun which included projects for families from Bermuda Organ & Tissue Donor Association to create mosaic tile coasters; Bermuda Cancer & Health – stuffing Christmas envelopes with Christmas seals; Bermuda Zoological Society – Mosaic art projects and Phenomenal people – motivational art with a message of empowerment.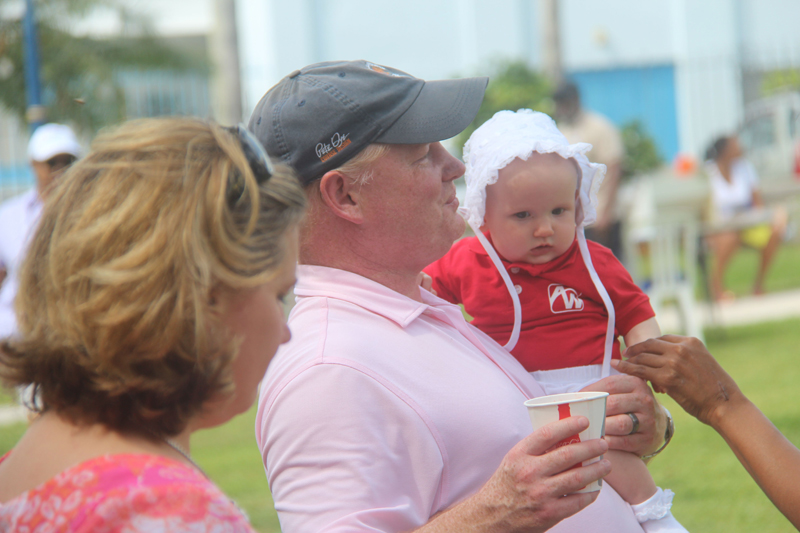 A special feature this year was the Outstanding Youth Volunteer Recognition Awards. The Centre on Philanthropy and the respective charities recognized 13 outstanding Youth Volunteers for the positive difference they have made in giving back to our community.
The Centre said, "Together, with our non-profit members, we recognized the time, energy, and talent that they have contributed to Bermuda. The outstanding awardees were Makasia Baisden, Damian Thompson, Eva Bottelli, Taj Dawson, Kameron Young, Sachio Harrison, Sanai Robinson, Zayda Simmons, Sarai Packwood, Alex Mason, Brian Darling, Kip Malpas and Ava Mayer."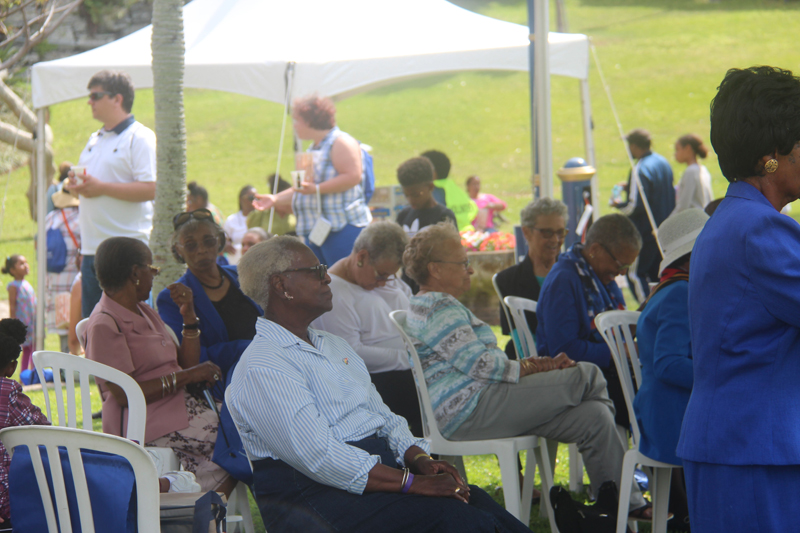 "And of course, there were Fun Castles, Face Painting, a great variety of music with DJ Casper, God's Purpose Liturgical Dancers, Jump2Bfit performance, Ish Yacub Hoola Hoop performance and fun games like egg and spoon races and Giant Bubbles. Families also feasted on good food from Byrdie's/Degraff's Lunch Wagon. Thank You to Everyone who came out and we hope to see you again next year!"
Read More About
Category: All, Entertainment