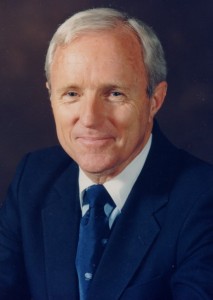 Environmental organisations have come together to pay tribute to the late Dr David Saul and to offer his family their heartfelt condolences.
Dr Saul was a lifelong supporter of the Bermuda Audubon Society and the Bermuda National Trust and was instrumental in bringing those two organisations together to form the successful Buy Back Bermuda joint venture.
The success of Buy Back Bermuda in saving three acres of land known as Pitman's Pond at Somerset Long Bay from development in 2004 and converting it into a superb nature reserve and bird sanctuary was very much due to the drive of Dr Saul.
That fundraising effort, carried out under the umbrella of a joint venture between the Bermuda Audubon Society and the Bermuda National Trust, was spearheaded by Dr Saul and was oversubscribed – raising almost $2.2 million.
These funds made it possible to buy the land and carry out the conversion to a spectacular park with amenities for both people and wildlife and to provide sufficient funds to maintain it.
Buy Back Bermuda member Dr David Wingate recalled: "When I first learned that Joffre Pitman had to sell his private nature reserve at Somerset Long Bay, and that there was a buyer prepared to pay $2.4 million for it to build a beach front condo complex, I despaired, as the Bermuda Audubon Society had never tackled a nature reserve project bigger than a few hundred thousand dollars before.
"We called David for advice and it was his boundless confidence and extraordinary fund raising skills which led us to the partnership with the Trust in what came to be called Buy Back Bermuda."
Dr Saul also chaired the fundraising in Buy Back Bermuda's second fundraising drive, which raised a further $2.5 million, which was used to purchase Eve's Pond in Hamilton Parish, where plans are underway to convert it into a three-acre nature reserve and bird sanctuary. The balance of the funds were used to convert the Vesey Nature Reserve into a reserve after the land was given to Buy Back Bermuda by Ms Sharon Vesey.
Buy Back Bermuda founding member and former Bermuda National Trust Director Jennifer Gray said, "Without David Saul's tremendous energy, vision and powers of persuasion, the success of Buy Back Bermuda would not have been so grand.
"His confidence and 'just do it' leadership created a small but effective team who finished the job with great success. His knowledge and experience were invaluable to Buy Back Bermuda from 2004 until he decided to step back in 2011, after which time he continued to be a wonderful supporter and sounding board.
Buy Back Bermuda secretary Karen Border said: "We will miss his vitality and energy and his lifelong commitment to Bermuda generally and to the environment in particular."
Bill Zuill, Executive Director of the National Trust, said: "Dr. Saul has been a longtime supporter of the Bermuda National Trust and believed wholeheartedly in the value of open space to our people and our biodiversity.
"He loved nature and desired that everyone in Bermuda be given the chance to reap the many benefits of our precious open spaces. His tremendous efforts in this regard leaves a legacy to be enjoyed by future generations and we are so very grateful for his passion and care of our island environment. He will be sorely missed by all of us."
Audubon president Andrew Dobson said: "David Saul was a former president of the Bermuda Audubon Society and we have lost not only a champion of the environment but a great visionary. He was instrumental in the formation of the Buy Back Bermuda campaign and leaves a wonderful legacy to Bermuda in the form of nature reserves at Somerset Long Bay and Vesey Reserve in Southampton.
"Without Dr. Saul's drive and enthusiasm the Audubon Society wouldn't own the magnificent Alfred Blackburn Smith nature reserve in Paget. David's talents, generosity, vast knowledge and good company will be greatly missed. On behalf of the Audubon Society, I would like to offer sincere condolences to his wife Christine and all the Saul family".
Read More About
Category: All, Environment, News