A wide range of events have been lined to up to celebrate the arrival of some of the most majestic Tall Ships currently sailing the seas.
Later this month, 19 Tall Ships will visit Bermuda as part of the Rendez-Vous 2017 Tall Ships Regatta, a 7,000 nautical mile Trans-Atlantic race to six countries to mark the 150th Anniversary of the Canadian Confederation through its founders and founding provinces.
The ships are due to arrive in St. George's from May 26 and will move on to Hamilton on June 1 before leaving the Island for the next leg of the voyage on June 5 to Boston.
Among the events being planned for Saturday May 27 are an Onion Day at Carter House, St. David's from 12pm to 4p.m. and an Art Walk in St. George's from 1pm to 6pm. On May 30 there is a Cultural Day in St. George's from 10am to 4pm.
There will be a Welcome to Bermuda Festival at Penno's Wharf, St. George's on May 31 from 6pm to 10pm and on the following day, June 1, there's a Welcome Street Festival on Front Street from 7pm to 11pm as the ships will be in Hamilton.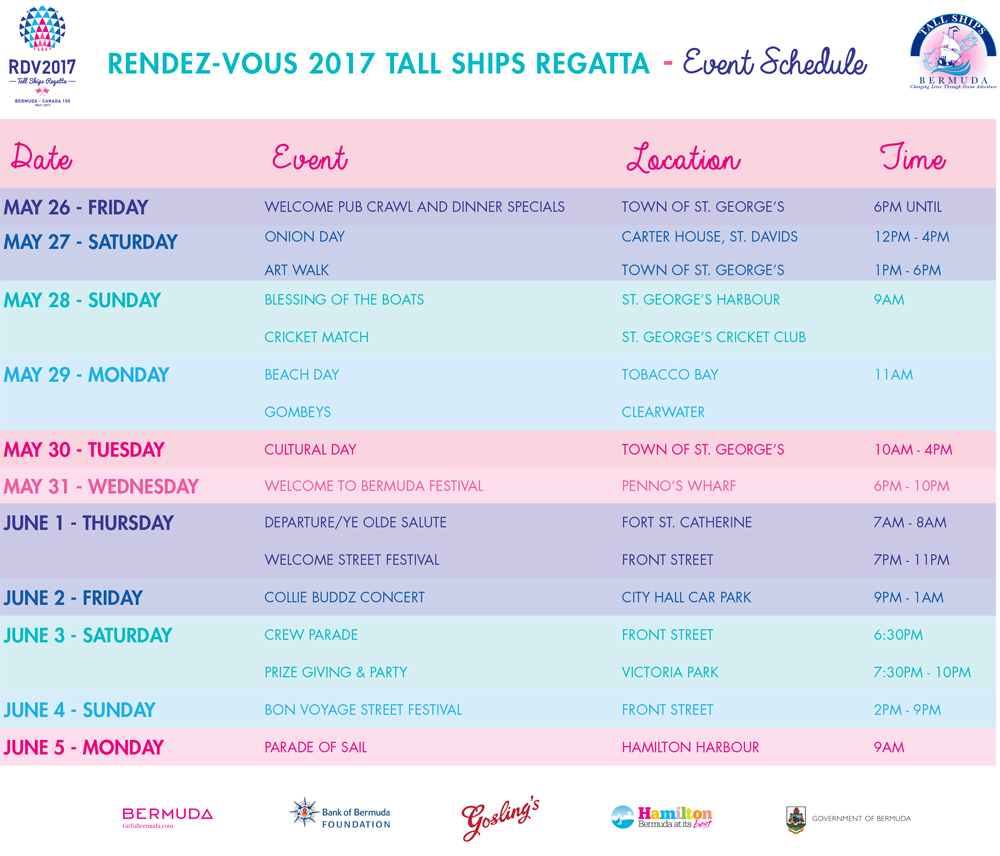 One of the highlights is a concert by Bermuda's own Collie Buddz on June 2, at City Hall car park, with part of the proceeds going to Sail Training Bermuda, a Registered Charity, # 612. People can get tickets from www.ptix.bm.
The crew members will take part in a Crew Parade on Front Street on Saturday, June 3, from at 6.30pm and there will be a Bon Voyage Street Festival on Front Street, on Sunday, June 4, from 2pm to 9pm.
Lastly there will be a Parade of Sail on June 5 starting at 9am in Hamilton as the ships leave to sail to the US.
Craig Nikolai Project Management, Tall Ships Bermuda 2017 & Sail Training Association of Bermuda, said: "It's going to be an amazing time and both St George's and Hamilton will be buzzing. The ships will be open to visitors, the city will be busy and alive with fun things to do.
"I hope everyone has a great time and enters into the spirit of the occasion and give the trainees on board the ships and crew a fantastic and warm welcome."
He said it was still not too late for trainees, aged sixteen and over, to sign up to join other legs of the voyage. Anyone interested can email trainee@tallships.bm
After Boston, the ships will sail for Halifax and then LeHavre, in France, where the race is due to finish on September 3.

Read More About
Category: All, Entertainment