In the ninth in a series of profiles of netball players who will be part of the team representing Bermuda at the Netball Europe Open being held in Scotland from May 11th to 14th, we spotlight Asanté Chapman, a 19-year-old who plays in the Goal Defence, Wing Defence, Goal Keeper and Centre positions.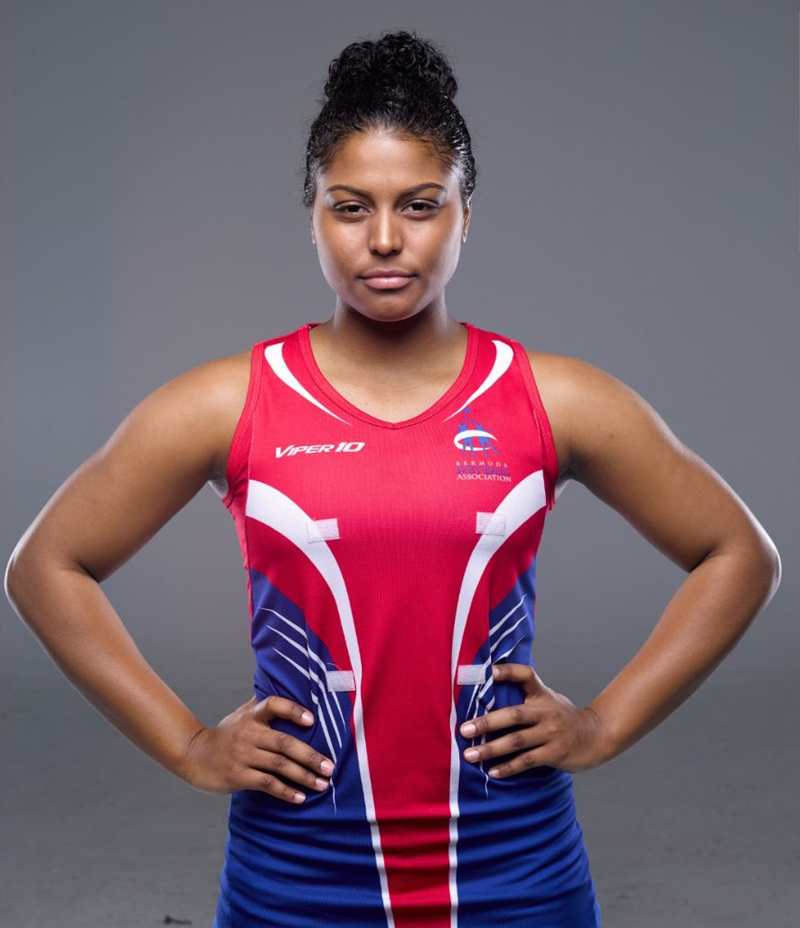 1. How does it feel to have been selected for such an elite squad?
I was first selected for the Senior netball team when I was 14 years of age and you could image how excited I was back then to have been selected at such a young age. I have played with the Senior team in international netball matches since then as well, but I still overflow with same excitement and gratefulness every time I am blessed with the privilege of being selected for the Bermuda Senior Netball team.
2. How will you prepare for the competition between now and May 11th?
I was always an active person, with a healthy love of sports. My daily routine consist of morning yoga and a few hours of cardio and conditioning after work. My daily intake on the other hand took a sharp turn for the 'green' side when my coach told me they're selecting players for a new Senior Netball Squad.
I'm no stranger to a balanced diet ,being raised as a vegetarian for half of my life, but if you know me you would know I love my Grandmother's homemade mac 'n' cheese and as my Nana is a chef at the Royal Hamilton Dingy Club I would always look forward to her blessing me with some leftover desserts when she came home. So to prepare for the competition along with a strict training schedule I had to say bye to the cake and hello to the carrots and kale.
3. Will this be your first time in Scotland? Do you plan to take time to see some of the local sights during your time there?
This will be my second time visiting Scotland as I travelled there with the Under 21 Bermuda National Netball team in 2013 for the World Youth Championships where we gave it our all against the world's best Netball teams. And yes, while I'm there I hope to visit the largest lake in Britain, Loch Lomond "The Queen of Scottish lakes" ,to take in the beautiful scenery and the music of the surrounding nature. I only hope it is not too far from our accommodations.
4. When did you start playing netball and what prompted you to start?
I honestly don't even remember a time when I wasn't playing netball. My mother was a member of the Senior Netball team around the time I was born, so amongst many other sports she had me involved by the time I could run it seemed only fitting that netball would be included in that list.
5. Do you feel the sport of netball gets enough support from the local community?
There is always room for more support from the community when it comes to all sports. But, do I feel that netball is lacking support from the local community? Not at all. Netball alone creates its own community down at Bernard's park netball courts. On a normal Saturday you're lucky to even find a parking spot near the courts it's so packed. Simply because there is a strong love for the sport.
6. What are ultimate goals in life, both on and off the court?
This is a simple worded question but I struggled to simplify my answer. As life goes on my goals and aims are forever changing and evolving. I try not to put my effort into sticking to an ultimate goal but to exploring possibilities of self and with this everyone's path of exploration will never be identical. So I would say that my ultimate goal is to give it your all not for spectators [whether it be in life or netball] but for your own self accomplishments.
7. If you had to, for some reason, have one non-netball player on your team, like a local politician/entertainer/public figure, who would you choose and why?
If given this choice I would choose Amir X, he is not only a Bermudian producer, designer and model he is also my uncle. My island people will mostly know him for his amazing and exquisite fashion shows in Bermuda with the latest being "Bermuda International Collections". If energy is truly transferable then he'll have our opponents smiling with bubbly moods throughout the whole game even if they're losing because that's just who he is; he radiates positive and warm energy where ever he goes.
8. Which Bermudian athlete, coach or sporting figure do you admire most and why?
Hands down the most admirable athlete in Bermuda in my opinion would be the ex-National team player Nina Webb. Yes she is my mother but that's beside the point of my choice. Nina is a tricky yet simple defender who is known for making incredible turnovers in the game.
She's the type of player that when you find out she's your opponent you might even fake an injury just to get a break from her tight defending and constant elevated interceptions. She plays less frequently now after recently recovering from a broken ankle but she is still very much involved in the netball community, regularly organizing fundraisers for the BNA and supporting whenever she can at the Bernard's Park netball courts.
Many youth, including myself look to this wise player for advise as a highly gifted defender. Thank you Mama for teaching and sculpting me to the player I am today.

Read More About