In the thirteenth in a series of profiles of netball players who will be part of the team representing Bermuda at the Netball Europe Open being held in Scotland from May 11th to 14th, we spotlight Micah Pond, a 18-year-old who plays in the Wing Defence, Centre and Wing Attack positions.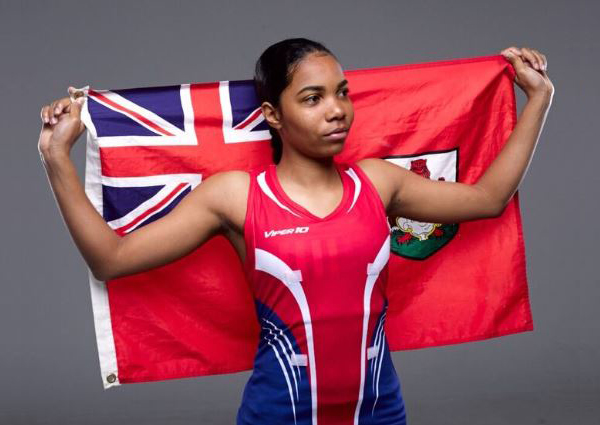 1. How does it feel to have been selected for such an elite squad?
It's has been an honour and a great pleasure to be selected for such a talented team.
2. How will you prepare for the competition between now and May 11th?
I will mentally prepare myself for what's ahead, stay focused on and off the court and play my role in the team.
3. Will this be your first time in Scotland? Do you plan to take time to see some of the local sights during your time there?
Yes this will be my first time in Scotland and it would be nice to go out and see the sights if we are able to.
4. When did you start playing netball and what prompted you to start?
I started playing netball at the age of 6 for Netts under Tanika White.
5. Do you feel the sport of netball gets enough support from the local community?
No, I don't feel that netball gets enough support from the local community. I think more people should come and support the games on Saturdays for both the youth and senior leagues.
6. What are ultimate goals in life, both on and off the court?
My ultimate goal in life is to finish school with a degree in Criminal Justice. Then work in the prisons and/or the K-9 Unit.
7. If you had to, for some reason, have one non-netball player on your team, like a local politician/entertainer/public figure, who would you choose and why?
I would choose Nathan Trott, because he has great hands, great reflexes and is also a good height. He doesn't seem to be afraid of a challenge!
8. Which Bermudian athlete, coach or sporting figure do you admire most and why ?
The player I admire the most would have to be Marco Warren who plays for PHC. I admire Marco because he can make something out of nothing when playing. Despite him being small he dominates the midfield with his quick feet and vision on the ball and never gives up!

Read More About