In the eleventh in a series of profiles of netball players who will be part of the team representing Bermuda at the Netball Europe Open being held in Scotland from May 11th to 14th, we spotlight Zariah Amory, a 17-year-old who plays in the Centre, Wing Attack, Wing Defence and Goal Defence positions.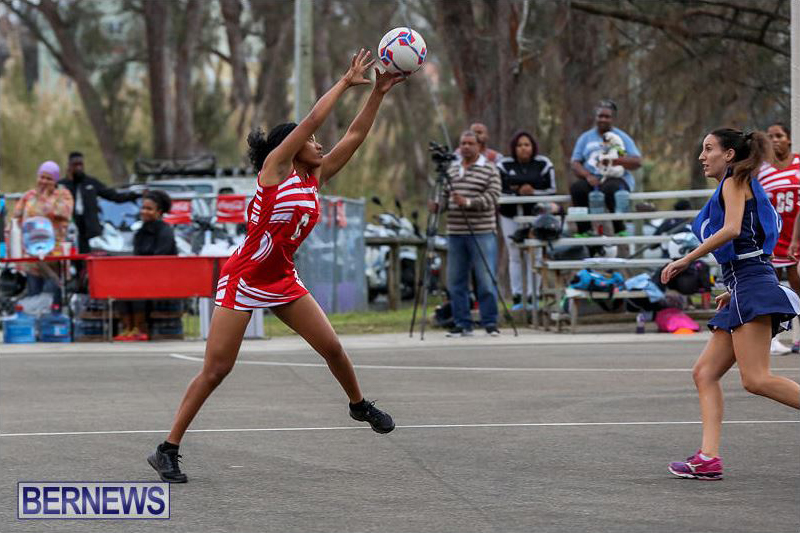 1. How does it feel to have been selected for such an elite squad?
Being selected for such an elite squad is very exciting. Being that I am only 17 years of age, playing with older women and then being selected as a member of the traveling 12 is something big for me. It has shown me that I can be successful in whatever I put my mind to.
2. How will you prepare for the competition between now and May 11th?
Preparing for the competition between now and May I will be constantly training not just with the squad but on my own. Doing extras is a big help. Having to transform my eating habits and carefully watch what I am eating is a way I will be preparing as well.
3. Will this be your first time in Scotland? Do you plan to take time to see some of the local sights during your time there?
This will be my first time in England. I am a very adventurous person so I am excited to see different things and the culture of Scotland while visiting.
4. When did you start playing netball and what prompted you to start?
I started to play netball at the age of 7 at West Pembroke Primary where we would play netball in gym and I just grew a passion for it. I later signed up to play with North Village where I have been playing ever since.
5. Do you feel the sport of netball gets enough support from the local community?
I do not feel netball get enough support from our local community because they see it as being just a recreational sport. Hopefully when we go to Scotland and play we will get good results and open up the communities eyes and hope that would gain their support.
6. What are ultimate goals in life, both on and off the court?
My goals in life both on and off the court are to be successful in everything I do, no matter what the situation is. I plan to take the opportunities that I have right in front of me and make them become a challenge I can face.
7. Which Bermudian athlete, coach or sporting figure do you admire most and why?
My Coach Anthony Mouchette. He has coached me for at least 3 years and has seen my ability and has always pushed me to do the best that I can do.
8. Which Bermudian athlete, coach or sporting figure do you admire most and why?
Nadanja Bailey will be the person I would choose because a few nights ago he was the host at The Outstanding Teen Awards and he showed me that no matter what people say about me, I am still able to do what I have to do for me at the end of the day. Also because he is dedicated in what he does and enjoys it.

Read More About