North Texas has announced the signing of Bermudian footballer Aaliyah Nolan, saying they are "happy to add Aaliyah to our offense" as she has "great composure around the goal."
The school said, "The North Texas soccer program added another offensive weapon its roster with the signing of Aaliyah Nolan, a forward from Navarro College and a member of the Bermuda Women's National Team.
"We're very happy to add Aaliyah to our offense for next fall," North Texas head coach John Hedlund said. "She has great composure around the goal, and the vision and touch she possesses gives her the ability to set up anyone of her teammates in the offensive third. She will also play a big part in our set pieces. Adding Ariel [Diaz] and now Aaliyah to our roster should really help give our offense the spark we need for this coming fall."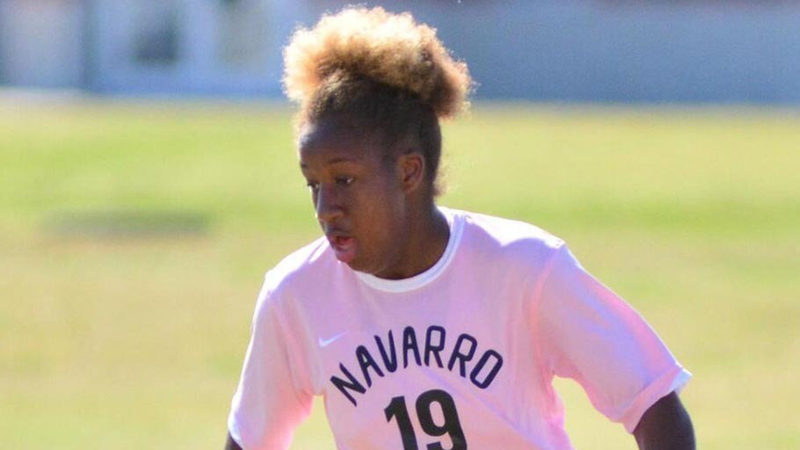 "Nolan was named to the NCJAA Region XIV team as an honorable mention in 2016 after scoring 23 goals for Navarro College, which led the Bulldogs and was second in the region.
"She finished second on the team in points [50] and shots [67]. Nolan recorded a five-goal game and also had a hat trick in a win at Jacksonville. The 13-5 Bulldogs advanced to the Region XIV championship game for the second straight year.
"Nolan was a first-team all-region selection as a freshman in 2015. She will have two years of eligibility with the Mean Green.
"A native of Warwick, Bermuda, Nolan has been a part of the Bermuda National Team since 2013. She played with the Bermuda Under 17 and Under 20 National Teams in the 2013 Caribbean Football Union [CFU] World Cup Qualifiers and with the Under 20 team in the 2015 CFU qualifiers. She also played with the national team at the 2013 Island Games.
"Nolan attended the Berkeley Institute where she was a four-time academic honor roll honoree as well as a four-time MVP of the soccer team.
"She received the Government of Bermuda's National Sports Award [2013 and 2016], the Junior Achievement Award [2013 and 2015] and the Special Recognition U17 [2013].
"Nolan is the 12th signee in Hedlund's 2017 recruiting class. North Texas will welcome eight incoming freshmen and four transfers this fall. Two transfers, Natalie Newell and Caroline Paulette, joined the Mean Green this spring."

Read More About