Family and friends turned out for the Bermuda College Annual Nursing Pinning Ceremony which was held on Tuesday evening [May 16] to celebrate the soon to be 2017 nursing graduates.
The 2017 nursing graduates include Janai Caldwell, Mirela DeSilva, Rhonee Ford, Olievia Martins, LeRhonda Mills, Clairissa Phillips, Victoria Trott, Melina Pacheco and Cathy Williams.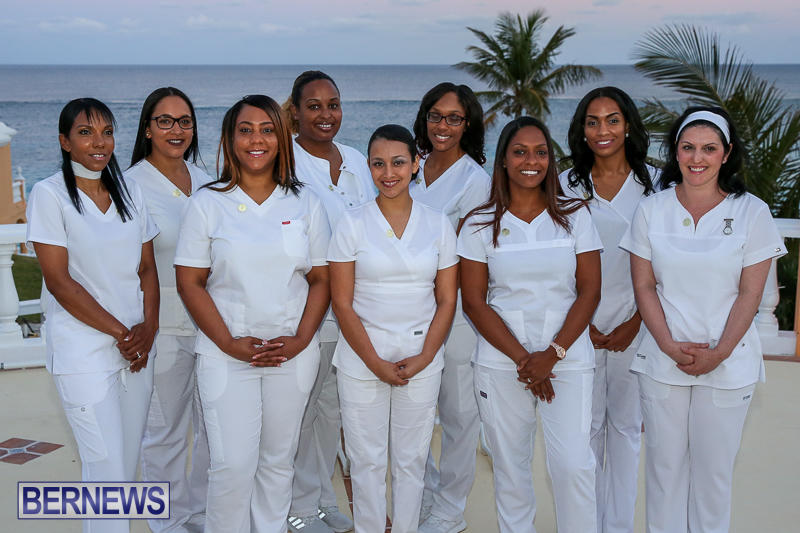 The nursing education team includes Registered Nurses Kathy-Ann Swan, Renee Faulcon, Lisa Blyden, Deon Burrows, Kirsten Chow, Karen Raynor, Tammoi Simons, Maxine Simmons and Sonya Stowe.
Bermuda College President Dr. Duranda Greene said, "We're very excited to have this fourth cohort go through. The nine students have done an awesome job. They've been outstanding. We're expecting that they will pass their NCLEX [National Council Licensure Examination] with flying colors, just as the others who have written so far have done, and we're just excited.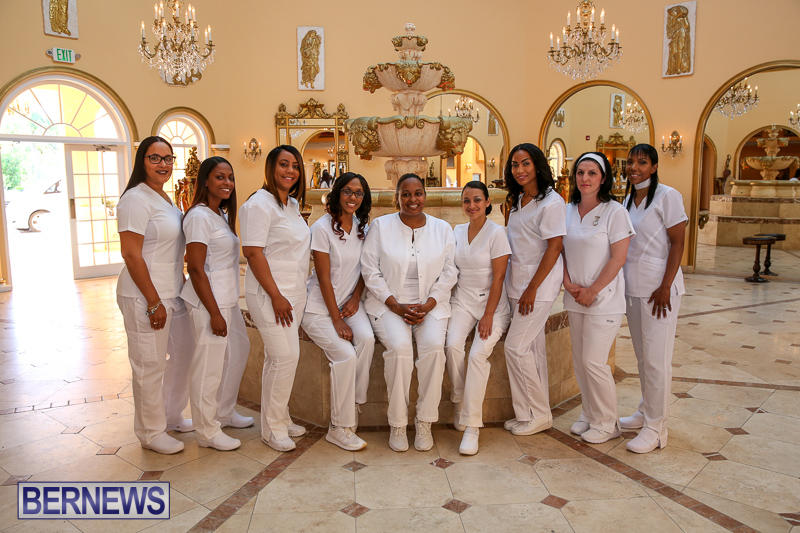 "This is a very special ceremony for us when we take time out to acknowledge their transition from being graduate students to being professional nurses. They have done an awesome job.
"It's been a challenge. It's not an easy program. It's not for the faint at heart. But these students have been outstanding and I'm really proud of them and look forward to presenting them with their Associate's Degrees on Thursday.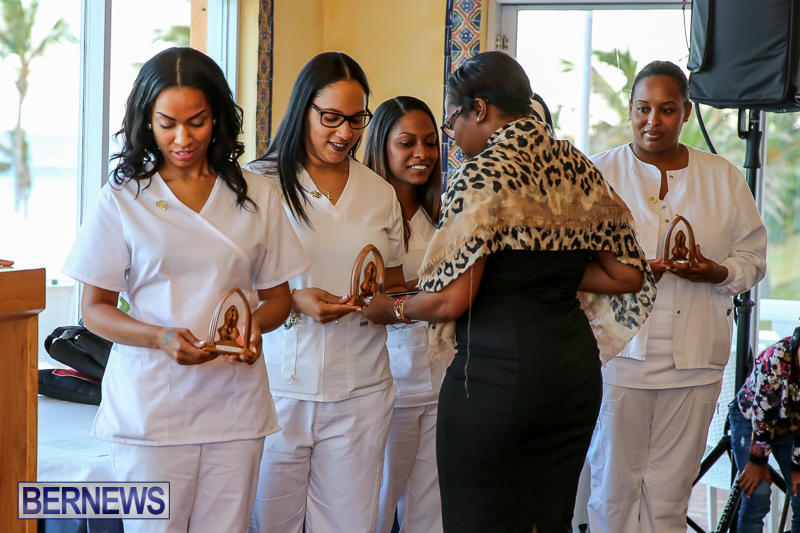 Speaking about the nursing program Dr. Greene said, "It's had it's challenges but I think with more success, and when we see graduates like this and students going through and writing the NCLEX and being successful in it, not only just being successful but doing it with a minimum amount of questions that are required. It shows the quality of the program and we're just moving forward.
"We know the program is a quality program. It was established to be a quality program. And the NCLEX results so far have shown that it is a quality program.
"We're proud of the students and sometimes it takes longer for Bermudians to accept their own but we will continue to show that this program is worthy and can stand up to any program throughout North America."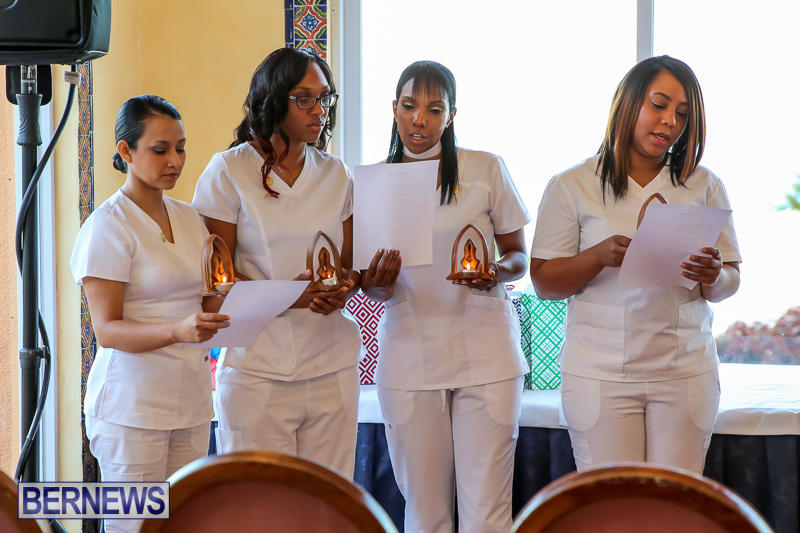 Director of Nursing Education Kathy-Ann Swan said, "In regards to the nursing program at The Bermuda College, I think it's a quality program. It certainly meets the needs of Bermuda. It also meets international standards, meaning that our faculty members that we hire, Mrs. Faulcon, and Kirsten Chow, meet international standards.
"They graduate about 100,000 of these nurses every year, between the 50 states. So we're not doing anything unique to Bermuda, we've jut brought nursing education here to Bermuda. It's working very well. It's a quality program.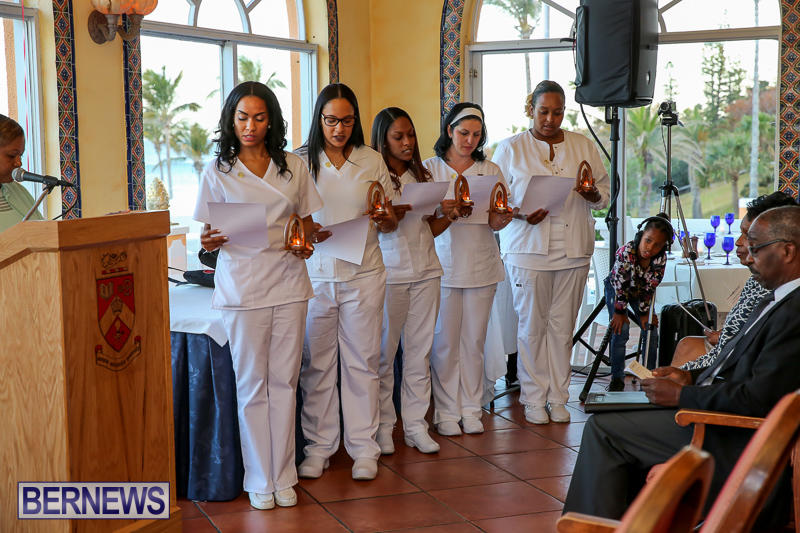 "Our curriculum has been accepted internationally by the Commission of Graduates of Foreign Nursing Schools, and also by New York State. That speaks volumes as well. You heard this evening how much they drill the students and make sure that they are proficient and competent when the graduate.
"I had to step back also, if it was back in my day, and I had a choice to do it here, it would be a good choice for me as well. Also to remember, one day, it might be me or my loved one in that bed. I want the nursing students to graduate competently, safely, and with the best of customer service.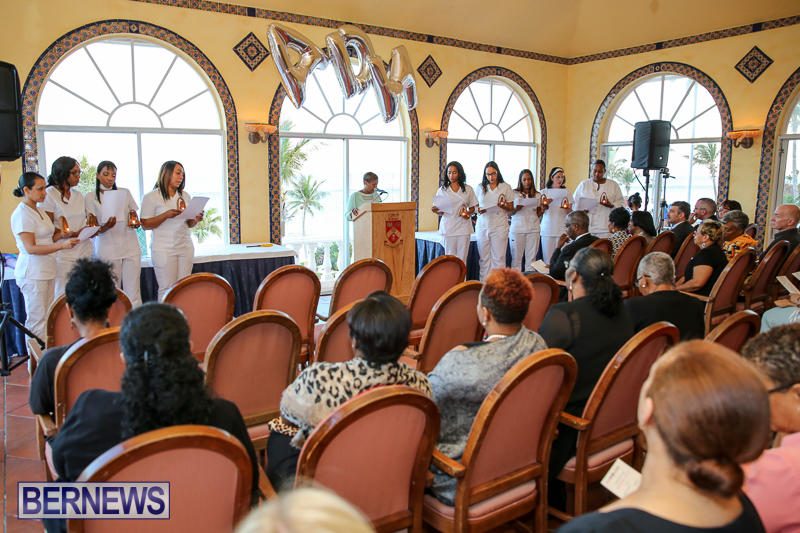 "In regards to the pinning ceremony, this actually started in 1916 through Florence Nightingale, when she actually used to offer care to the injured. She started to recognize just one nurse, but then it became a ritual in 1916, been going on ever since.
"It's a time to celebrate the end of nursing education, and the start of a profession. I mean our students still have another hurdle to do in the NCLEX, the State Board; and we know they'll do well. We're doing good. We're up there with a 83% pass-rate. That's excellent for Bermuda.
"The pinning ceremony is usually associated at the end of nursing education, and it's your step into the profession, the nursing profession. It's very emotional. You get to be pinned by someone that's been there for you during your educational journey. As you saw tonight, from loved ones, husbands, fathers, mothers, friends, it's a really, really momentous occasion.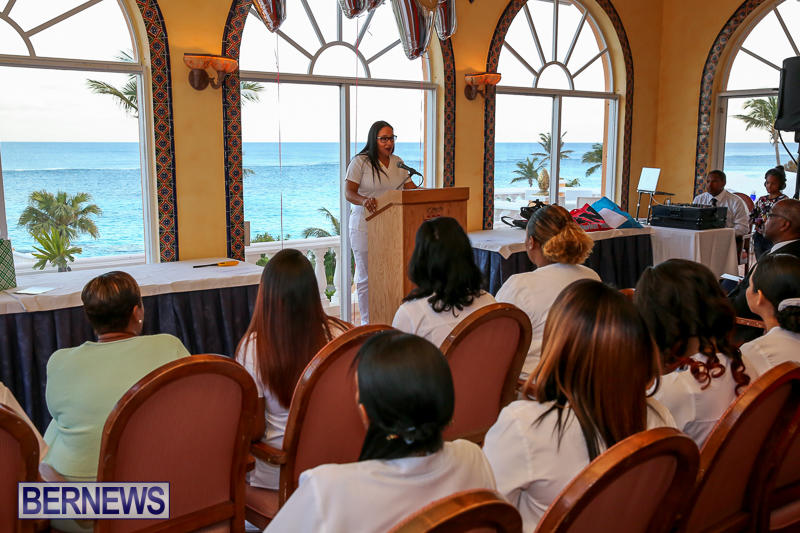 "I'm very proud to be a part of it. Our guest speaker, the nurse of the year Carys Caisey, was excellent. Then you have a graduate speaker, Olievia Martins, very well spoken. Our theme this year was integrity. A very powerful value that is very, very, very characteristic of any prudent, excellent nurse.
Highlighting courses that are available at the college that deal with health care, Mrs. Swan said, "We have the nursing assistant course, a part-time basic course as well as a course that we run for the high schools through career pathways and Dr. Tankard.
"We have a demented course and the nursing assistant bridging course. That's a course for people that are working in the industry but need to be certified, to register with the Bermuda Nursing Counsel. So we do that twice a year.
"We do the EMT course, the emergency medical technicians course and that's to service the fire service, the hospital and St. John Ambulance as well. We are looking also at the opportunity for radiation therapy to see how we can partner with another school and meet Bermuda's needs when it comes to radiation therapy on the island.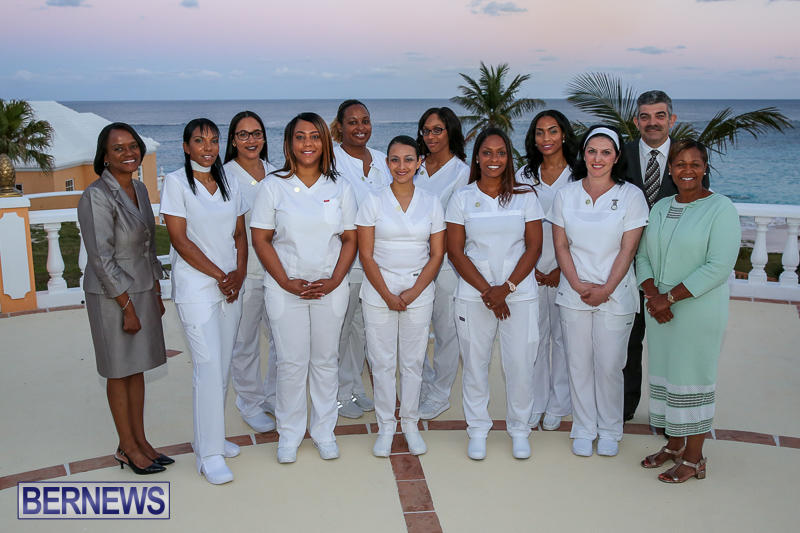 "We are looking at the needs basically through workforce planning and seeing what opportunities there are for any health care offerings at the Bermuda College, making sure that we meet the needs of the Bermudian community."
Nursing Lecturer Renee Faulcon said, "I'm so excited to be a part of this nursing program and cohort four, they have been a wonderful group. This program has been in existence since 2012, actually. It's really exciting to have this fourth group graduate at this time.
"The really exciting thing is that we have students passing the NCLEX, which is that exam that allows them to become a registered nurse. We are on the way, and we will have some new nurses at Bermuda Hospitals Board soon. Very excited about that.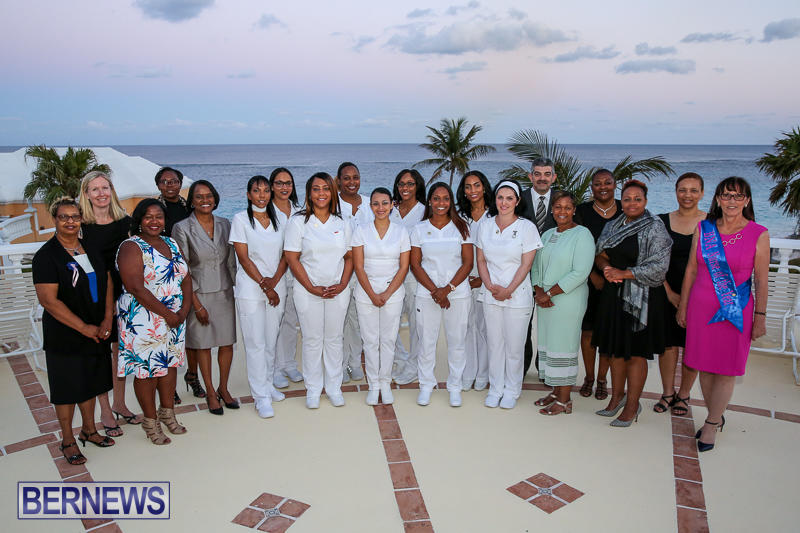 "My wish is that we will get more students interested in nursing. As you know, there's always been a nursing shortage over these last few years. Especially here in Bermuda you would see that there's a shortage of Bermudian nurses. If we can get our name out their and get our information out there we can encourage more young people to get in.
"When you have the younger group, that's longevity in that field. That's what, I guess the hospitals would love to see. Even our non-traditional students, people who already have a career and is interested in healthcare. They will be interested in nursing. I feel that's going to be an area they we can work on as an associate degree program. Those non-traditional students.
"Quite a few of our students have children here and I always work with them, with their kids, and making sure that their schedules are on point so that they can spend time, not only with studying but with their families.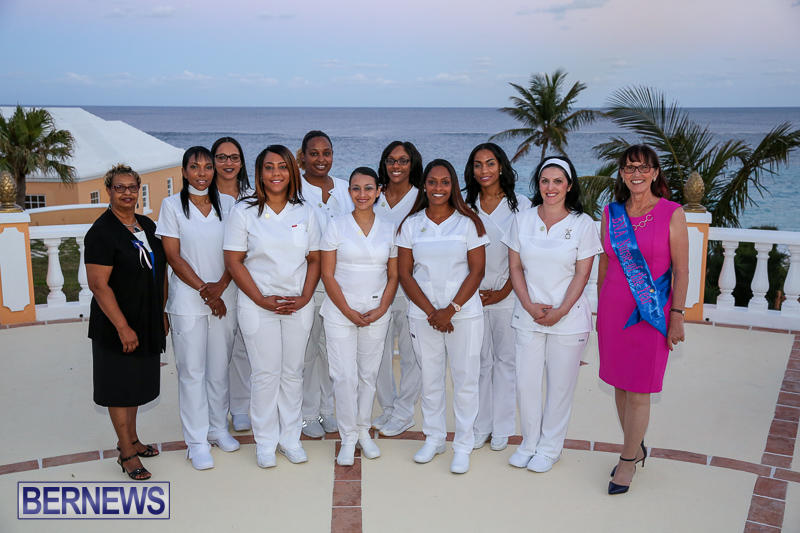 "One thing that I do as a special thing for them, a few of them are single moms, so when the kids come in and they have to sit outside the classroom I have them draw me a picture. They draw me a picture and their pictures are in my office on my wall. That's my tribute to single moms and anyone who has children and partaking in this program."
The ceremony took place at the Coco Reef Resort and started with a prayer by Clinical Infomatics Specialist Angela Williams and a welcome by Director of Nursing Education Kathy-Ann Swan.
Bermuda College President Dr. Duranda Greene gave opening remarks and was followed by the introduction of the guest speaker by Clinical Instructor Karen Raynor. The Pinning Ceremony address was given by 2017 Nurse of the Year Carys Caisey.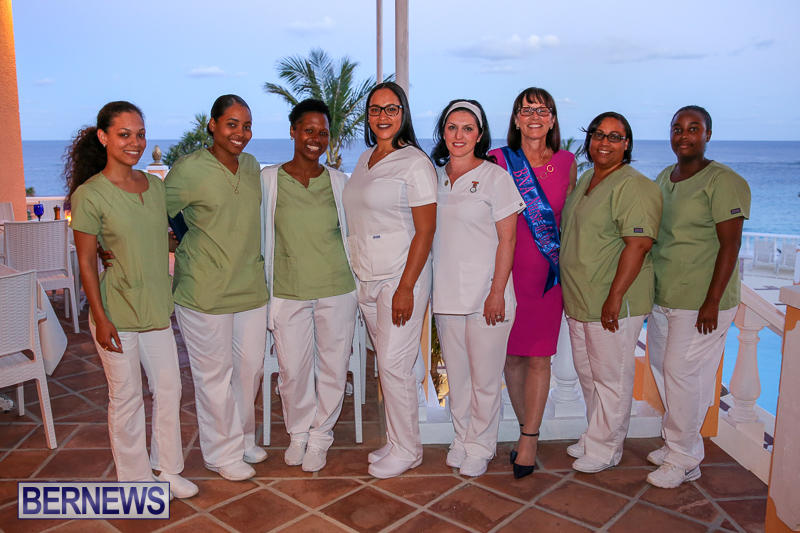 Clinical Instructor Maxine Simmons offered thank you remarks before the presentation of the pins led by Clinical Instructor Lisa Blyden and involved family and friends of the graduates. Lighting of candles took place with Clinical Instructor Deon Burrows before the nurses pledge was led by Clinical Instructor Tammoi Simons.
Graduating class of 2017 nursing student representative Olievia Martins gave a nursing class reflection before a presentation of gifts by president of the Bermuda Nurses Association Beverly Howell and Director of Nursing Education Kathy-Ann Swan, and closing remarks by nursing lecturer Sonya Stowe. Students from the fifth cohort of the nursing program also attended and took part in the event.
Read More About