Saying that "history has been made and love has won," the Rainbow Alliance of Bermuda said they are "overwhelmed with joy at the conclusion of today's historic ruling" and "applaud the landmark decision by Justice Charles Etta-Simmons."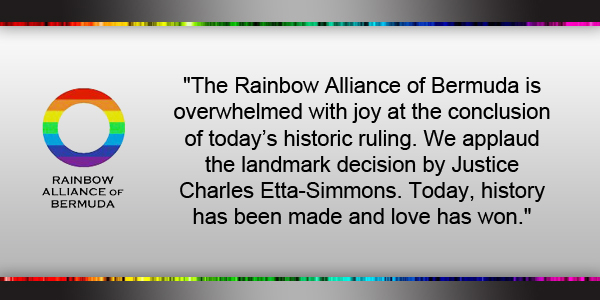 Historic Ruling Made In The Supreme Court
Their statement follows after today's landmark ruling by Justice Charles Etta-Simmons in the Supreme Court , with the court finding that "common law discriminates against same-sex couples by excluding them from marriage."
The ruling followed a legal challenge that was brought by Winston Godwin and Greg DeRoche after their marriage application was declined by Bermuda's Registrar-General, with lawyer Mark Pettingill representing the couple.
The ruling said, "On the facts of this case the Applicants were discriminated against on the basis of their sexual orientation contrary to section 2 [2] [a] [ii] as read with section 5 of the HRA when the Registrar refused to process their Notice of Intended Marriage as required by sections 13 and 14 of the Marriage Act."
Speaking after the ruling, a very happy Winston Godwin told Bernews, "I think the courts got it right. I cannot thank everyone enough for their support – it's a great day for Bermuda and a great day for the LGBT community."
Rainbow Alliance of Bermuda: 'Love Has Won'
The Rainbow Alliance of Bermuda said, "The Rainbow Alliance of Bermuda is overwhelmed with joy at the conclusion of today's historic ruling. We applaud the landmark decision by Justice Charles Etta-Simmons. Today, history has been made and love has won.
"This ruling is not only a victory for a brave young couple willing to fight for their love, Winston Godwin and his fiance Greg DeRoche, this ruling is a victory for all same-gender loving people in Bermuda.
"In this decision, the courts have affirmed that the love between two consenting adults is worth protecting with law, regardless of gender. This outcome ensures that same-gender couples can enjoy the same legal protections as heterosexual spouses do. This outcome preserves the notion that love is the greatest force of all.
When asked about their reaction to the victory in the courts, Winston Godwin and Greg DeRoche shared, "We appreciate all the positive affirmations and support. This has been a long process, but well worth the fight. Hopefully this brings forward hope and courage for those who were/are afraid to speak up or come out. This is a moment we are proud of and will never forget."
"This outcome could not be possible if it were not for the courageous decision of Winston to take on the government of his home and risk being ostracised by his community for the sake of love.
"We applaud Winston and Greg, the legal team that supported this challenge, and the many campaigners that have over the years fought for increased human rights, dignity, and respect of LGBTQ people. There is so much more work to be done, but today, we celebrate that love always wins."

Read More About