RUBiS Energy Bermuda Ltd, in partnership with TeamBDA, has launched its 'Fuelling Pride' campaign, set to coincide with the upcoming America's Cup.
A spokesperson said, "During the 35th America's Cup, there will be a number of additional competitions, including the Red Bull Youth America's Cup.
"TeamBDA is Bermuda's entry in this competition, which is designed to create a pathway for young sailors into the highest level of international sailing.
"In June 2017, TeamBDA, a team of nine young Bermudians, will take on some of the best youth sailors in the world in the Red Bull Youth America's Cup.
"The competition will take place in the Great Sound and will be raced in AC45's – the same high performance foiling catamarans that the America's Cup Teams have been racing in the Louis Vuitton America's Cup World Series events."
Owen Siese, Philip Hagen, Peter Dill, Mustafa Ingham, Dimitri Stevens, Mackenzie Cooper, Ceci Wollmann, Danny Pell and Shomari Warner:

"TeamBDA was adopted by Oracle Team USA as its representative in the Red Bull Youth America's Cup. This guaranteed TeamBDA qualification into the competition which will take place from 12 – 21 June, 2017, as part of the 35th America's Cup racing schedule, and will feature 12 teams from around the world.
"In December 2015, an initial group of 30 candidates were identified – from over 120 who initially applied and went through the first round of try-outs. TeamBDA's coaches then conducted a number of intensive training camps that further tested the candidates' ability to compete at the elite level required for this competition.
"These camps also introduced sailing to those athletes that had little or no sailing experience.
"The final team was selected through a series of grueling physical and mental assessments that sought to identify athletes capable of withstanding the extreme physical challenges of racing a foiling catamaran."
TeamBDA is Mackenzie Cooper, Peter Dill, Philip Hagen, Mustafa Ingham, Danny Pell, Owen Siese, Dimitri Stevens, Shomari Warner and Ceci Wollman.
TeamBDA racing their training GC32: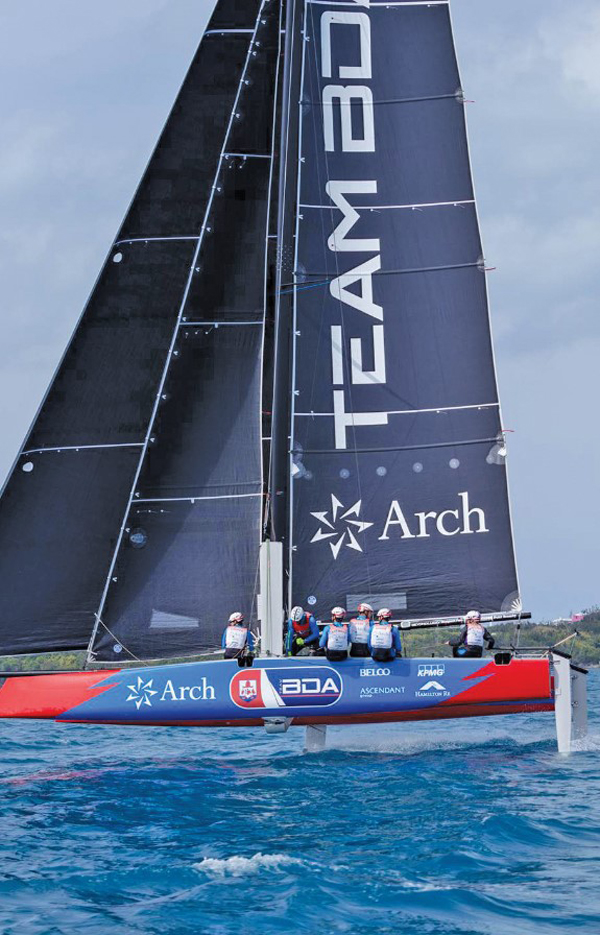 Graham Redford, Managing Director of RUBiS, said, "As we gear up for this exciting event, RUBiS wants to help increase the level of public awareness and boost national pride in support of our young home-grown sailors and athletes who make up TeamBDA.
"RUBiS values the hard work and dedication these 9 young Bermudians have shown to get to this point, and to support and celebrate this truly historic occasion, we are rewarding our customers with FREE fuel, and the chance to win over 60 great TeamBDA branded prizes and 12 exclusive TeamBDA VIP Experiences.
"You must be a RUBiS Rewards member to enter, but it's easy to sign up and membership is FREE. Purchase $50 or more in fuel, at any RUBiS station, between now and June 4th and receive a free $5 Fuel Reward.
"Plus, twelve [12] lucky winners, and their guests, will board a chartered boat; enjoy lunch and drinks on the Great Sound, watch TeamBDA as they fly on one of the AC45 foiling catamaran, and get to meet the Team at their Team Base after the event."
Laura Cutler, TeamBDA Manager, said, "This is an exciting time for TeamBDA and I am delighted that local companies such as RUBiS are happy to support our youth as they seek to make us proud. For the twelve lucky RUBiS winners to see firsthand what these sailors will be doing on our waters will be an awesome experience.
"We also look forward to giving the lucky winners and their guests a tour of the TeamBDA base and the opportunity to meet TeamBDA."
Mr. Redford said, "This is another way we can extend our appreciation to all of our valued customers and it is an honour to be able to support TeamBDA. Using our RUBiS Rewards platform, we shall bring to the forefront that this America's Cup is not just about the established syndicates, but we have our own national team to support and be proud of as well."
For more information, visit the RUBiS website.

Read More About