One of the Island's schools has formed a group dedicated to exploring new innovations in teaching as it strives to keep ahead of change.
And as part of those efforts, two Saltus Grammar School teachers have just returned from a conference led by two of the gurus of 21st century teaching.
Liz Dowdell, Primary Curriculum Coordinator, and Nicole Chichon, Deputy Head, student life, attended the Canadian Association of Independent Schools [CAIS] National leaders conference in Montreal where the conference theme was: 'Priorities, Pace, and Principles: Leading in Complex Times'.
They also attended a conference on the '2051 Project' – a project started in 2015 by educators and leaders in the business world and were joined by Christianna Dakin, the Director of Curriculum at Saltus.
Both conferences were led by Justin Medved and Garth Nichols. Mr Nichols is Vice Principal, Student Engagement and Experiential Development at Havergal College, Toronto, and Mr Medved is the Director of Learning, Innovation and Technology at The York School, Toronto.
Liz Dowdell, Justin Medved, Garth Nichols, and Nicole Chichon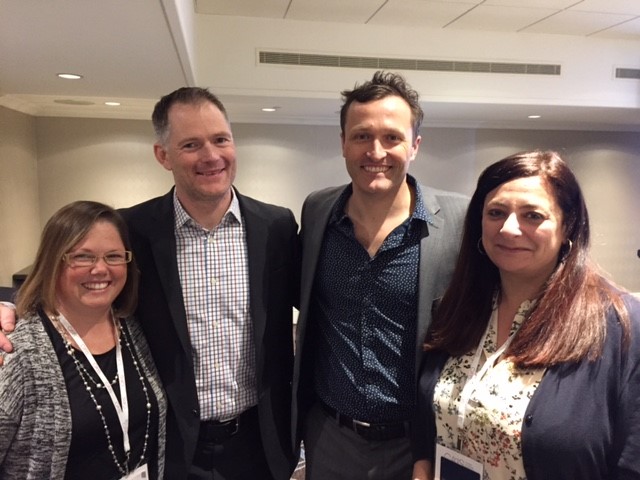 They work with teachers, students and parents preparing and educating them for the demands of the 21st century and lead a programme called Cohort 21.
Ms Chichon said: "The changing role of curriculum is always a challenge with the teacher being the key to change.
"Our focus is what is happening inside our classrooms and how we can make the Saltus experience a more enriched one for our students.
"How will our curriculum contribute to developing well-rounded people, who want to pursue their individual passions and make a difference in the world?"
She added: "Many of the traditional companies that we grew up with have had to adapt to change or face extinction.
"As a school, Saltus is keen to have its roots in tradition but to also prepare students for the present and the future. Saltus has always been a visionary school that has adapted to the changes that have faced the Island and globally."
Mr Nichols and Mr Medved were also on Island leading a four-day Professional Development programme for Saltus staff, at Saltus.
Ms Dakin said: "This is a new approach to teacher development for the 21st century landscape of education. They are acknowledged presenters of an exciting programme and exciting ideas; many regard them as the gurus of 21st Century Learning."
Ms Chichon added: "Saltus has a core group of teachers who are our design-thinking team. They have been looking at ways to innovate and grow curiosity and imagination in students.
"This group has been meeting regularly to explore the ideas of project based learning, blended learning and experiential learning."
In June, teachers will be continuing their exploration of the skills and attributes needed for the future by holding a number of experiential days.
"These will be for all students in Secondary and Primary from FY – S10. Students will be investigating a variety of ideas and concepts through themes such as Bermuda Heritage, the America's Cup and Forensic science," said Ms Chichon.
"The teachers have been working hard to produce days that will encourage skills such as critical thinking, problem solving and collaboration."

Read More About
Category: All