A total of 25 Royal Bermuda Regiment soldiers were sworn in as Special Constables, and will be deployed as part of the joint security effort alongside police officers for the upcoming America's Cup.
The troops, from the RBR's Operational Support Unit [OSU], the Regiment public order specialists, took the oath of constable at the Bermuda Police headquarters, watched by family, friends and senior RBR and police officers.
Regiment soldiers sworn in as Special Constables line up with senior Police and RBR officers and Minister for National Security Jeff Baron at Police headquarters at Prospect.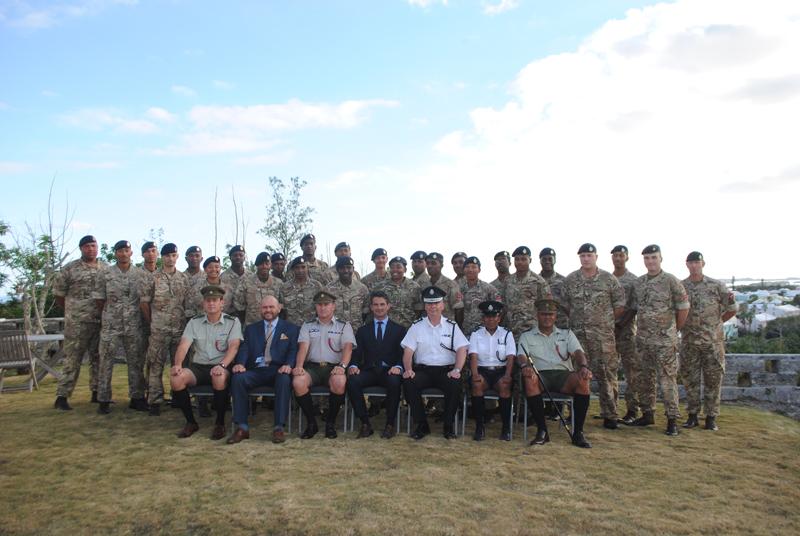 Sergeant Peter-Paul Taylor said: "It's a different opportunity – it's something different from training wing, so it's great development.
Sgt Taylor, a truck driver in civilian life, added: "It's good working closely with the police and building that relationship with them."
Lance Corporal Leeann Medeiros, 24, a pastry chef at Cambridge Beaches, from Sandys, one of the female soldiers to complete the near-year long training course, said it was a good development of her existing service in the OSU.
She added: "It seemed like a good fun opportunity to learn new things and help out wherever it's needed. I'm looking forward to more training, but it's good to have this on my plate now and be able to add to my list of accomplishments."
Soldiers sign up as Special Constables after being sworn in by Police Commissioner Michael DeSilva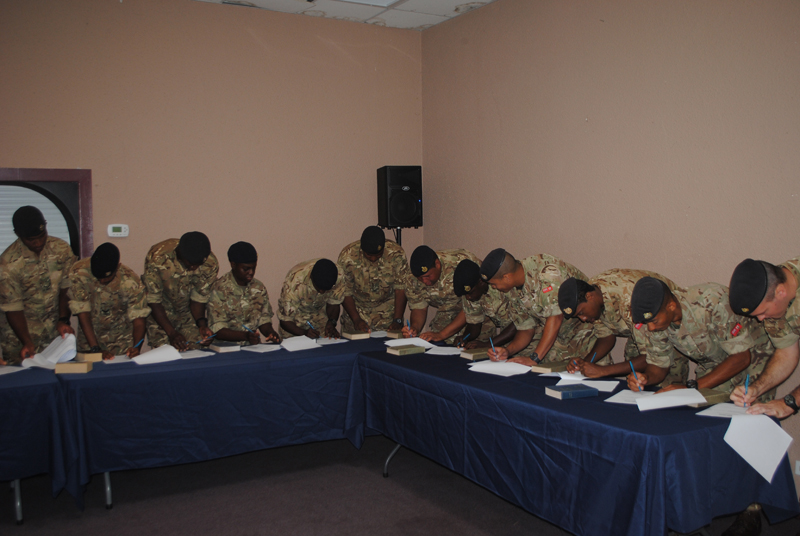 The soldiers trained in law and procedure, the use of officer safety equipment and conducted public order training exercises delivered by police experts before being sworn in.
RBR Commanding Officer Lieutenant Colonel David Curley said: "It's a great and historic day – I'm very proud of what our soldiers have achieved. They have reached a very high stand and it's taken nearly a year to get up to this stage.
"I'm very happy that they have accepted this challenge to become Special Constables in order to support the police. They will gain valuable experience and continue to work on joint operations.
"They will be tasked on various operations for the America's Cup – we have a major role to play in the security plan. Our Boat Troop, some of whom were sworn as Special Constables two weeks ago, has already started working with the police marine unit in advance of the event."
Lt Col Curley added: "We look forward to extending this working relationship with the Bermuda Police Service well into the future. It's adding superior value to what the Regiment does for Bermuda and its community."
Regiment Commanding Officer Lt Col David Curley addresses OSU soldiers sworn in as Special Constables with Police Commisssioner Michael DeSilva and National Security Minister Jeff Baron looking on.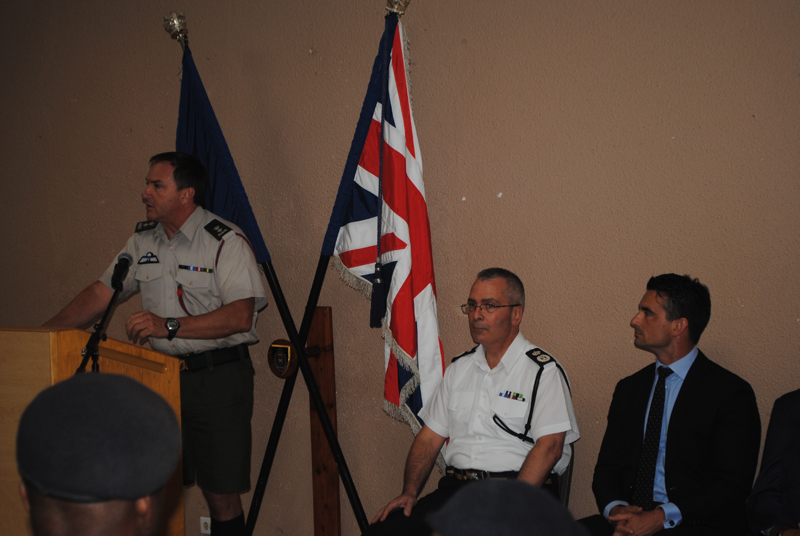 Police Commissioner Michael DeSilva said, unlike larger countries, Bermuda could not call on neighbouring police services for reinforcements in a crisis.
He added: "The idea is to be able to support the BPS in large scale public disorder because we only have finite numbers of police officers and we don't have neighbours we can call on for assistance.
"For large scale public disorder – which we are not expecting – we must have contingency plans in place."
National Security Minister Senator Jeff Baron, himself a former police officer, said: "Today is an example of the sweeping changes and contemporary application of public safety.
"We have 26 soldiers who have just volunteered and committed to be sworn in as Special Constables and called to service. All pillars of the emergency services will be serving and playing a role for the America's Cup and – as far as the commitment of troops – the Regiment has pledged hundreds of people to the America's Cup."
He added: "This also coincides with hurricane preparedness season – these soldiers will be primed and if we have a weather event, these Special Constables, the soldiers of the Regiment and the overall management of the Ministry will be ready to respond."

Read More About