A class of 10-to-11-year-old students from Victor Scott Primary School recently experienced life in the corporate world when they were invited to XL Catlin's Bermuda office to connect with students overseas and discuss their future aspirations.
The enthusiastic group of local students began their visit, on May 4th, with a tour of XL Catlin's 18-feet high fish tank before heading up to the boardroom where they engaged in a video conference with fifth grade students from Waterside School, an independent school based in Stamford, Connecticut. The Waterside School students were also being hosted in one of XL Catlin's Stamford offices.
Victor Scott Primary School Students in XL Catlin Boardroom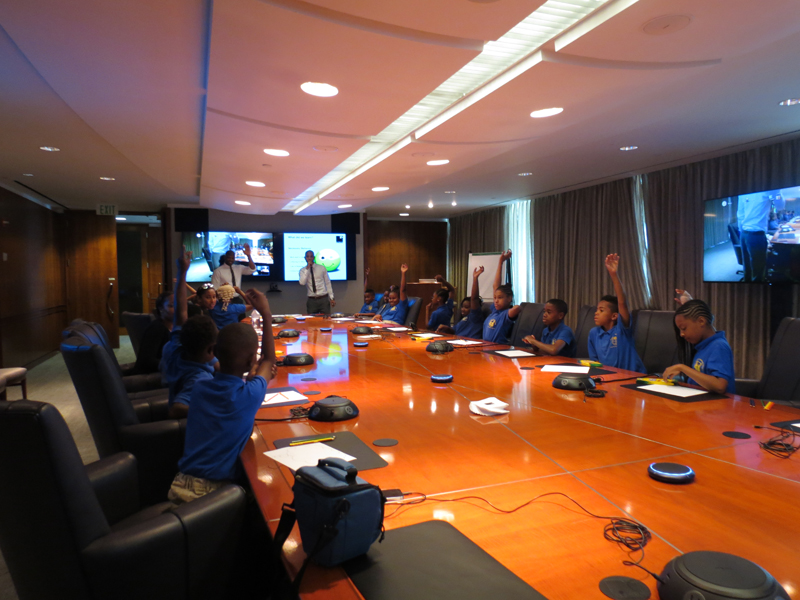 Both groups of students had the opportunity to ask each other questions about themselves, their schools and the curriculum before taking part in interactive activities focused on their aspirations.
They also enjoyed lunch in the executive dining room with Patrick Tannock, XL Catlin Managing Director and Chief Executive Officer of XL Bermuda Ltd, Insurance Operations. They later heard from Insurance Underwriter DeVrae Tankard and Associate Legal Counsel Jevon Williams, who is a former Victor Scott student, about their school years and career paths.
Both DeVrae and Jevon gave lively presentations about the industry and their roles. They also emphasized the importance of collaboration, listening, asking questions and for help, working hard and reading. They explained how such behaviors are just as essential for success in school as they are for success on the job and life in general.
Jevon Williams with Victor Scott Primary School Students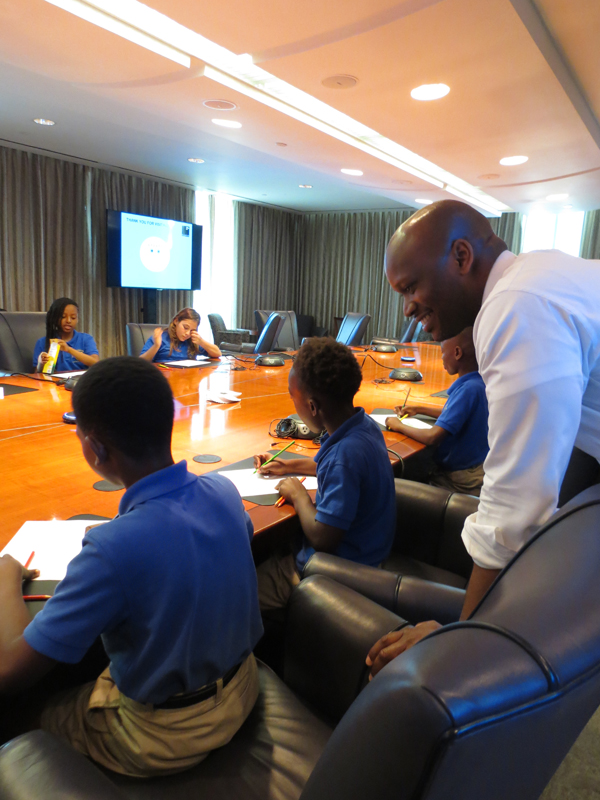 Based on the students' positive engagement, it was clear that they appreciated the time spent at XL Catlin.
It appeared that the highlight of the visit for many of them was when they were taken to Mr. Tannock's office, which overlooks Pitt's Bay Road and Hamilton Harbor. There they took turns sitting behind his desk and asking him questions about his role.
Summing up the visit, Mr. Tannock said: "I believe we enjoyed this just as much as the students. Over the years we have developed a special relationship with Victor Scott Primary School.
"Several of our colleagues here are alumni and it's important for the students to see and know that if they dream big and apply themselves in school, they too can achieve their aspirations whether those are within or outside the insurance industry."

Read More About