What began as a one off initiative at Mount Saint Agnes Academy four years ago is now blossoming into a diverse programme that is being rolled out at other local schools, which promises to be an incredible opportunity for the Eliza DoLittle Society charity.
In 2014, Karen Camara had an idea for a non-traditional approach to raising food items and set about making it happen. The MSA Grade 1 teacher started MSA's month-long Read and Feed initiative to encourage reading, while contributing to the worthwhile cause of feeding the hungry in February of that year and it has been an annual event ever since.
Each year in February, MSA students in Kindergarten through Grade 8 have an opportunity to help tackle this social problem by collecting pledges from family and friends in the form of non-perishable items. At the end of the month, the students return to their sponsors with the record of what they have read, or in the case of the younger children, what has been read to them.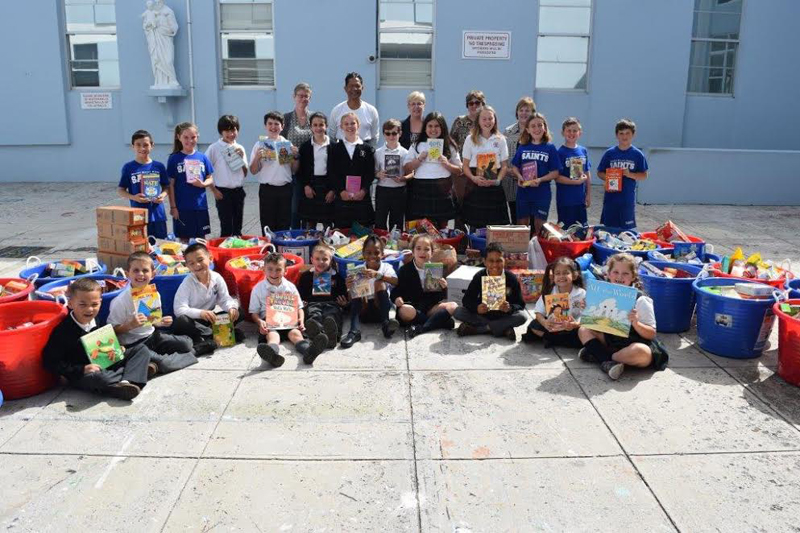 "We would really love to see the benefit be twofold – for the kids to hone their reading skill, while growing their passion for reading and for those in need to be fed," added Mrs. Camara.
This year the students were able to donate enough food to provide approximately 1,900 meals to those who need it. The goods were then distributed via The Eliza DoLittle Society's Food Bank in Warwick.
Jennifer Mahoney, Executive Director of The Eliza DoLittle Society told us, "On behalf of our clients we'd like to extend a huge thank you to MSA for their dedication and look forward to another successful year in 2018.
"Karen Camara, the teacher responsible for introducing the programme should be applauded for identifying and launching a programme that not only stimulates learning through reading, but helps those in need at the same time."
Students at Saltus Grammar School decided that they wanted to put their own special mark on the programme, which they kicked off at the beginning of May. S7 students were tasked with designing various pieces of media that would be used to support the programme and helped them to develop a sense of ownership.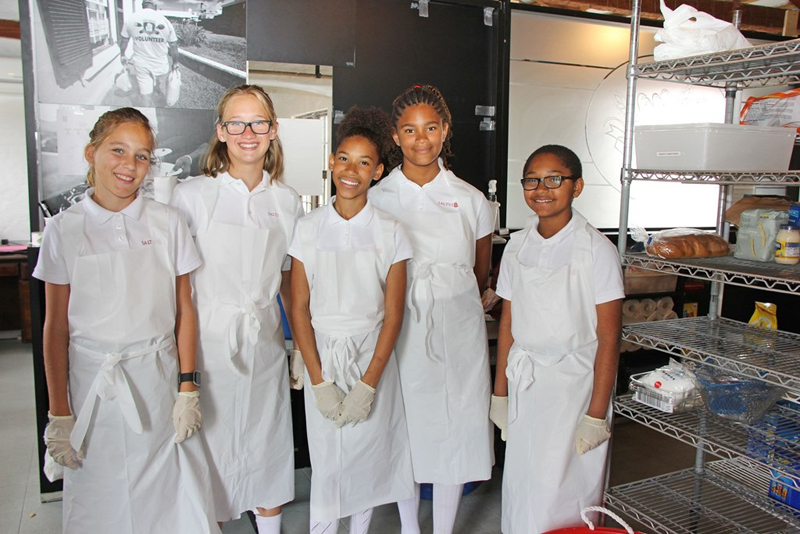 Winning entries were designed by Austin Dowling [logo], Honor Minors [web banner] and Mia Barker [poster], all of which are displayed on The Eliza DoLittle Society's [TEDS] Facebook page throughout May.
These winners along with a few other entrants were given the opportunity to visit TEDS Food Bank, and spent the morning preparing fresh food, checking expiration dates, sorting food and helped pack groceries for clients.
Saltus students in S7/S8/S9 will be participating in the initiative and are keen to make a difference after their peers witnessed firsthand how quickly goods come into and go out of the Food Bank.
Dr. Phyllis Curtis-Tweed, Principal of The Berkeley Institute stated, "The Berkeley Institute is pleased to engage the school community in a programme of such benefit to our island." Berkeley Institute have committed the programme and are scheduled to participate in October 2017.
Jennifer Mahoney added, "We are fortunate to have formed partnerships with other schools other than those mentioned and look forward to expanding the programme further in the next school year.
"Many thanks to the students and school administrators for their ongoing support and enthusiasm."
Read More About