A 19-year-old was awarded Mother of the Year by one of Bermuda's oldest charities for caring for her nine-year-old brother after the tragic death of their mother.
Terita Bean was named Mother of the Year by the Continental Society of Bermuda after her brother Tokia wrote a heartwarming essay on why his sister is an amazing mother figure. Tokia's impressive essay beat out 130 other students from eight schools across the Island. He attends Prospect Primary School.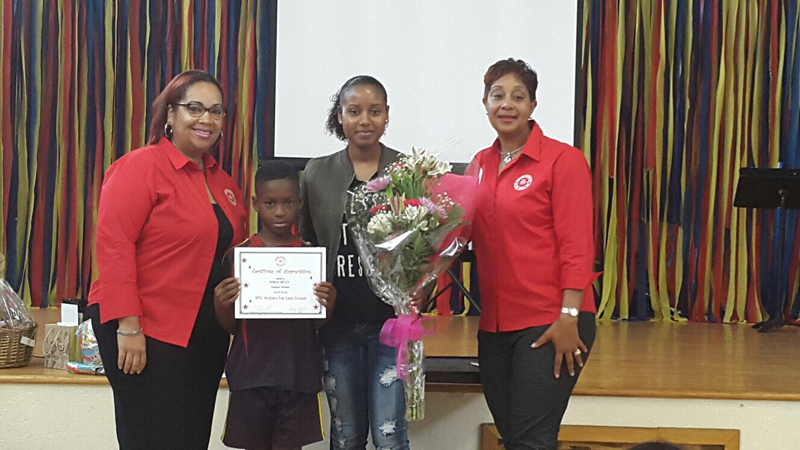 Miss Bean has been taking care of Tokia since their mother Terry Bean died of cancer in 2012 when he was just five.
In his essay, Tokia wrote, "My sister's care helps me feel much better when I think about my mom. Her care helps me feel better because she is there for me when I need her. When I am feeling sad, my sister makes me feel better."
"Because of her love and care I am treated nicely. The way she cares for me is the way she's supposed to treat me and I love it that way. When I treat her good she also loves it. That is why my sister should be Mother of the Year."
Members of The Continental Society made a presentation to Tokia and Terita at the school's assembly. Tokia's winning essay was read during the assembly and he and Terita were given numerous gifts including a family gift basket, movie tickets, a dinner voucher, a spa gift certificate, a children's watch and a bouquet of flowers to name a few.
The runner up for the contest was Alina Trew-Perez, a Dalton E. Tucker Primary School student who wrote a heartfelt essay about her mother.
The Mother's Day Essay Competition is in its 48th year and alternates every year between P3 and P4 students and P5 and P6 students in the Island's primary schools. Participating schools included Harrington Sound Primary, West Pembroke Primary, St. David's Primary, Dalton E. Tucker Primary, Paget Primary, Prospect Primary, Somerset Primary and Gilbert Institute. It is the first time a sister has won the Mother of the Year contest.
The Continental Society of Bermuda, founded in 1962, is an affiliate chapter of The Continental Societies Incorporated in the US and is an international public service organization committed to improving the welfare of children in Bermuda with a focus on those in disadvantaged situations.
Read More About