Addictions affect everyone in a family, creating havoc for children, according to an expert visiting Bermuda.
Jerry Moe, National Director of Children's Programmes at the Hazeldon Betty Ford Center, led a series of workshops recently organised by PRIDE Bermuda, which is celebrating its 30th anniversary.
He told the audience that it was vitally important to show children love and to play with them, saying: "We do not spend enough time playing and letting children be children, let them play, interact, have fun with the child."
Judith Burgess and Jerry Moe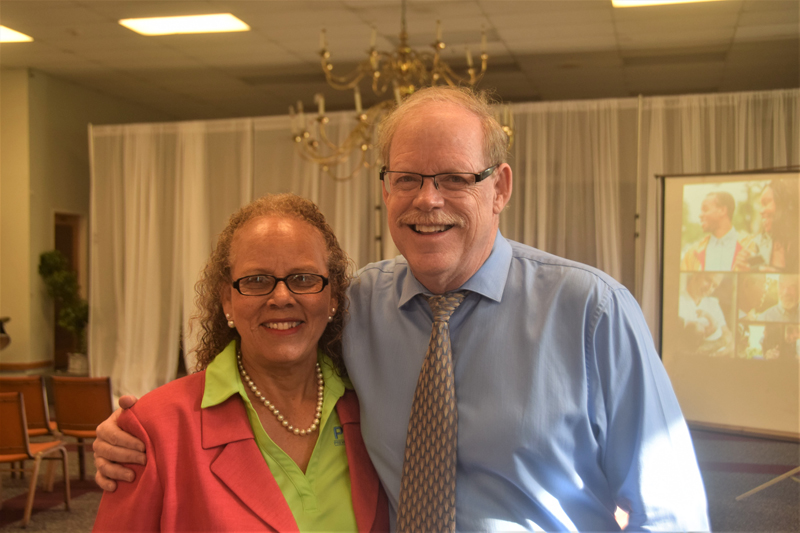 Mr Moe added: "Addiction takes everyone in the family, holds everyone hostage. Addiction creates havoc and inconsistency and unpredictability where boys and girls never know what is going to happen next."
PRIDE works to try and keep Bermuda's young people drug free through a series of initiatives such as its Youth Club, Middle School and High School LifeSkills programmes
It also has a scheme called Promoting Alternative Thinking Strategies [PATHS] which aims to help reduce behavior problems in schools and even runs a parent schemed designed to help them communicate better with their children.
PRIDE workshop with Jerry Moe
Judith Burgess, PRIDE's Executive Director, said Mr Moe created a very warm and engaging atmosphere where he shared many stories of his work with children around the world.
"He encouraged us to use L.O.V.E.E. as we build relationships with children – Listen with the heart, children just want to be heard. Observe their expressions, movements, habits as they spend time with you.
"Validate them, acknowledge their feelings. Educate them to increase the skills they need to succeed. Empower them to be all they can be. Make programmes fit the children, not children fit the programmes.
"We look forward to building relationships with children of promise as we move forward.
"Children need unconditional love and consistency, Build relationships and create a safe place for children and engage the family in the healing process."
Read More About