Hamilton Insurance Group, the Bermuda-based holding company for insurance and reinsurance operations in Bermuda, the US and at Lloyd's, announced two senior role changes in its Bermuda operations.
Keith Bernhard now holds the title of Chief Audit Officer, reporting to Interim Group CEO David Brown. Mr. Bernhard is responsible for developing and executing a risk-based internal audit plan for Hamilton and its subsidiaries.
He also leads the Company's Sarbanes-Oxley compliance programme, coordinates compliance with other regulatory requirements, and supports the ongoing development of the Company's risk and control culture.
Mr. Bernhard joined Hamilton Insurance Group in 2014 with 20 years' experience in audit and risk management.
Keith Bernhard and Wendy Davis Johnson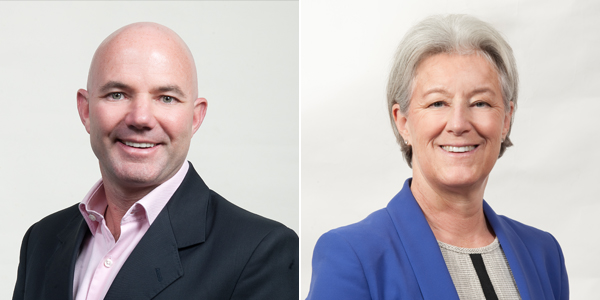 Wendy Davis Johnson is now Chief Communications & Culture Officer. In addition to her responsibility for corporate and investor communications, Ms. Davis Johnson adds responsibility for creating alignment between Hamilton's culture, its business strategy and mission, and its internal communications. Ms. Davis Johnson reports to Mr. Brown.
Ms. Davis Johnson joined Hamilton Insurance Group in 2015 with more than 25 years' experience in corporate communications and brand development.
"As a member of the Hamilton Board since the Company's formation, I've had the pleasure of working with Keith and Wendy since their employment at Hamilton," said Mr. Brown. "Like the other members of Hamilton's executive team, they're excellent at what they do and are committed to the Company's growth and development.
"Their expanded roles were approved earlier this year but required ratification by the Board which was given during their quarterly meeting held this week.
"I look forward to working with Keith and Wendy, as well as the other members of the team, as we leverage the significant potential of our partnership with AIG and Two Sigma Insurance Quantified announced last month."

Read More About