The country is now 'officially' in election mode, with the Premier announcing last night that the General Election will be held on Tuesday, July 18th.
Many of the current MPs are expected to contest their seats again in this election, however have not yet been formally announced, and the confirmed candidates so far include Nandi Outerbridge and Kenneth Bascome in St George's, the OBA's five Warwick candidates are Nalton Brangman for Constituency #24, Jeff Baron for Constituency #25, Robyn Swan for Constituency #26, Sheila Gomez for Constituency #27, and Jeff Sousa for Constituency #28.
The OBA have also confirmed four of their candidates for Pembroke, with Andrew Simons in Constituency #17, Nicholas Kempe in Constituency #18, Jeanne Atherden in Constituency #19, and Susan Jackson in Constituency #20.
The PLP has announced four election candidates so far; Senator Renee Ming for Constituency #1 St Georges North, Kim Swan for Constituency #2 St. George's West, Rev Dr Ernest Peets as the candidate for Constituency #10 Smith's North and Senator Tinee Furbert in Constituency #4 St George's South.
Speaking at the press conference yesterday, Premier Michael Dunkley said, "A short while ago, I met with His Excellency the Governor and he has accepted my request to dissolve Parliament for a General Election. Election day will be Tuesday, July 18.
"Before explaining the reasons for this timetable, I want to speak briefly about where we are as a country.
"Bermuda has made great strides since the election of December 2012. We've worked hard to turn around a dire situation that was hurting Bermudian families in unprecedented numbers.
"We brought Bermuda back from the brink of economic collapse, and cleared a path to recovery and renewal that is bringing relief to more and more households every day.
"We've made real progress in restoring jobs, opportunity and hope, but we still have a ways to go.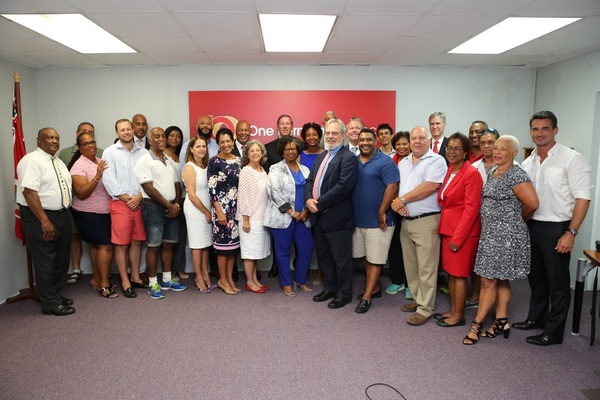 "We have been joined in our work by Bermudians from all walks of life, who stepped forward together for the sake of the Island.
"It has been a remarkable national effort on many fronts, and stands as testament to the power of working together, Bermudian know-how and love of our country.
"As Premier, I am proud of what I've seen – Bermudians working side by side, performing with skill, confidence and pride, working with the outside world, punching above our weight, building the Island back up.
"It is profoundly moving to see what can be achieved when we work together.
"Unfortunately, the politics of destabilization threatens this national progress just as Bermuda is taking centre stage before the world, just as we're taking flight.
"It is deeply disappointing, and it is why we are here this evening.
"This election then will be about affirming Bermuda's commitment to continuing the recovery, and the national effort needed to keep it going.
"All of us as Bermudians will have the opportunity to decide whether to keep moving forward on the path that's restoring jobs, opportunity and growth or risk stepping off the path for something vague and untested.
"You will have the opportunity to decide who has the experience, and the record, to protect the livelihoods and future of your loved ones.
"I am joined this evening by my colleagues in the One Bermuda Alliance – a team that has proven it has the vision, the skills and the experience to keep the Island moving forward.
"We stand for One Bermuda, not two,
"We stand for inclusion and we deeply oppose the politics of division.
"We believe that by ensuring opportunity and fairness in all things we can get to that better place where the possibilities for Bermudians are limitless.
"Our work is not finished.
"We were elected to replace a faltering government and we've spent our time in office fixing an economy that was hurting people by the score, narrowing their future.
"It was a mammoth task to stop the negative momentum we inherited, slowing the massive deficits that powered the debt and rebuilding confidence in Bermuda among investors and businesses that had turned away from the Island.
"Now, look around today and you can see Bermuda changing for the better: New hotel construction, the airport redevelopment, The America's Cup, the tourism renaissance and renewed confidence in the Island – all providing Bermudians with new opportunities and new possibilities.
"For those not yet touched by the recovery, do not despair. The ship has been turned. It's moving in the right direction, and we're going to get everyone safely on board. That's our promise. That's our commitment to you.
"My fellow Bermudians,
"In the coming weeks, the opposition will try to convince you that the choice is between us and them.
"But the real choice in this election is much simpler… and much more important.
"Will Bermuda move forward… or back?
"Forward with our 'safe hands' management of the economy, or back to the reckless conduct of the past.
"Forward with our work to make Bermuda more open, transparent and accountable or back to governance that put personal interest before the public interest.
"Forward with concrete progress or back to empty promises and rhetoric.
"There remains much to do, but I want to assure the people of Bermuda that we will continue to do our best to improve your life and the life of the country.
"We will continue our progress to reduce the cost of health care that causes so much anxiety for those in need.
"We will continue our progress on job training and linking those looking for work with work.
"We will continue making Bermuda more inclusive, through change that protects against discrimination and ensures fairness in the workplace.
"We will continue rebuilding the Island's infrastructure, enabling Bermudians to go about their work in an Island that works.
"We will continue working for safe neighbourhoods. Overall crime is down to the lowest numbers in more than 15 years, but we all know there can be no real progress until we stop the shootings and the vulnerable learn and decide that there is much more to life than gang life.
"We will continue strengthening public education through greater parental involvement, expansion of STEM education, rebuilding school facilities and the introduction of technical education in middle schools.
"And we will continue our progress toward full economic recovery and renewal from the East to the West because social progress depends largely on economic progress.
"The stronger we perform, the more we can do for people in need – new programmes helping the youngest get the start they need, helping young mothers balance the demands of work and home, and helping seniors live their lives in dignity, with good housing, company and care.
"The pressures of daily life are too great for too many and it is our mission to use the benefits of recovery to ease those pressures.
"In setting the election date, it is our commitment – if you see fit to give us a mandate – to return to the House of Assembly on July 20, or as soon as practicable, to carry out important items already on our agenda, such as absentee balloting, fixed term elections, the Boundaries Commission report and roadside testing to name a few.
"At the end of the day, elections are always about you, the people we serve.
"They're about who you believe can best protect and support your life and the lives of your loved ones.
"They're about who you feel has proven they can keep Bermuda's economy moving in the right direction…
"Toward a new era of opportunity and shared prosperity for you, your family, your community – for everyone.
"Let's use this election to make sure your Bermuda moves forward together, not back."

Read More About