Scores of residents gathered on Sunday, July 2nd at Whitney Institute, to begin a 'Walk & Talk' marking the 58th Anniversary of the Success of the Theatre Boycott. Formal introductions were made, including Honorary Patrons; Charles Marshall and sporting icon, Dennis Wainwright – both elders closely connected to Flatts.
Members of the Progressive Group in attendance; Gerald and Izola Harvey of Scaur Hill Somerset and former-Magistrate, William 'Will' Francis were also introduced, before walkers were encouraged to 'meet someone new' amongst the diverse crowd.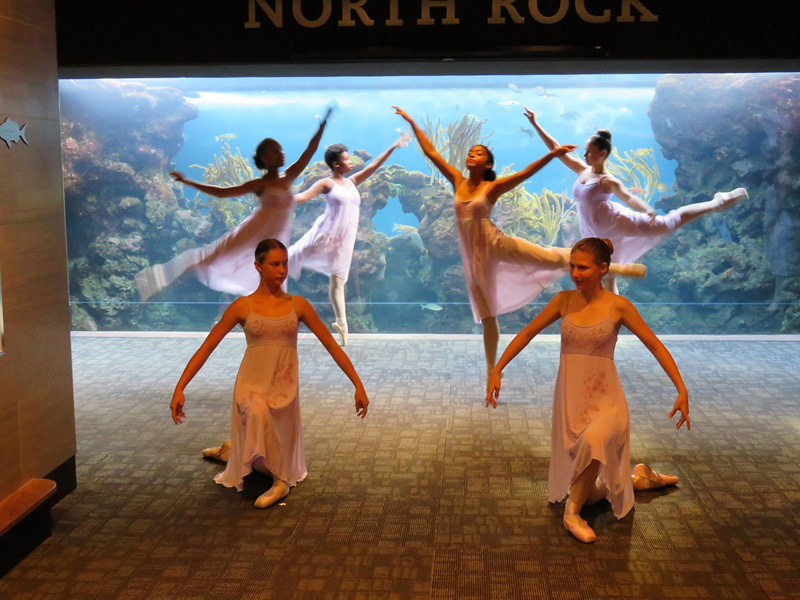 Imagine Bermuda said, "Bill Zuill – executive director of the National Trust – provided a nutshell overview of the evolution of Whitney. He explained that the school began as a small, whites-only institution in late 1800's. An early principal was Canadian, Reginald Fessenden, who subsequently married a Bermudian before travelling to New York where he worked with Thomas Edison. Fessenden later made his mark, doing key work in inventing the Radio and Radar, before retiring in Flatts, with his wife – Mary [nee]Trott.
"As a primary student at Whitney in the 1960's, Bill Zuill, shared a unique perspective. The success of the Boycott meant that black students began attending that all-age-school from the early '60's, but mostly at the secondary level. In 1965, Government decided to amalgamate Whitney's primary department with Harrington Sound School and Bill shared his first-hand recollections.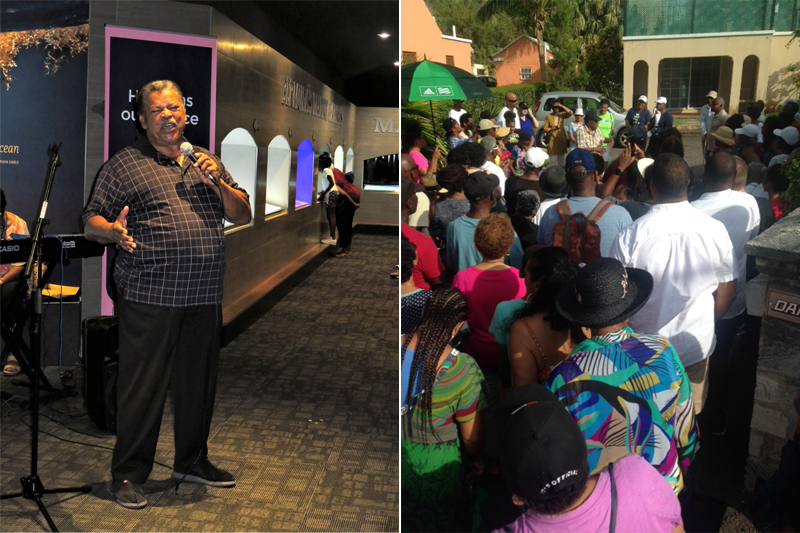 "Dennis Wainwright explained how his extended family had owned property across from the Flatt's Post Office for decades and in preparation for the expansion of Whitney, Government widened the road, thus buying out the portion of the lot on which the small homestead stood. Noting that by the early '70's, he had completed building his own home at Knapton Hill – while working two jobs, this former national goalie and wicketkeeper, took on the challenge of redeveloping this ancestral lot, along with his son. The two of them built 'Daisy Villa', named after his late grandmother, a testament to the spirit of independence.
"Attendees heard how that spirit was also demonstrated by Clarence Darrell – whose two-storey home on Middle Road, Flatts included a ground floor grocery store. This only child of a single parent had seven children and from humble beginnings became a prominent businessman in both Flatts and Hamilton. Clarence Darrell's grandchildren include 5 former Parliamentarians: Gilbert Darrell; Gloria McPhee [first female Minister]; Helene Brown and former-Premier Dr. Ewart Brown. While Clarence Darrell proved to be very successful at business, notwithstanding racial barriers; he is most fondly remembered for his generous spirit, evident in insisting that before he sold any vegetables from his large gardens he would share out buckets of produce with his neighbourhood on Flatts Hill.

"The crowd made its way through a local 'shortcut' to the former home of Eduoard and Rosalind Williams on Town Hill, where the Progressive Group, demonstrated their generous spirit, spending many weeks in 1959, shaping a vision for a better Bermuda. It was in that positive mindset, that they developed the brilliant strategy for the Theatre Boycott which spontaneously sparked a peaceful two-week successful campaign. 59 seconds of quiet reflection was spent in the driveway of that historic site.
"The final leg of the 'Walk' took us across the wonderful vista of Flatts Bridge to the Aquarium, where we were greeted by a number of residents who had decided to sit-out the 'Walk'. These included Progressive Group members; Florence Maxwell and Rev. Dr. Erskine Simmons. A formal welcome on behalf of the hosts – the Bermuda Zoological Society – was made by Dr Ian Walker who pointed out that a key aspect of their Mission, includes collaborating with community partners in ways that strengthens the fabric of society.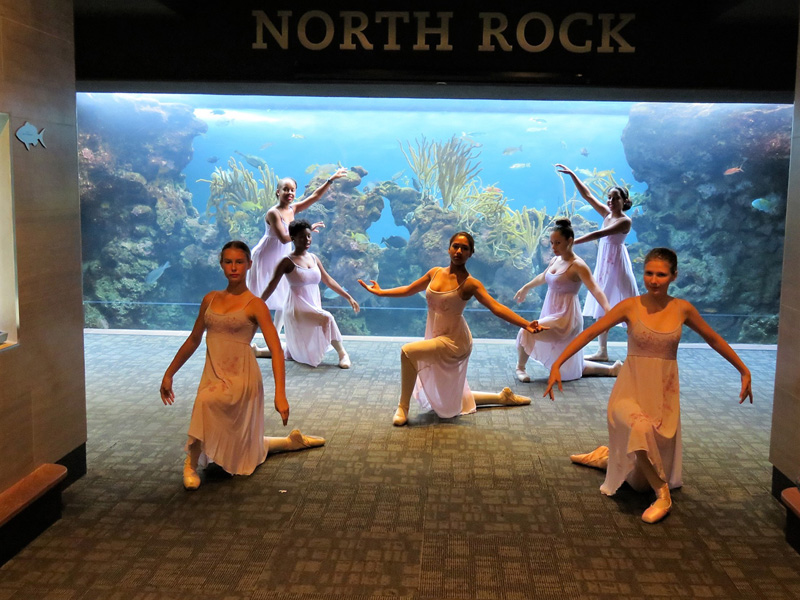 "The Russian School of Ballet opened the reception with a dance with the North Rock fish-tank as background. Founder of the Crossroads Football Team – Saleem Talbot, veteran science educator from the Devil's Hole area, whose long-time passion for using sport to develop youngsters has born-fruit within his own large family and the wider community, greeted those attending. Saleem made the point that "There is only one race; the Human Race".
"The audience was introduced to an exemplary young person from the Flatts community; Mason Outerbridge, a recent graduate of Somersfield Academy, who plays football with Devonshire Colts which practices at Whitney and plays cricket for Flatts Victoria. Mason, who in September will enter Trinity College – Ontario – has written a 'Letter of Thanks' to the Progressive Group.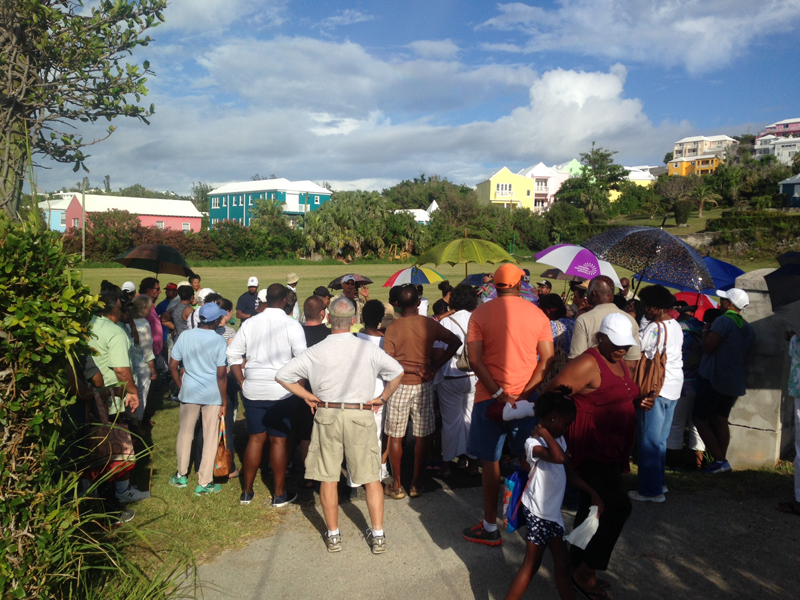 "Martha Dismont of the Family Centre reminded those present of the spirit of generosity and how each of us can make a difference in the lives of members of our community; especially the upcoming generation.
"The Reception concluded with a rendition by "Bermuda's Mr. Entertainment" – Gene Steede – of the song " My Way". Gene reminded us of the spirit of generosity captured in the song's lyrics: I did what I had to do, And saw it through, without exemption, I faced it All and I stood Tall, And did it My Way."
Read More About