Local entrepreneurs picked up valuable insight about growing their businesses from leading international small business expert, Earl Butch Graves, Jr., CEO of Black Enterprise and board member of the Bermuda Tourism Authority.
In a 30 minute talk, followed by 30 minutes of questions and answers, Mr Graves talked primarily about access to capital, the importance of accumulating generational wealth versus focusing on income and the benefits of small business partnerships which improve entrepreneurs' economies of scale.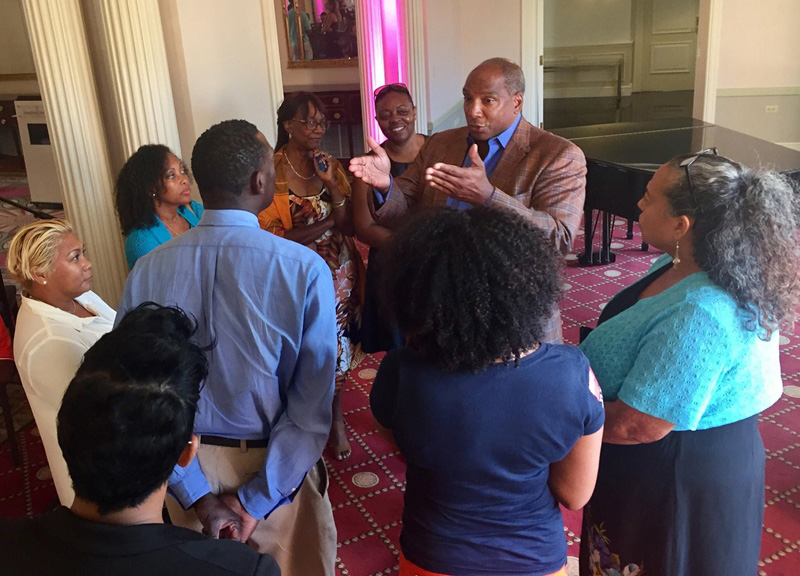 "I encourage small business owners to work together to compete for larger contracts because this is a smart way to grow their businesses," said Mr Graves, who has a long career working with and advising entrepreneurs in the United States. "Too often egos are the main obstacle for successful partnerships. It's critically important to recognise that and work around it."
Tourism industry stakeholders were invited to the event last week at Hamilton Princess Hotel & Beach Club. About 75 people attended.
Bermudian entrepreneur Marico Thomas of Four Star Pizza and Glaze said of the session, "Salient. Sober. Stimulating. Butch spoke thoughts and concepts all entrepreneurs – budding and experienced – need to hear." Mr Thomas is also vice-chairman of the Bermuda Economic Development Corporation.
Bermuda Tourism Authority CEO Kevin Dallas asked Mr Graves to put on the forum while he was in Bermuda for a board meeting.
"The audience was very engaged during Butch's presentation, they asked insightful questions and when it was over it was tough to get him out of the room because so many wanted to bend his ear further," Mr Dallas said.
"We're grateful Butch could engage and inspire our Bermudian small business owners because their success is critical to the success of Bermuda's tourism industry."

Read More About